The Kal and Lucille Rudman Institute for Entertainment Industry Studies and the Pennoni Honors College sponsored an exhibition of the Joe Bonham Project, a series of artworks that depict veterans recovering from injuries suffered during the wars in Iraq and Afghanistan.
The art will be on display in the Hahnemann New College Building library until Nov. 11 and features 40 pieces from 10 different artists.
The project was started in early 2011 by U.S. Marine Corps veteran and combat artist Mike Fay. He had previously spent almost 20 years capturing combat through painting.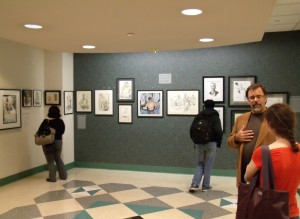 Rudman Institute Executive Director Karen Curry was asked to be the faculty fellow for the 2013-14 Great Works Symposium, which is sponsored by the Pennoni Honors College every year.
Curry chose "Imaging War" as part of this year's symposium topic: "Media: Past, Present and Future." The symposium is a yearlong look at the evolution of media over the centuries.
"I Googled combat art, American, and one of the first people to come up was Mike Fay," Curry said.
This event has been part of a series of features presented in conjunction with the Imaging War course being offered at Drexel.
Fay and one of his partners in the project, illustrator Victor Juhasz, came to the exhibit's opening reception Oct. 29 to give a talk.
"In 2007 I went up on every second and fourth Tuesday of every month to Walter Reed, the occupational therapy unit," Fay said, speaking of the now-closed Army Medical Center in Washington, D.C., "and saw if anyone wanted to learn to sketch or draw. I spent a lot of time with the wounded, both Army and Marines."
"After I retired in the summer of 2010, I started a master's program (there's where I met Victor), and also The New York Times did an article on myself in the arts and leisure section, and that really opened up a lot of stuff and we got all these contacts. One of those people that contacted us was the Smithsonian [Institution], and so we went and met up with them. In the discussion, the idea came up that we would start documenting the wounded veterans," Fay said. "So we thought, 'Oh, that would be neat for about a hundred years from now, keeping America informed.' So we went to the VA hospital, the Hunter [Holmes] McGuire Veterans Affairs Medical Center in Richmond, Va. They had marines who were through a certain level of their therapy. It had to do with the neurological problems. Three of the marines there let us sketch them for a while, for about three days."
He went on to write a three-part piece titled "Still in the Fight," which gained the attention of other artists. Fay started the Joe Bonham Project soon after that. One of the first two artists to join the project was Juhasz. As of now, there are 18 contributing artists to the Joe Bonham Project from various parts of the country and other parts of the world, such as Australia.
"He called me up saying, 'I'm starting this thing where we're drawing veterans coming back from the front lines, and I'd like you to be a part of it because I think that the way you draw would add a lot to the image we're making, to the documentation.' And I said, 'Sure!' I'm all about drawing anyway. I love drawing and telling stories through drawing. The first time I went with him was to the McGuire Hospital in Richmond, Va.," Juhasz said.
"I've seen people banged up. I did not know, initially, how I would react really seeing someone who was seriously wounded. I said, 'Mike, I don't know how I'm supposed to behave.' He said, 'No, just relax and be yourself and it'll work itself out.' To my surprise, it all seemed really relaxed and normal almost immediately because the Marines that we were drawing at that time were very normal about their situation. They were very stoic," Juhasz continued.
Both Fay and Juhasz had experience with art overseas. Juhasz had followed a medical unit and drawn images from there and had also work with the Air Force in the past. Fay had been a combat artist for years before he started the project. However, not all of the artists in the project experienced this opportunity. These were the images that were featured in the talk at the opening ceremony.
"All you have to do is ask, 'So what happened?' Just three words, and they take it away from there," Juhasz continued . The artists would follow up on many of the veterans to show their recovery process from their injuries.
"One of our subjects who passed away earlier this March, Derek McConnell , he was a sweet kid. He had about an 18-month recovery, a nice, steady recovery from catastrophic wounds. He was all ready to get married. His honeymoon was all paid off. Him and his fiancee had won some write-in contest to win a honeymoon. They were all set to go. We were actually going to go visit him because we were coming to Walter Reed. We were going to stop by and see Derek, who had been moved to [another building] where they do the outpatient services and they lived there, and the night before we arrived, his fiancee sent us an email that he went back into the hospital with a high heart rate, and so we didn't see him. The day after we couldn't see him, he passed away," Juhasz said.
Juhasz had said earlier in his talk during the opening ceremonies that his late mother was a Holocaust survivor. He had also lost a wife to cancer, stating that he was used to death.
"Sometimes they would tell us things that their families, who have been with them for a year or a year and a half, would look up and say, 'You never told us that.' There's just something special about that kind of attention that's being paid," Juhasz said.
"There's another whole part to this, [which] is the rehabilitation and the reintegration, and we're hoping that we can do drawings of us following that process. A number of these catastrophically wounded soldiers and Marines have [years of recovery]. I feel terrible that we haven't had the access to following that process. The rehabilitation wounds. The training. The adjustment. They fit them into these prosthetics. These limbs, but they don't start off full limbs. You almost look like a cartoon where you start off on these little tiny legs, and as you get your balance they give you longer and longer legs until you were pretty close to the height you were," he continued.
The Joe Bonham Project also focuses on veterans with traumatic brain injuries and other afflictions suffered in combat such as post-traumatic stress disorder. Molly Stayman, a senior film and video major in the Imaging War class, said of the exhibit, "It's very interesting because they're images that aren't pictures. This whole class is on 'Imaging War,' and a lot of things we've discussed have been photographs."