More than 25 Drexel students will volunteer at the annual Philly Cooks competition, which will be held on campus Feb. 22 for the first time in the event's 12-year history.
Over 600 tickets have been sold so far for the event, which will take place at the 33rd Street Armory and benefit the Philadelphia Ronald McDonald House. Students and faculty members of Goodwin College's hospitality management, culinary arts and food science programs will work with the event's promoter, Philadelphia Magazine, as well as a number of chefs from local restaurants to put on the competition.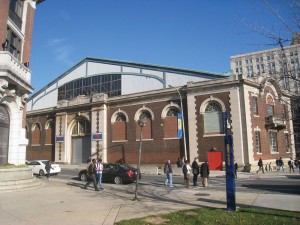 Best described as Philadelphia's own version of "Iron Chef," Philly Cooks features over 30 restaurants that will send their best chefs to compete in categories such as "Dish of the Year," "Best Appetizer," "Best Entree" and "Best Dessert."
Attendees will be able to try the award-winning dishes during the event, as well as wines from Clos du Bois, Estancia, Franciscan Estate and Robert Mondavi Private Selection, and beer from Stella Artois. A complimentary after-dinner espresso from ABCD will also be available.
According to Charles Ziccardi, lead chef and assistant teaching professor of culinary arts who is the liaison between Drexel and Philadelphia Magazine for the event, students can help restaurants unload, set up stations, keep time for the contests and deliver plates from the contestants to the judging tables, among other duties. He says the volunteering and marketing opportunities for the students will be as varied as the different types of dishes served in the event's categories.
"They will be organizing, setting up, maintaining and breaking down the entire event," Ziccardi wrote in an email. "The many interns of Philly Magazine will be an integral part of this process. In essence, they will be managing the entire event … from set-up to breakdown."
He added, "We as faculty and administrators are always impressed with the positive attitude and professionalism of our students when working with the public."
Other Drexel faculty members involved in the production of Philly Cooks include food and beverage operations manager Timothy Flohr, assistant teaching professor chef Adrienne Hall and adjunct instructor chef Michael Traud.
"We saw a great opportunity for our students to gain visibility and network with some of Philadelphia's most well-known restaurant and hospitality professionals. Over 1,000 people will have a chance to see that Drexel is, and has, hospitality," Ziccardi wrote.
According to Ziccardi, the event producers at Philly Magazine approached Drexel to host the competition and the hospitality program to help run it.
"The incredible student and faculty skill set and talent available within the hospitality management program at Drexel University also make it an attractive site to host the competition. Many Philadelphia professionals either graduated from Drexel or know someone close to them that has," he wrote.
"President Fry knows our programs well and wanted us to represent the University and help run the event," he continued.
Tickets are $75 each, and the event is restricted to those 21 or older.