Drexel University will continue to renovate its University City campus thanks to a $5 million donation from the Raymond and Ruth Perelman Education Foundation, a University news release announced Feb. 6.
The money will be used to create the Raymond G. Perelman Plaza in the area known as the 32nd Street Esplanade between Chestnut and Market streets, formerly part of 32nd Street. Plans will be finalized for the outdoor space by spring, and construction will begin this summer.
Members of Drexel's Master Plan Committee are confident that the new space will create a positive atmosphere out of an open outdoor space.
"I envision a day very soon when Perelman Plaza will be a destination for all members of our community almost every day, and the rest of our transformed campus and neighborhood will radiate out from its hub. I am incredibly grateful to Ray Perelman for sharing our vision and passion. He is a singularly successful entrepreneur and transformative philanthropist in Greater Philadelphia," President John A. Fry said in the Drexel news release.
According to Robert Francis, vice president for University Facilities, the donation was made specifically for the creation of the Perelman Plaza, though the plan for the creation of the 32nd Street Esplanade was created earlier.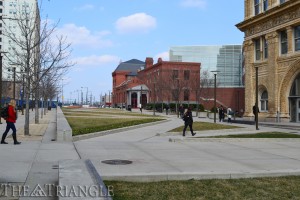 "The design concept was articulated in the [2012] Master Plan, which had broad representation and input from students, faculty, staff and the community," Francis wrote in an email.
Francis added that the walkway will improve pedestrian traffic in the area that will be between two of Drexel's newest additions to the campus: the new building for the LeBow College of Business at 32nd and Market streets and Chestnut Square on the 3200 block of Chestnut Street.
"As currently configured, the 32nd Street Esplanade does not provide an outdoor seating venue, has walkways too narrow for the volume of foot traffic and does not celebrate the relocated Cohen Gardens properly. Perelman Plaza will not only fix these problems but also harmonize the landscape around the new Gerri C. LeBow Hall and the Tutoring Terrace, which is on the design boards," he said.
Francis wrote that the new space will be wide enough that four people will be able to walk side by side, taking up at least eight feet if each person takes up two feet of width.
Drexel has not put out a bid to contractors but has already chosen Andropogon Landscape Architects as the design firm.
"Andropogon specializes in ecological design and uses [Meliora Design, LLC] as its storm water management consultant," Francis wrote.
According to its website, Meliora is a civil engineering firm known for its sustainable site design and water resources planning.
Keeping in theme with Drexel's reputation as an environmentally friendly campus, the Perelman Plaza will feature design that integrates sustainable storm water management and rain usage.
"Sustainable storm water management is a major goal of the project," Francis said.
Drexel was previously involved with Ray Perelman when the College of Medicine gave him an honorary degree in 2012 "in honor of Perelman's dedication to strengthening educational, medical and cultural institutions throughout the region," according to the Drexel news release.