Thirty-two senior and graduate students from the fashion design program showed off their own collections June 2 during two runway shows at the annual fashion show, which was put on by the fashion and design & merchandising programs at Drexel University's Antoinette Westphal College of Media Arts & Design.
The two shows, which were held at the Urban Outfitters Corporate Headquarters at 4 p.m. and 8 p.m., also featured swimwear, eveningwear, womenswear, menswear, sportswear, swimwear, childrenswear and lingerie. First-year graduate students, as well as junior and sophomore undergraduate students, showed designs in these lines, but the graduating senior and graduate students also put out their own designs.
The students spent seven months working on their designs, beginning in the fall with research for their collections. Once the pieces were fleshed out, the students had fittings each week and were critiqued and evaluated every couple weeks. There were a few major deadlines in January, April and late May. Students also had to make a calendar for themselves in order to stay on deadline.
Students drew on a variety of sources for inspiration, ranging from Marilyn Monroe to Steampunk to the Venice Carnival to medieval armor to surfing and scuba diving.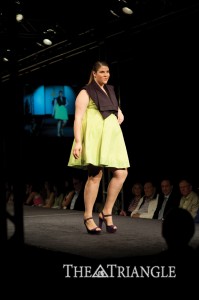 Student collections and individual designs were eligible for awards from Neiman Marcus, Abercrombie & Fitch, Stores at King of Prussia, and many others. Some of the judges for the show were representatives from brands that gave out awards, such as Destination Maternity, Jaeyoon Jeong, Nicole Miller and Frank Agostino.
Students were judged on overall excellence, technique, design, saleability, historic costume and handcraft.
Laurie Anne Lambertson, a graduating senior, won the Abercrombie & Fitch award for technical design when the awards were announced at the 4 p.m. show.
Lambertson centered her collection around the pattern of plaid. She used over 2,000 rectangles of plaid and 50 different fabrics in her collection.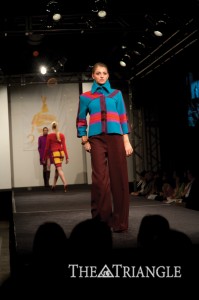 "I wanted to challenge myself to use fabric in a new, unique way," she wrote in an email.
She purchased most of her fabric at A Fabric Place in Baltimore.
"I grew up buying fabric from them, so it only seemed appropriate to include them in this step of my journey," Lambertson said.
Her garments were pieced together by hand to resemble a woven plaid, even though that wasn't how the piece was created. Lambertson also dyed the leather and suede shoes on her own.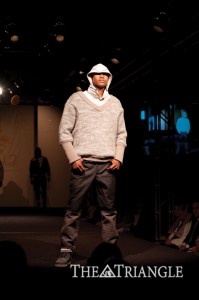 "I pulled countless all-nighters in order to get everything done on time. I am definitely a perfectionist, and sometimes I had to pay the price for that," she said.
Lambertson said she chose an instrumental version of Modest Mouse's "Float On" "because I love the beat but didn't want the words to throw anything off from the feel of my clothes."
After graduation, Lambertson plans to move to Columbus, Ohio to work as an assistant technical designer for Abercrombie & Fitch.
"I actually was offered the job at the beginning of March, so the award wasn't connected to that at all, just a fun bonus!" she said.
According to Lambertson, a technical designer works with factories to ensure that samples are made for garments and that the prototypes fit the right way.
"We basically take the drawing from the designers and turn it into something real. As an assistant I will accompany the technical designer and hopefully work my way up soon!" she said.
Lambertson is very excited for the new chapter in her life.
"I was not a big A&F girl growing up, but I love the company and atmosphere they create, so I guess I'll be an A&F girl soon enough!" she said.
Benjamin Robles, a graduating graduate student in the fashion design program, created a menswear design that won "Best Menswear Design" at the show.
Robles got his fabric from Rockywood.com and Seattlefabric.com, though 3M donated the Thinsulate used as liner for his coats and the retro-reflective material used for his prints.
"Every fabric had specific reasons for being chosen, whether it was the texture or the performance," he wrote in an email.
He was inspired by menswear designers Scott Sternberg of Band of Outsiders and Ernest Alexander.
"They have a good sense of detail, which is important in menswear. So I chose to try my hand at it," he said.
Robles was also inspired by M83's "Midnight City," which played during his spot at the fashion show.
"I actually chose it while gathering my inspiration. The lyrics helped me with designing the collection," he said.
Though Robles was able to bring his vision to life with the help of his teachers and friends, there were some stressful aspects he had to overcome.
"I'm in a building full of women. 'Nuff said," he said.
Like Robles, graduate student Tanisha Bess was also one of the only designers to have a unique category, although she designed for plus-size women whereas Robles designed for men.
"It was a bit weird; I had to design in a completely different way than everyone else and what I learned throughout school," she wrote in an email. "That was really hard. I wanted real-size women, not a size 10 pretending to be a plus-size model like you see in most industry runway shows."
For her collection, Bess used two agency models, one of her residents in Stiles Hall (where she is the head resident assistant), one friend of her department's secretary, and one person chased down the hall in Nesbitt.
Bess was inspired by desert modernism and colors in pictures of sunset and sunrise, which resulted in her hand-dying organza for an ombre effect.
After two months of research and testing, Bess used a powdered dye that she mixed with other chemicals to get color, all the while wearing rubber gloves and a face mask.
On top of all that, she did the dying in her apartment.
"I'm pretty sure dye is still on my floor," she said.
Bess also struggled to find the right music for her show, going between Florence & the Machine, Kanye West and Jay-Z, MGMT, and the Scissor Sisters. She eventually chose Gossip's "Heavy Cross" because, as she said, "The song was really walkable, but beyond that the lead singer is an empowered plus-size woman."
The fashion show was actually the first time Bess was able to see her designs, which she said was one of the most rewarding parts about designing her collection.
"I had never seen it all together because I didn't have enough dress forms to put it together. At points it felt like I was just sewing individual pretty pieces and not a look," she said.
The fashion show was put together by students and faculty in both the design and merchandising program as well as the fashion design program. The students were in charge of all aspects of the production, such as fundraising, public relations, music selection, set design, professional model selection and hospitality.