Keiretsu Forum Mid-Atlantic hosted the 14th Angel Capital Expo Oct. 23 in the Bossone Research Enterprise Center. The event was the first Keiretsu Forum Angel Capital Expo held on the East Coast and was held in conjunction with Drexel University's Charles D. Close School of Entrepreneurship, Earle Mack School of Law, LeBow College of Business, and Office of Corporate Relations and Economic Development.
The expo started with opening remarks from Williams, founder and CEO of K4, and Donna DeCarolis, dean of the Close School. Dean Roger Dennis of the law school and interim Dean Frank Linnehan of LeBow later kicked off the afternoon with presentations promoting their respective programs. Robert Neville, president and CEO of Savara Pharmaceuticals, the most successful fundraiser in K4's 12-year history — raising over $6.5 million in one round — ended the conference with a keynote speech to provide key advice to up-and-coming entrepreneurs.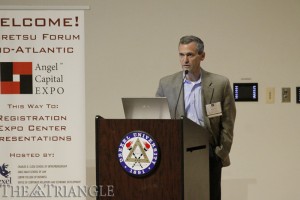 The expo featured 12 entrepreneurial ventures representing a variety of industry backgrounds, including technology, health care and life sciences, consumer products, energy and green technology, and other high-growth fields. Companies that apply to K4 are typically in their A- or B-rounds, having already secured initial funding of $250,000 to $1 million from founders, friends, family and individual angel investors. Before a business even has the chance to step onstage, it has to be pre-screened by a committee of K4 members and due-diligence fellows. At the conclusion of company presentations, expo attendees voted to choose the winner of the Most Valued Company award.
K4-MA also hosted a Fast-Pitch Presentations segment where aspiring entrepreneurs were allowed to present their business models to the same room full of angel investors, venture capital principals, private and family wealth professionals, and other members of the private equity financing community. As winners of the 2013 Laurence A. Baiada Institute for Entrepreneurship Incubator Competition earlier this month, LeBow seniors Jason Browne and David Hunt were given the opportunity to pitch their product, Spore. Spore is a portable solar-powered charging system that can be used to charge virtually any device that uses a USB, including smartphones, tablets and other electronics. In an interview with Technically Philly, Browne said, "While [Spore] is not a unique function, the value we add is by allowing each unit to be daisy chained to others, via USB port, in order to speed up the charging capacity."
Howard Lubert, area president and co-founder of K4-MA, advocated the recent establishment of the Philadelphia chapter's Due Diligence Fellowship Program. The program was set in motion after Patrick Bello, a third-year law student at Earle Mack, inquired in a phone interview with Lubert about the possibility of starting a fellowship within K4. The fellows who are part of the initiative are able to attend monthly screening and forum meetings where they can observe presentations by entrepreneurs and participate in discussions about the companies with the chapter's investors. Additionally, students who are recruited into the fellowship assist with due diligence, the examination process of potential companies ready to receive investments from K4 members. In a press release by K4-MA, Bello described the experience as "a unique educational opportunity for law students. For those of us soon entering into the fields of emerging growth business and corporate law, understanding how investors evaluate companies is a critical component to becoming more effective advocates for our clients." Lubert reiterated, "If a student is thinking about becoming an entrepreneur, I urge them to find a due-diligence fellow and talk to them."
At the end of the day, Vincent Leusner, vice president and co-founder of K4-MA, said, "The reason we started Keiretsu [Forum Mid-Atlantic] is to make it easier for young entrepreneurs to get in front of people who want to invest."
Founded in August 2010, K4-MA is an angel investor group designed to aid early-stage startup companies seeking funding, with chapters spanning across the cities of Philadelphia, Washington, Pittsburgh and New York. K4-MA is just one part of the global network, Keiretsu Forum, which has 27 chapters worldwide, embodying over 1,000 members on three continents.
"Our community of chapters enables support of our portfolio companies and presenting entrepreneurs with equity and resources in different capital markets, building additional quality deal flow for our members, and for our members to enjoy collaborative business and social relationships between chapters," Williams said in a statement.