Drexel's College of Engineering awarded its 2013 Engineering Leader of the Year honors to alumna Linda M. Abriola, the dean of the School of Engineering at Tufts University, Dec. 19.
Abriola is the first female engineer to receive the award and is being honored for her leadership in the field of environmental engineering as well as her effort to improve society's problems and her dedication to the National Academy of Engineering.
"I was very honored when I heard I received the award. When I looked at past recipients, just to be considered in that group was an honor," Abriola said. "As a Drexel graduate it's an extreme honor to receive an award from your alma mater."
Abriola was the only female in Drexel's 1976 graduating class of civil and environmental engineers and was often referred to as the "class mascot" because of it.
"I'm very grateful for the education I received at Drexel as an undergraduate, and it set me on the path to where I am today. I have had a very fulfilling career, and I hope that I can help inspire others to go into the profession because I believe it is a very creative and very rewarding one," Abriola said.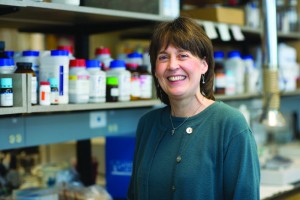 Joseph B. Hughes, dean of the College of Engineering, chooses the recipient of the award by putting each nominee into the context of his or her industry and assessing each one's success and achievements. He also takes into consideration his colleagues' opinions.
"She is a person who I have great respect for, and she's a person of deep integrity. One of the things that really stood out to me was that she is a Drexel graduate and so is her father. And she is part of a small group elected to the Academy of National Engineering; she has that distinction," Hughes said.
Abriola was the first woman to be elected to the NAE's civil engineering section in 2003.
The Engineering Leader of the Year award represents a lifetime of achievement at the highest possible level. The recipient embodies the values of Drexel by being entrepreneurial, hardworking, successful and a leader in the profession, but he or she does not have to be a Drexel graduate.
Nominations for the Engineering Leader of the Year award are primarily accepted from alumni who have demonstrated tremendous careers.
Abriola was appointed dean of Tufts' School of Engineering in 2003. She is also a professor in two departments —c civil and environmental engineering as well as chemical and biological engineering.
"I'm tremendously proud of the work I've done as dean here, and I was given the opportunity to build infrastructure and hire faculty. I'm proud to see the growth of scholarship and the school here at Tufts," Abriola said.
Abriola's research focuses on trying to understand how organic chemical contaminants move into groundwater and how to restore that water to safe drinking water standards. She developed one of the first mathematical models to describe nonaqueous phase migration of organic liquid contaminants in the subsurface.
"When I was a student at Drexel and then at Kutztown, that was a time when they were just starting to understand these chemicals could get into drinking water supplies. Before, they believed the ground filtered out the chemicals, and they wouldn't get to drinking water and well," Abriola said. "It was a time of being aware that the environment was at risk, and I got involved at the forefront of that issue."
Currently, Abriola is trying to discover how researchers can better investigate contamination sites and identify the best approaches to contain or remove pollutants from aquifers in a cost-effective manner.
Abriola has also been a member of the National Science Foundation and the National Research Council. She received her doctoral and master's degrees in civil and environmental engineering from Princeton University.
She has received a number of honors and awards, including the U.S. Department of Defense's Strategic Environmental Research and Development Program Project of the Year Award in Environmental Restoration in 2006 and 2012, the Association for Women Geoscientists' Outstanding Educator Award in 1996 and the NSF's Presidential Young Investigator Award in 1985.
Previous recipients of the Engineering Leader of the Year award are James F. Albaugh, retired president and CEO of Boeing Commercial Airplanes and executive vice president of The Boeing Co.; Drexel alumnus Christopher Ferguson '84, commander of NASA's STS-126 Endeavour and STS-115 Atlantis; and Bernard Amadei, founding president of Engineers Without Borders USA and co-founder of Engineers Without Borders International.
The Engineering Leader of the Year award will be presented to Abriola Feb. 22 at an honorary dinner.