Despite being unknown to many, the Drexel Aikido Club's small campus presence does not limit the power of its gentle art. Less than 10 years old, the martial arts club offers a unique practice to students.
"We do not want to have a very strict mentality. There are no dues; we just want people to experience aikido," Jared Ely, a junior materials science and engineering major and president of the club, explained.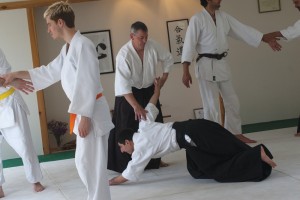 Aikido has more in common with a torpedo than just its rhyming sound. Just as a torpedo is swift, slender and destructive, it employs small movements to magnify impact. It strays from the analogy, however, when it comes to purpose. Aikido is meant solely for defense and rarely initiates an attack.
There are two main tenets of aikido that Ely identified as guidelines for the practice. First, do not oppose your attacker but instead use his momentum against him. Secondly, respect your opponent's body; you will throw or twist someone to the ground but never hurt them. Because of these ideals, an aikido competition will never exist.
Similar to Japanese jiu-jitsu or judo, this art form focuses more on technique and the focusing of energy than on strikes and power moves. On a technical level, wrist grabs and twists are used to disarm and disable the opponent but never to cause lasting harm. The more skilled one is, the less pain is brought to the attacker and the less motion is employed.
"If you hear about anyone who is a sensei or has a black belt, you will hear about how light they are," Ely said.
Even within the realm of aikido, different practices vary in the level of swiftness. Last year the club switched to the practice of tetsu chouchou, which translates to "iron butterfly," after following Ki No Kawa for the beginning years of the club. Though the first method was more traditional and flashy, the new style teaches participants how to defend against weapons and fight someone who has a hold on them.
Under the guidance of Kelly Abramson, a University of Pennsylvania faculty member and a sensei, Drexel's aikido club participates in numerous seminars and has access to a dojo in Paoli, Pa. At seminars, everyone is welcome to watch upper-level belts undergo testing and demonstrations. The dojo is another opportunity for members to exercise their skills and learn new techniques.
As all other martial arts do, aikido issues belts, or kyus, to demonstrate levels of mastery. In the style that Drexel's club practices, there are five kyus: the fifth and fourth are orange; the third is blue; the second and first are brown; and the last one, also known as "shodan," is black.
If you are interested in joining, finding out more information or trying it out, email [email protected], like their Facebook page, or stop by one of their practices on Tuesdays and Thursdays in the Armory from 6 to 8 p.m.