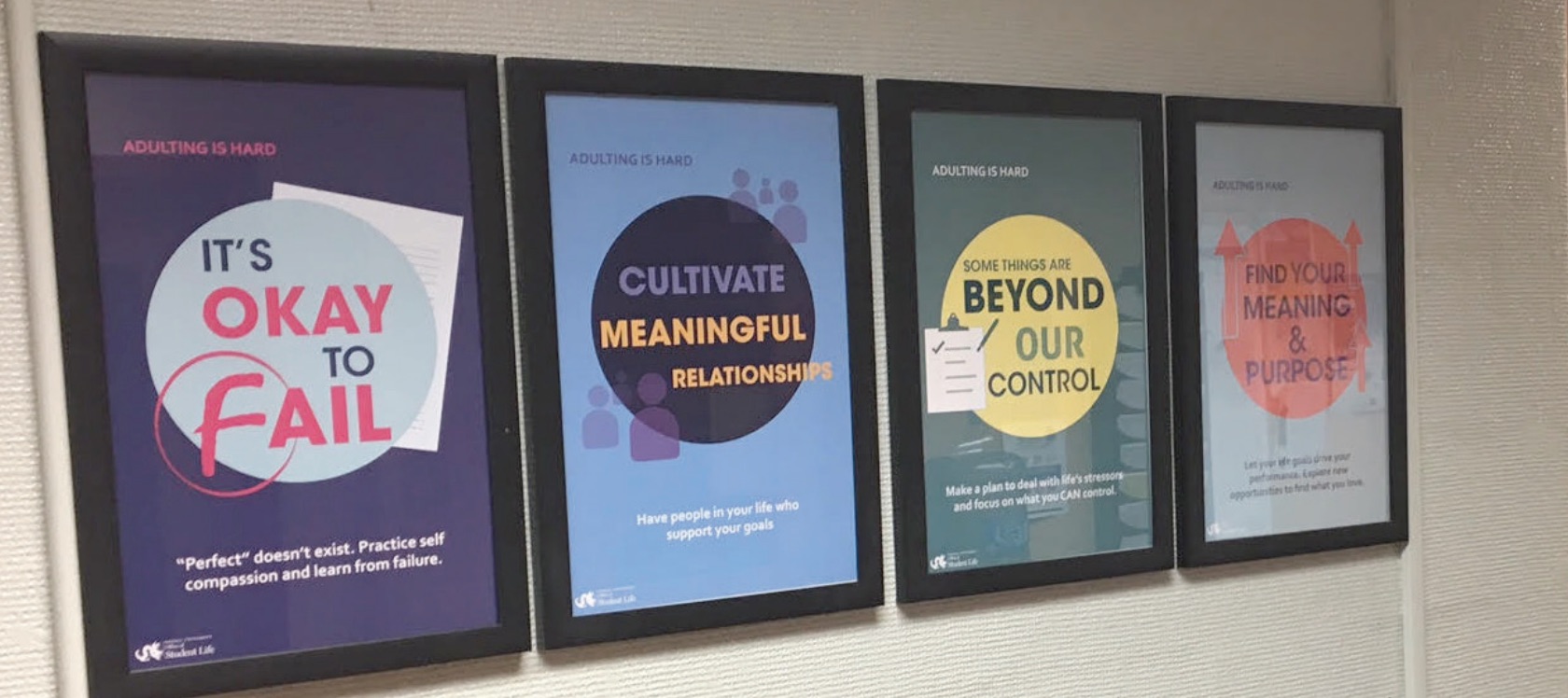 The premise behind the new "Adulting is Hard" poster campaign at Drexel University is that life is all about conquering setbacks.
A Drexel University counselor has started the "Adulting is Hard" poster campaign to promote positive psychology and combat the growing stigma against college students seeking counseling for anxiety and depression.
Spearheaded by Dr. Paul Furtaw, associate director of counseling at Drexel, and Janie van der Toorn, a former public health intern at Temple University, the campaign aims to improve the overall climate of coping to help students realize that failure is a natural component of growing up.
"Whatever the circumstance — whether it's personal, academic, professional — what we're trying to do is help students be clear in their minds that attitude is more important than the setback itself," Furtaw said.
Most college students manage a multitude of daily stressors, and Drexel students in particular have to deal with a hectic quarter system and co-op process that only further exacerbate their stress, he said.
Although many students are frightened of failing, they often keep negative thoughts to themselves, which can lead to anxiety and depression. The posters act as reinforcements to remind students that they can conquer anything, despite possible hindrances they may face in this challenging setting, he said.
"We don't want students to lose faith or feel ashamed when they deserve credit for going after really difficult things," he said.
Furtaw hopes the campaign will be preventative and ultimately enhance overall well-being while also decreasing the need for mental health services.
"Life isn't all good stuff and you need the bad stuff to grow and learn," van der Toorn said.
"What we're trying to do is help people feel like it's permissible to grow in order to be amazing and not just be amazing and never get to grow," Furtaw added.
Both Futraw and van der Toorn stressed the importance of learning to cope and in the end, van der Toorn said the campaign comes down to empowering others.
She said designing the posters was an extensive process and — in addition to receiving input from Drexel staff and faculty members — she spoke to Drexel students directly to uncover common nuisances at the university.
With the help of two Drexel graphic design students, Annie Wang and Hanna Karraby, their visions became a reality. With four designs, the duo has already put out over 400 posters throughout campus in residence halls, academic advising centers and departments buildings, Furtaw said.
Furtaw and van der Toorn hope the campaign can gain further momentum. They plan to pursue a social media campaign and are currently crafting messages for an email blast. In the long run, they hope to ignite a true campus resilience initiative.
"There's more to be done," Furtaw said.
They have been communicating with Thomas Jefferson University to have their materials distributed to other institutions in the state, since Jefferson initially funded the campaign. They've also shared the final product with a suicide prevention group, the Jed Foundation, who is assembling a toolkit for best practices of resilience programs.
Developing resilience programs has become a popular theme among many colleges and universities, including schools like Harvard and Stanford, Furtaw said.
Furtaw and van der Toorn will continue handing out posters, which are available upon request, and they hope for a positive contagious effect.
For now, they want students to keep these messages in mind while they "adult."
"Students struggle because that's how we grow. Failures are opportunities for learning … and anything worthwhile, you have to fight your way through," Furtaw said. "Once students have cracked the code in terms of how they can keep their determination or their positive mindset in face of great odds, there's no stopping them."