Ruben Santiago-Hudson, a Tony Award and Humanitas Prize-winning actor and Emmy-nominated screenwriter and director, came to Drexel Feb. 25 for a special interview and question-and-answer session for Drexel students after a screening of his film "Lackawanna Blues."
The film was adapted from his one-man show about his childhood. "Lackawanna Blues," which Santiago-Hudson described as "a love letter to the woman who raised me," tells the story of Rachel "Nanny" Crosby, the owner of a boarding house in the 1950s in a poor neighborhood of Lackawanna, N.Y., through the eyes of a young Ruben. The viewing was followed by an interview between Santiago-Hudson and Karen Curry, executive director of the Kal and Lucille Rudman Institute for Entertainment Industry Studies, discussing his life and thought process behind his film and play.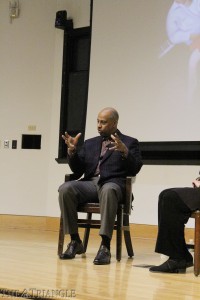 Santiago-Hudson was brought to Drexel by Andrew Susskind, a professor of TV production and media management. Santiago-Hudson said their history is a long one.
"Andrew Susskind produced a pilot that I did, and he came to see me when I was on stage at the Goodman [Theatre] in Chicago, and he brought me to LA, and we did some television together. He was one of the most fair and honest, if not the most honest, producer I've ever met — television producer. And so we stuck together and have been friends, and everywhere he goes I tell him, 'Whenever you need me let me know,'" Santiago-Hudson said.
On the topic of speaking to college audiences, Santiago-Hudson said, "Any time I go to a university, the purpose is to help educate them and bring a reality to them and a reality that I know. It can affect them to point to give them even more courage and make them even bolder in their choices and going out into the world and telling their stories."
Santiago-Hudson is currently working on a TV series, "Low Winter Sun," on AMC. Soon he will be recording all 10 of August Wilson's plays for National Public Radio. He is also writing both a movie and a play and is planning on directing a movie in the near future.