Ellen Gustafson, co-founder of FEED Projects and Food Tank and founder of the 30 Project, came to Behrakis Grand Hall April 25 to discuss options for a better food system. The event was organized by Drexel's Campus Activities Board.
Gustafson gave a presentation on innovation and leadership — a guideline for the famed undergraduate dream of "how to change the world." Currently, Gustafson is the head of four organizations, each uniquely dedicated to feeding people properly and changing the food system. Since its conception, FEED Projects alone has provided over 60 million meals to children around the world.
The social entrepreneur and food activist offered her personal experiences when explaining the 12-step process that the recipe for global impact requires. Gustafson encouraged students to ask big questions first. "A lot of times, questions stay the same while problems are changing," she said. In her case, Gustafson explained that the question shifted from "Can we feed the world?" to "Can we feed the world well?"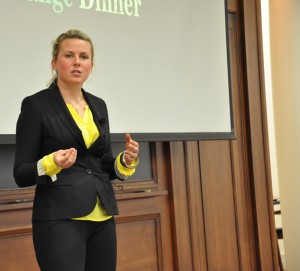 Next, Gustafson advised that change-seekers have a strong passion for the topics they study. Essentially, they should be aware of the implications of change and knowledgeable about subject matter, and they should see a need for innovation.
Because she previously worked as a terrorism research reporter in the ABC News Investigative Unit and as a research associate for the military fellows at the Council of Foreign Relations, Gustafson had observed that war-prone countries were also malnourished.
"Even when we look at it in Philadelphia, we see that the places where people are struggling with food security also tend to be more violent, and that's just a general rule around the world. Look at the Horn of Africa. Look at the Middle East," she said.
Her observations inspired her to innovate and take the next step to a substantial global impact. Starting with FEED Projects, she began making bags that are sold around the world to feed starving children. One bag can supply food for a child for one year.
After innovation came a struggle, a step in the process that Gustafson referred to as "bleed." Next, though, were small successes that snowballed into large ones. Gustafson warned ambitious students to heed themselves but not to cede the status quo. She advised them to stick to their beliefs, to reread and keep up with the dialogue of the topic, and to always proceed.
To anyone seeking change, Gustafson said, "Einstein has a famous quote that the definition of insanity is doing the same thing over and over again trying to get a different result. What we're doing now doesn't work. … We have to start doing something different. If we don't demand something different as the major Western consumer, the rest of the world won't."
Since launching FEED Projects, Gustafson has also founded the 30 Project, which seeks to learn from mistakes of the past 30 years in the creation of a distorted food system that addresses hunger and obesity as bifurcated issues rather than a single connected problem. The 30 Project aims to convert this system into a sustainable system within the next 30 years. Gustafson has also co-founded Food Tank, a think tank that seeks to bridge the connection between domestic and global food issues by creating sustainable solutions to hunger, obesity and poverty with research and investment.
Christina Tedesco, CAB's director of lectures and diversity and a junior entertainment and arts management major, was put in touch with Gustafson through the Guild Agency, a speakers' bureau and intellectual talent management company. Tedesco explained that the agency had not initially been promoting Gustafson, but after further investigation CAB decided that she would be an interesting and relevant speaker.
To the dismay of CAB, less than a dozen people attended the event. When asked about the poor attendance, Tedesco said, "We started putting into the calendar around early February, so we've been working on it for a long time. We try to promote it through other organizations, and we have a marketing team, but they were late on it this time." Tedesco also said that when planning, the committee didn't factor in the day of the week, which can play a role in attendance. Gustafson acknowledged that Thursdays are notorious as a party night on university campuses.
"She was very relatable and was visibly passionate about what she was speaking," pre-junior communication student Lo Petriello said. "I thought it was a really good program and wish more people would have been there."
Next, CAB will host Bobby Bailey, co-founder of Invisible Children and Global Poverty Project USA, on Monday, May 13.