The Academy of Natural Sciences will open its newest exhibit, "Bugs … Outside the Box," Oct. 22, less than a week away from its "Affiliation Day" with Drexel University, which will include free museum admission for Drexel students.
The Academy partnered with Italian artist Lorenzo Possenti and Outhouse Exhibit Services, a creation company for scientific displays, to develop the exhibit, which is being shown for the first time at any museum.
"The exhibit is really interesting because it's a nice marriage of art and science," Jennifer Sontchi, acting director of exhibits at the Academy, said.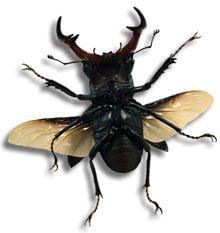 "Bugs" presents a variety of oversized insect sculptures crafted by Possenti, who studied the insects using a stereomicroscope before molding and finishing the sculptures, even adding hair and bristles to the pieces to make them more lifelike.
"People will either be horrified by [the sculptures] or be inspired by them," Sontchi said.
The exhibit will also feature live insects from the Academy's Live Animal Center and specimens from the Academy's Entomology Collection.
"It's such a novel idea to remove the glass, to reduce that barrier between viewers and displays," Sanjana Raj, a freshman computer science major, said.
The exhibit will run alongside a separate gallery, titled "Art of Science," that has been open since Aug. 6 and holds the drawings and illustrations of Daniel Otte, an expert on crickets and grasshoppers.
Guests will also have the opportunity to observe live bug specimens during museum staff presentations and view field professionals at work. "Entomologists Inside the Box," one of the features of the showpiece, enables visitors to see "bug scientists" conduct studies on scientific projects for at least one hour each day. These observations are essentially "day-in-the-life" demonstrations of entomologists' research processes.
"I'm glad people are studying [insects] because such research will be important to understanding the biology of these critters and beyond," Megan Carlson, a freshman English major, said, even though she stated that certain bugs freak her out.
"Bugs … Outside the Box" is scheduled to run at the Academy until Jan. 16. For more information about this exhibit and to view a full schedule of ANS events, visit ansp.org.