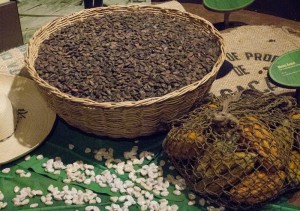 Chocolate lovers from Drexel University and the Philadelphia public alike were given the opportunity to indulge in both sweets and smarts at the Oct. 10 opening of Chocolate: The Exhibition at the Academy of Natural Sciences. The event was sponsored by both the Mars chocolate company and the National Science Foundation with the aim of offering visitors an in-depth look at chocolate's rich history and flavor.
"It's such a great response," Christine Danowsky, museum naturalist and chocolate tasting operator, said as she observed from behind her bar of sweet treats. "I don't know if it has to do with the fact that while people eat chocolate, it releases endorphins in your brain — so everyone is in a good mood — but everyone seems very receptive to learning about what they like."
The exhibit offers a large number of ways to interact with chocolate as well: from standing under a life-size cacao tree, finding out what it means to be a super taster and seeing how factories produce tons of edible joy each day, the Chocolate exhibit will always have something to offer.
"This is something that runs the [gamut] of everyone. It doesn't matter who you are, what background you've had, economic status — none of that matters when it comes to chocolate. It encompasses everyone," Danowsky said.
The touring exhibition had been in the works with the exhibits department for two to three years, after a very successful run of a similar nature a few years ago. "The response was so fantastic that they thought this was something that we should bring back," Danowsky continued.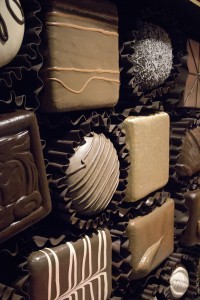 Many children were enamored with the chocolate sample bar where Danowsky was working, but there is certainly more to the exhibit than just the tastes. "The entire exhibit is almost laid out like a timeline, and that's what I like about it," she said.
"You're walking in to an Amazonian forest and you're learning from the start where our ideas as humans even came from to cultivate cocoa. As you walk through, you come into the Aztecs and the Mayans and then to present day processing. It's all history."
For those out there who have appetites for both knowledge and different types of chocolate, the exhibition will be hosting many different events during its tenure at the museum, such as Sustainable Chocolate Day Nov. 2, Cuisine from the Collections: Chocolate Edition Nov. 8, Hot Chocolate Bars Nov. 28-30 and Dec. 27-30, and lastly, for the more adult chocolate lovers out there, One Last "Shot" of Chocolate: Beer and Chocolate Tasting Jan. 15.
The exhibit will have a four-month residency at the museum. Jada Parris, a Central High School student and Women in Natural Science participant described how the whole experience reminds her of making hot chocolate with her father. "I haven't been in the exhibit yet," she said, "but it smells good. Great. You can practically eat the atmosphere."