Drexel University professor Donald Bersoff was elected the 2013 president of the American Psychological Association Nov. 3 and will retire from his teaching career at Drexel to begin serving his three-year term.
Bersoff is the director of the Drexel University law and psychology program, as well as a professor of law at the Earle Mack School of Law and professor of psychology in the  College of Arts and Sciences. He will remain part of Drexel by keeping an office on campus.
APA presidential terms last three years. Bersoff will spend 2012 as president-elect, 2013 as president and 2014 as past president.
"It's a just great honor, and it's wonderful for the University as well. I got a very nice note from the Provost [Mark Greenburg] and from the dean of the College of Arts and Sciences [Donna Murasko]. It's certainly been a longtime dream of mine, but it's also nice that the University that I'm at can benefit as well," Bersoff said.
He plans to use his expertise on legal and ethical issues in mental health, developmental disabilities and education when creating initiatives he wants to implement as president.
His primary ambition is to address the mental-health needs of military veterans and their families, including female soldiers facing sexual harassment and resultantly suffering anxiety and depression, and to make sure to provide them the services they need.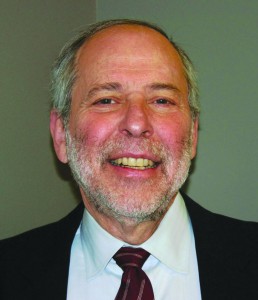 Donald Bersoff, Drexel professor of Psychology and Law, was elected president of the American Psychological Association Nov. 3. He will begin his term in 2013.
"I was a military psychologist during the Vietnam War, so I know firsthand what the effects of war are on both physical and mental health," Bersoff said when describing why this issue has become his "main initiative."
He worked as a clinical psychologist with the U.S. Air Force from 1965 to 1968, spending two of those years in Southeast Asia.
Bersoff also plans to promote the training of Hispanic, Middle-Eastern and Asian psychologists, who are underrepresented among the ranks of practitioners, by creating task forces of ethnic-minority psychologists within the Association. He will also develop curricula to attract ethnic minorities into graduate programs.
"There is a big cultural divide between the practitioners and the people who need services, and unless you really know the culture of the people you're serving, you are very likely to misdiagnose or not treat them appropriately," he said.
He also intends to attract more psychology academics and scientists to the Association.
"It's the science that informs the practice," Bersoff said.
Though he previously received the Presidential Citation for Distinguished Service to APA in 2000 and served three terms on the APA Council of Representatives, Bersoff ran as a presidential candidate three times before being elected.
"I was nominated by chance the first time, and the second time, since I came in third, I figured I would try again, and when I came in second, people said, 'Try again,'" Bersoff explained.
Members of the APA must be nominated by their colleagues for the position of president, and then the bullet voting system is used to determine the new president out of five candidates. About 15,000 votes were cast in the election of the new APA president.
"It's really an honor — it's a huge organization. There are 150,000 members or more, with a $100-million budget, so it's a big deal," Bersoff said.
Based in Washington, D.C., the APA is the largest scientific and professional organization representing psychology in the United States, and it is also the world's largest association of psychologists.
"I think Donald Bersoff is a wonderful choice for president. I think he will serve with great distinction, and I think he will be a good leader for all of those that belong to the APA," Carol Goodheart, the current APA president, said. "I've known Don for a number of years, and I know that he is a very thoughtful person, and I think that he will be a good leader."
Goodheart added, "I think he will bring people together in a way that is good for the American Psychology Association, good for our members and good for the public well-being."
Previously, Bersoff served as president of the American Psychology-Law Society, a division of the APA, and was also chair of the Law and Mental Disability Section of the Association of American Law Schools.
Bersoff served as general counsel to the APA from 1979 to 1989. During that time  he authored 50 briefs filed in the U.S. Supreme Court and lower federal and state courts.
In his work he provided social-science evidence related to issues such as sex stereotyping; reproductive rights of women and adolescents; hospital privileges for psychologists; admissibility of psychological expertise; decision making on juries; privacy rights of the lesbian, gay, bisexual and transgender community; children's testimony and rights of the severely mentally disabled.
Before coming to Drexel, Bersoff directed the J.D.-Ph.D. program in law and psychology offered jointly by the Villanova University School of Law and the Department of Clinical and Health Psychology at MCP Hahnemann University, the latter of which has since merged with Drexel.
Bersoff also developed the nation's second joint law and psychology program, offered by John Hopkins University and the University of Maryland School of Law, and has held faculty positions at the University of Georgia's College of Education and The Ohio State University