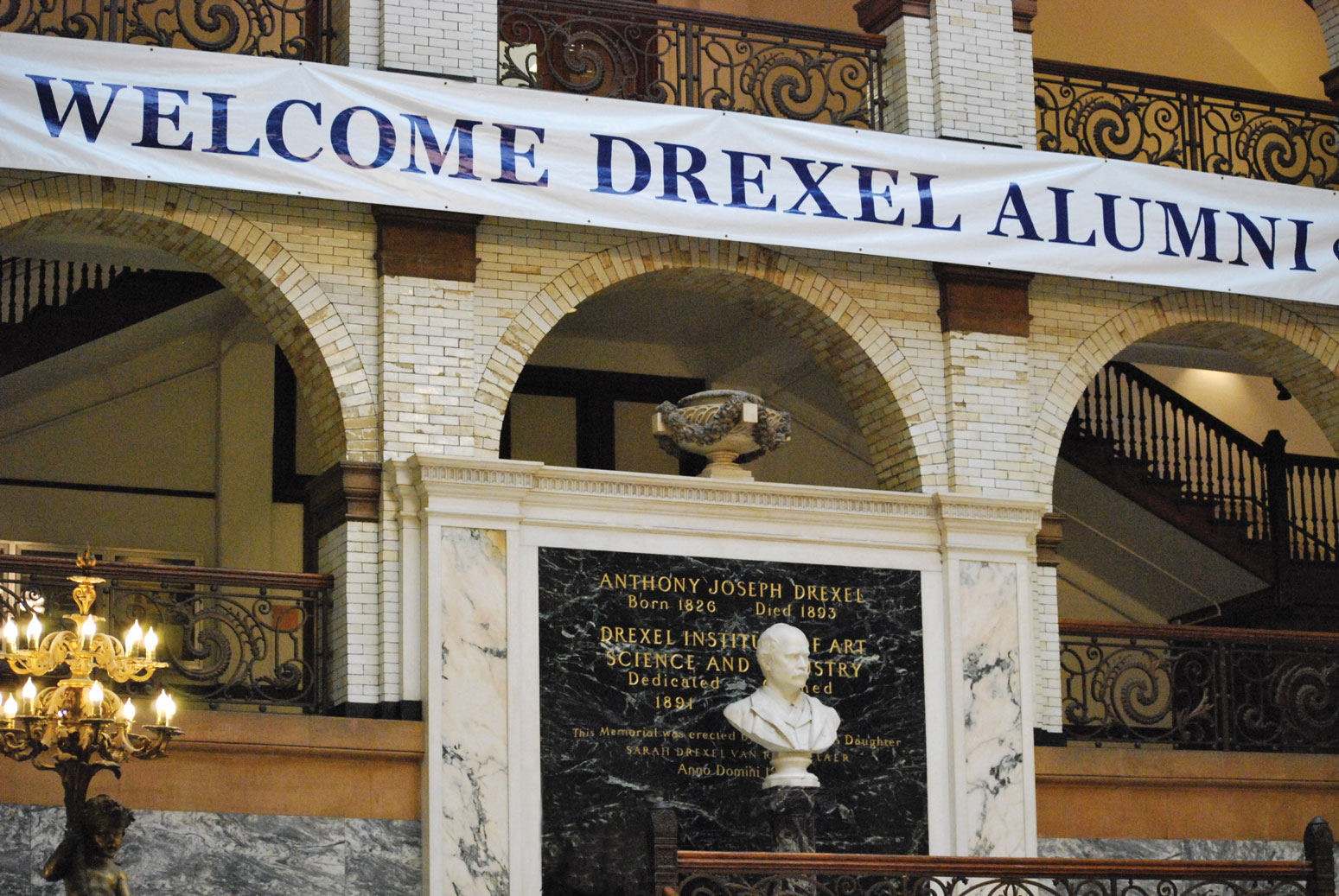 Campus will come to life with the memories, stories and traditions of Drexel University alumni during the annual alumni weekend May 17-19.
The Office of Alumni Relations expects to draw over 2,000 alumni and their guests to campus with 38 events that cultivate and celebrate university pride, according to Assistant Vice President of Alumni Relations and a two-time Drexel graduate, Lauren Villanueva.
"Alumni weekend is our annual celebration of Drexel pride," she said. "It's a really big celebration of that shared Drexel experience and connection that people have to the university, regardless of when they graduated."
All Drexel alumni are invited back to campus, though Villanueva explained that campus is now a loose term since the events have expanded to several venues across Philadelphia.
"Campus has changed a lot and the city has also changed so we've created an opportunity for them to experience all of that," she said. "We do offer something for everyone, so based on whatever their unique Drexel experience was, they'll find something that resonates with them."
In addition to milestone reunions for the classes of 1968, 1993 and 1988, there are also a myriad of signature programs available every year, as well as shared interest receptions that feature unique populations of alumni such as graduates who met their partners in college and legacy families that garnered multiple generations of Drexel students.
Some of the top events, according to Villanueva, include a campus crawl that allows alumni to explore pivotal parts of campus life; Drexel After Dark, which will have a night-market vibe complete with an open bar, live music and dancing at the 23rd street armory; and Drexel Fest at the Zoo, a more family-oriented event.
Graduating seniors are invited to the Young Alumni Beer Hall in the Main Building May 18, with regional foods, beers and live music from WKDU that celebrates graduates of the last decade.
Shared interest affinity groups dedicated to specific demographics like veterans and the LGBTQ community, in addition to specific colleges, schools, organizations and academic programs, plan separate programming for alumni as well.
Villanueva said the main focus group this year is the Golden Dragon Society, which honors alumni who graduated in 1967 or earlier who have been graduates for at least 50 years. There will be two events for these alumni, which includes a special dinner at the Ritz Carlton where awards will be presented based on alumni service to the university.
Similarly, the Silver Dragon Society, which consists of Dragons in the 25th reunion class who have given service to the university, will have a separate reception with awards.
Henri Levit, a 1968 chemical engineering alumnus, is one of the Golden Dragons. Levit maintains an active relationship with the university 50 years after obtaining his degree as a member on the engineering advisory board, a board member of Drexel Hillel, chairman of the Judaic Studies Advisory Board, and a member of the Drexel 100. He also previously served on the Alumni Board of Governors as vice chairman.
"I've done a lot of things at Drexel University — I've always been proud to be part of it and giving back to the university is very important," he said. "Drexel is extremely meaningful and once you're active in the community, you realize that Drexel is one piece of the total pie. This is what makes your life."
Levit admits he wasn't always involved, but as he progressed in his professional life, he realized just how worthwhile his Drexel education was.
"Drexel was paramount in my career and my successes and it was time to step up and give back to the people who made me who I am," he said.
Villanueva explained how this is the overarching theme of the weekend for alumni: commemorating the parts of their education that were particularly pivotal to them.
"We want people to come back and celebrate whatever their Drexel experience was to them — if it was a college or school that was meaningful to them, if it was the people they graduated with in a certain class year, a student organization that they were a part of, or a shared interest that they feel affiliated with," she said. "It's really about looking for all of the things that made their Drexel experience unique."
For Levit, it was Drexel's co-op program. Levit, who has spent more than 40 years with Simon Miller Paper & Packaging, a global paper distributor and importer, has been in the paper industry since his first co-op. He ended up doing all three co-ops in the paper industry, working at two paper mills and one paper company in research, ultimately graduating with five different job opportunities.
Levit said he looks forward to this year's alumni weekend in honor of what Drexel has done for him both personally and professionally.
However, Villanueva explained how alumni weekend isn't the only time where the university celebrates alumni of the university.
"Alumni weekend is just one of hundreds of events that offer alumni opportunities to connect back to the university, to each other, and to current students," she said, explaining how the office hosts about 300 events throughout the year.
"Drexel has tremendous programs for alumni," Levit added. "There are things going on all year and you really feel part of a community."
Villanueva explained how there are a number of ways that alums can give back and remain engaged with the university whether they choose to speak at events, serve on alumni boards, join steering committees or shared interest or affinity groups, or work with enrollment management to engage with prospective students.
"It's important for alumni to be engaged and remain interested and invested in the university so that it can continue to move forward," Villanueva said. "Hopefully when we bring alums back to campus or offer them the opportunity to connect back to each other or to hear from current faculty, it makes them aware of all that the university has become, and they can feel excited to be a part of this community even though they graduated."
Alumnus Lynn Crawford, another '68 graduate who now belongs to the Golden Dragon Society, stays connected for this reason. As a former home economics major who taught home economics for more than 30 years, she is a part of the alumni committee today.
"I feel very proud of what Drexel is doing," she said. "It is a force to be reckoned with."
She noted how she is particularly impressed with Drexel's new developments like its law school, Urban Center, its association with various community endeavors like Hahnemann and the Academy of Natural Sciences, and specific programs that make it unique like its entrepreneurship program.
"Coming down Chestnut street, you wouldn't recognize it anymore," Crawford said. "It's changing, meeting students' needs, and it's always in transition because it's trying to change to the times. It is not stagnant; it is constantly in flux and it's responsive to the needs of the community."
She said she would encourage people to come back to campus, especially if they haven't seen it in awhile.
"They need to see what's happening. It's incredible — really mind blowing. I think they would be exceedingly proud and what it has achieved and what it continues to do."
Overall, Villanueva says alumni — like Levit and Crawford — and their continued dedication is indicative of a bright future for Drexel.
"It's really a statement and a vote of confidence in the institution and the direction it is going when alumni choose to engage with us" she said. "Alumni are our best ambassadors for the next generation of students and so whether they are recruiting and sending prospective students our way, mentoring current students or offering them co-op opportunities, alums maintain the traditions and history of the university for the next generation."
And while alumni weekend means a lot for the university, the university also means a lot to its alumni.
"Drexel has given me the foundation to move forward in life," Levit said. "Drexel has helped me to live the dream."