Drexel University's second annual 24-hour hackathon, Dragon Hacks 2016, was held over the course of two days, from Jan. 16 to Jan.17.
Partnered with Major League Hacking, the official collegiate hacking league, the event was organized in the Bossone Research Center. Mike Swift, CEO and co-founder of MLH, attended Dragon Hacks as an organizer and judged the final entries in the competition.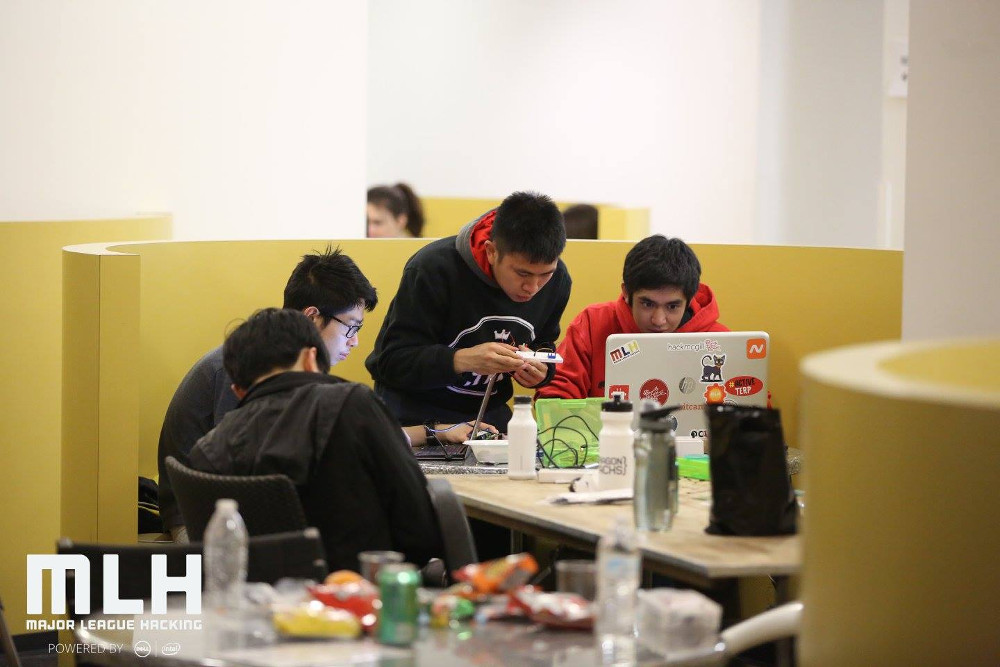 "Whenever people ask me about hackathons in general, I like to describe them as weekend-long invention competitions. It's not actually just about programming or hardware, it's about taking ideas and bringing them to life. It's literally a group of students who are classical inventors, for lack of a better term — they have crazy ideas in their heads and they're bringing them to life over the course of a weekend," Swift said, gesturing toward the crowded attendees.
He continued, "This is opening weekend for the hackathon season, so it's a big deal. Philly in general has a really strong community with Penn just down the road, and Drexel and Temple. These are schools that you would usually see at hackathons and I think it's really great to have people on their home turf."
More than 1000 individuals registered for the event and over 500 attended from around the world, splitting into small teams to develop independent projects ranging from a robotic claw to a touch-screen-controlled insulin pump.
"[We're making] a dragon rider simulator," participant Gupreet Singh said about his team's project. "In virtual reality you're flying around on a dragon and you can control how the dragon flies with the Myo armband. We're thinking of making it into an Avatar-esque simulation where you're a firebender riding a dragon. Maybe if we're lucky we'll get lightning working in there too," he continued, before getting back to work.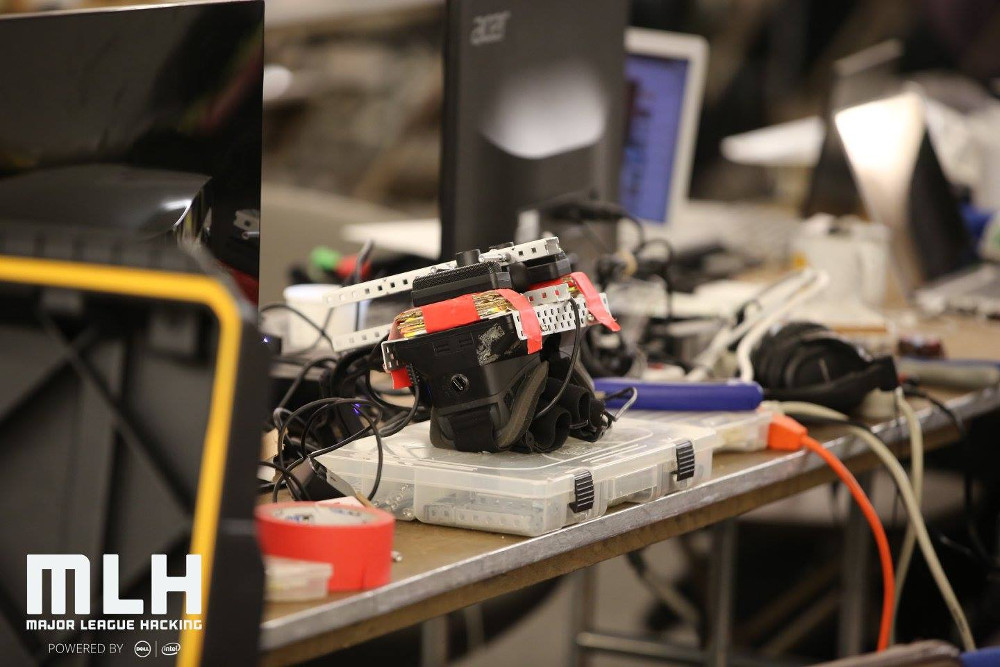 Hardware available to teams included Arduino microcontrollers, tiny computers, motion sensors and even Oculus Rifts, but not every project at the event had a physical component; some exclusively used software.
"We're building a website that helps people catalog, identify and discover different species. It brings aspects of forums and data-gathering together so that professionals who study certain species can gather and share [their work] on this site. Even a little kid who has no idea what anything is can go through our website and search through the categories to find that specific species. We're trying to build a way for the community to interact," participant Harry Kim said.
Between the planning, stress, excitement and anticipation, co-organizers Savannah Lee and Jacky Liang compared the organizing that goes into a hackathon to be similar to that for a wedding.
"It gets a year of planning. There are moments of excitement and moments of stress … Things go wrong and you have really stressful moments. And then it comes to the day, and you worked so hard for this for months, and then tomorrow it's all over. It ramps up and then it's over in 24 hours, but it's really rewarding because when you're done you realize 'Wow, I made this happen, I created this. We did it,'" Lee said.
Despite shortages of food, water and power cables and even a cotton candy machine overloading the circuit breaker to an atrium filled with attendees, Lee and Liang persevered through the entire night, solving problems as quickly as they arose.
"The main goal for us is we want to have fun. But we also want people to come out with a great experience and something to add to their reservoir, something to talk about in interviews [and] something to put on their resume," Lee said.
"Drexel has really quick, stressful terms and we don't really get time to do this sort of thing outside of class. It's very hard to come up with motivation on your own to make something in 24 hours for no good reason. This gives them the place and the motivation. I think it really fosters the culture that we're looking for — that passionate, innovative, entrepreneurial mindset; that's the goal," she continued.
The hackathon format was unconventional for students accustomed to engineering projects in an academic setting.  Students from all disciplines were gathered together into one event and left to their own devices, allowing their diverse perspectives to mesh together and promoting teamwork. Additionally, because there were no strict goals in the hackathon, participants had the freedom to exercise creativity while using the technical skills they had learned in classes.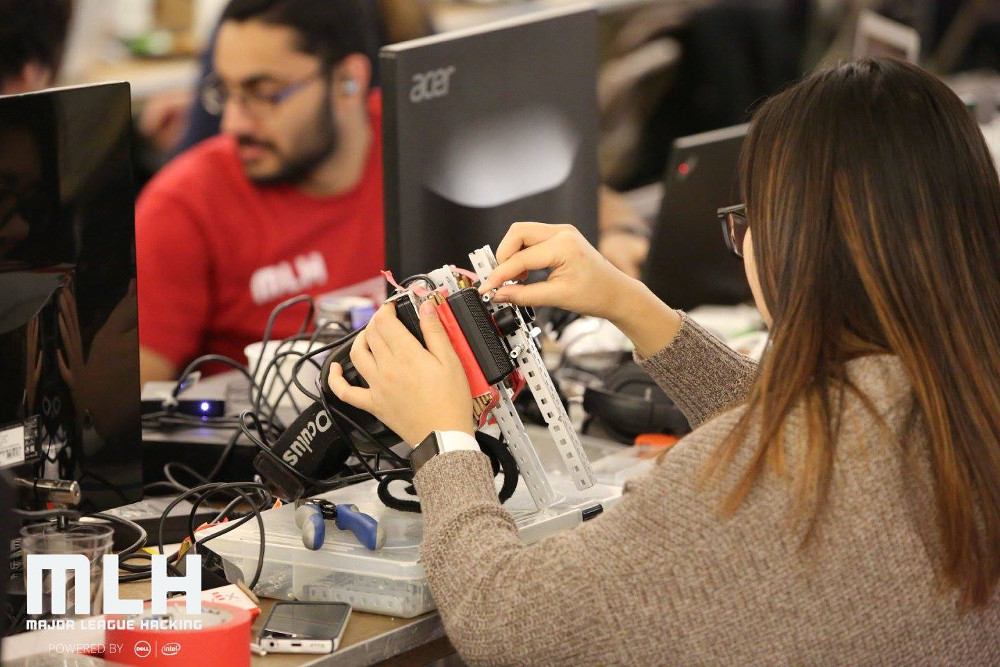 "This isn't senior design. It's completely unstructured, which is weird for us because we're so used to structure. For the first time, there are no rules. We especially wanted to do this for Drexel because with the short terms and co-op, Drexel students are very practical and focused. This gives them something different to do and it's a very different platform than we're used to. The reason I started this in the first place is to put Drexel on the MLH map. We do have that talent, we just need to show it off," Lee said.
"Drexel has a lot of engineers. It started as a tech school and we have great co-ops, so we have these great engineers, but we're very focused on the engineering process where you take longer and can't really make mistakes. A hackathon doesn't allow that. You stay up, you make mistakes. If you fail, no one's going to make fun of you. We have product designers, industrial designers, entrepreneurs, all coming here for one reason: to make something cool," Liang agreed.
Despite running into issues along the way, Dragon Hacks 2016 was considered a resounding success by its attendees. The winner of the competition, determined by Dragon Hack's panel of judges, was a camera that accepted American Sign Language as input, converted the signs into English, and sent the translation as a text message. Many participants, organizers and sponsors eagerly anticipate more fun and chaos at Dragon Hacks 2017.