Students living in Drexel's residence halls and fraternity and sorority houses participated in a fire evacuation simulation Oct. 18 as part of the Philadelphia Fire Department's annual citywide fire drill
The citywide fire drill focuses on simulating fires and showing people how to leave a building safely. The event also has a theme that changes annually to focus on different types of buildings. This year's theme was "Dump the Dorms," which addressed the issues that arise when hundreds of students need to evacuate college residence halls quickly.
Evacuations were monitored in Myers, Kelly and Van Rensselaer halls. Three hundred students gathered on the Race Street Lawn to participate in the safety fair and to talk to volunteers from the Second Alarms Association of Philadelphia, the American Red Cross and Red Paw organizations, Drexel Public Safety and emergency medical services.
"We've always partnered with the Philadelphia Fire Department as part of fire safety at Drexel. … I want the students to be safe, to go about their normal duties but keep safety at the forefront," Armour Floyd, Drexel's director of fire and life safety, said.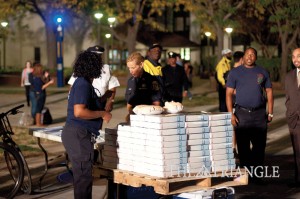 The goal was to expose students to fire safety in a variety of ways. Campus fire safety and prevention information was distributed by various organizations. The Philadelphia Fire Department Safety App, created in a partnership between Drexel and the Philadelphia Fire Department, was debuted to students, and "9 Fires," a documentary about college fires that happened earlier this year, was shown.
"[Dump the Dorms] is important because so many freshmen take fire drills lightly and think it's always a drill. '9 Fires' showed they need to them seriously because real fires do occur," Taryn Sidebottom, a pre-junior nursing major who is a resident assistant in Myers Hall and student EMS volunteer, said.
A major safety tip that was stressed is to always know two ways out of a building in case one of those ways is blocked by smoke or fire.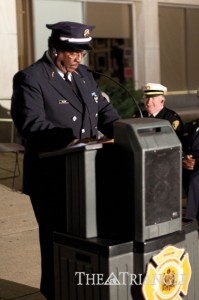 "This is the message we are trying to get out: Go to the nearest fire exit to get out of the building. The door you always use to enter and exit a building may not be available during a fire," Floyd said.
Unattended cooking is a leading cause of fire alarms in Drexel residence halls, which cause an interruption of daily residence hall life. Floyd said he believes if unattended cooking was no longer permitted in residence halls, they could cut down on the number of false alarms.
"Always respond to fire alarms; you never know when it's the real thing," Floyd said.
Student EMS workers were present and asked for volunteers to demonstrate how to effectively perform hand compressions in CPR. Each volunteer was then given a "CPR Anytime" training kit to take home and instructed to train other students.
"It's really important to have the basic knowledge of bystander CPR training in case anything does happen on campus," Sidebottom said.
In the near future, Public Safety wants to offer a course in hands-only CPR training, especially to those living in residence halls, instructed by student EMS volunteers.
"9 Fires" was produced by the Michael H. Minger Foundation, which advocates for campus fire and life safety. Minger's story was one of the nine documented in the film. A cigarette was dropped on a couch on an off-campus fraternity house's front porch and smoldered for hours, eventually causing a fire. Everyone had vacated the house except Minger, who died in his sleep from smoke inhalation. Gail Minger, his mother and founder of the organization, spoke about the tragedy of losing her son and the importance of fire safety at the event.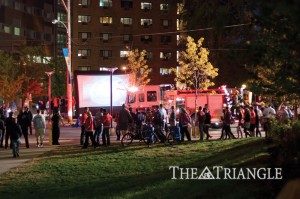 In the film, a fire trapped a 19-year-old student in an off-campus apartment building near Boston University. After realizing what was happening, instead of calling 911 or following fire evacuation protocol, she called her friend to ask what she should do.
"A piece of advice is to memorize the Drexel Public Safety number. It will be faster and more effective to contact them in an emergency than 911 because they respond to emergencies and dispatch for Philadelphia responders. EMS responds with calls for help too," Sidebottom said.
Public Safety will be uploading the documentary to its website for students and the Drexel community to view.
Students were encouraged to tweet during the event with the hashtag #dumpthedorms. A number of firefighters tweeted their comments and photos leading up to and during the event. Drexel University and Campus Firewatch, a website dedicated to college fire safety, tweeted about the event's success.
Public Safety hopes to continue its partnership with the Philadelphia Fire Department for future fire safety events.