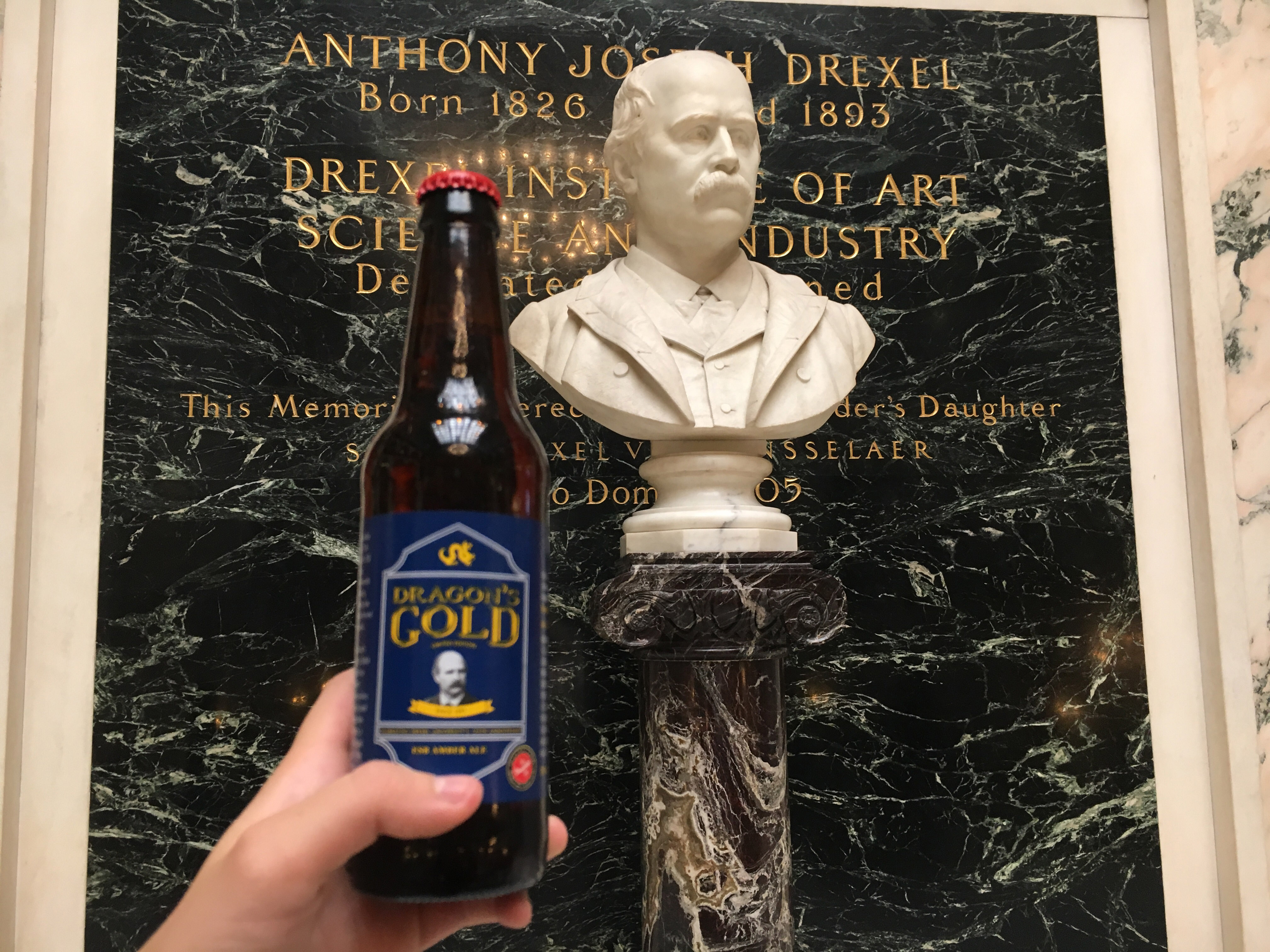 Drexel University is brewing up something special for its 125th anniversary — a limited-edition beer dubbed Dragon's Gold.
Dragon's Gold is Drexel's first official beer. Alumnus Gene Muller '84, who founded New Jersey-based Flying Fish Brewing Co. in 1995, was approached by the University's Office of Institutional Advancement to design the beverage.
Muller was tasked with creating a brew that would have been available in 1891, the year Drexel was founded. He settled on an extra special bitter amber ale.
"It's kind of like a traditional English pub beer and it's a style that would have been available when Drexel was founded," Muller said.
As for flavor, Muller said that Dragon's Gold is rich.
"It's amber, but it has a nice kind of caramel maltiness," Muller explained, noting that the flavor isn't bitter. "[It has] a good hop finish as well, but it's not really, as you would say, a hoppy beer."
But Muller wasn't the only Dragon involved in the design process.
The Dragon's Gold label was designed by Nurul Rumlan, a senior graphic design major in the Westphal College of Media Arts and Design. She designed the special edition label on the beer while working for the Office of Institutional Advancement on co-op.
Although Rumlan had never designed a beer label before, she quickly established what needed to happen. Rumlan had two goals — she wanted the label to look vintage and to reflect the university's brand. She created two potential labels, which were sent out to the Drexel community and Drexel alumni April 7, National Beer Day. Popular vote determined the winner.
Dragon's Gold is the only Drexel beer right now, but Muller hasn't ruled out the possibility of working with the university on more creations in the future.
"We're starting out with this one and we'll see how it goes," Muller said. "Drexel beer seems to be a natural fit."
Dragon's Gold will be available at all Drexel University anniversary celebrations in the upcoming year. Six-packs can be purchased at the Flying Fish Brewing Co. in Somerdale, New Jersey.