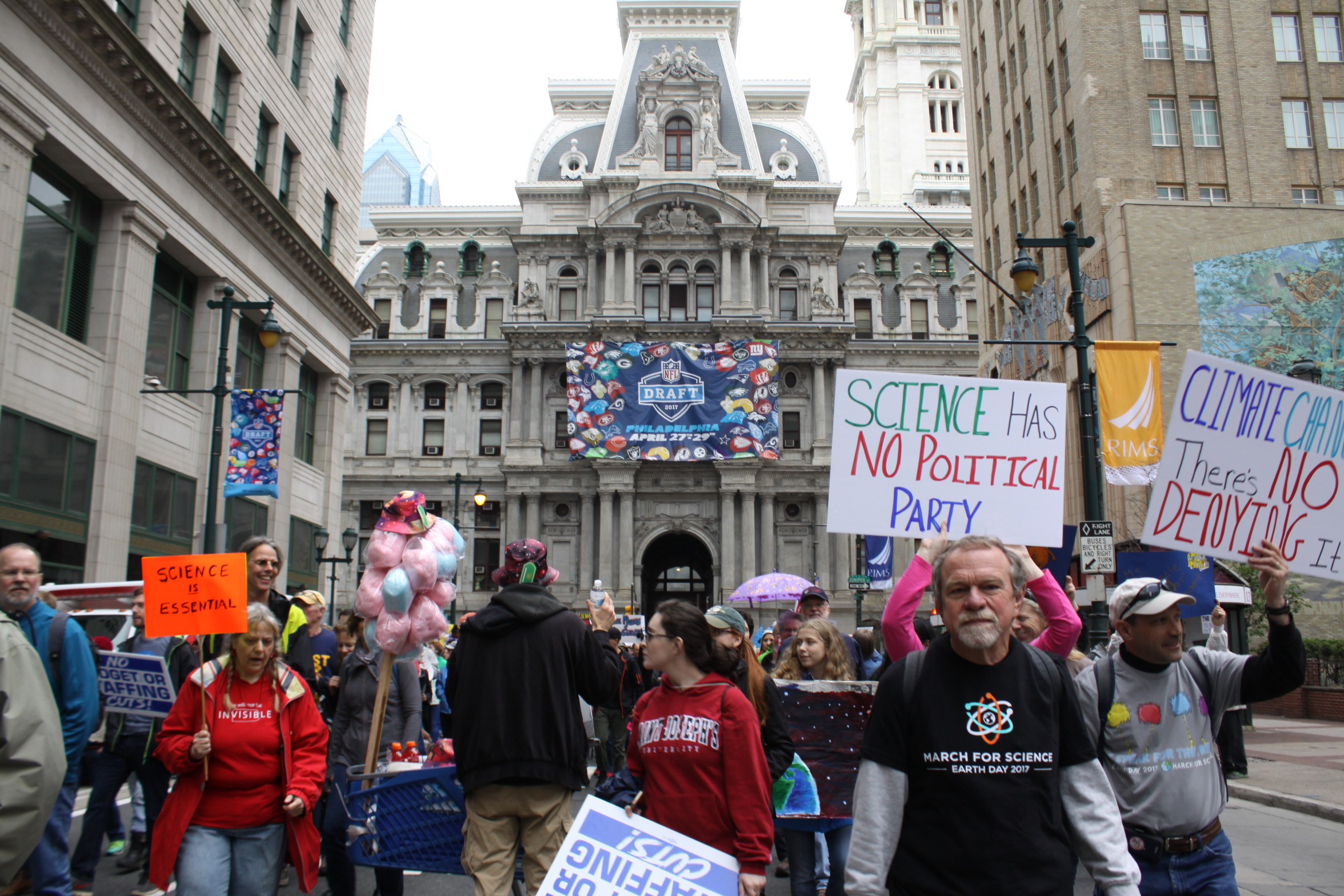 More than 10,000 people crowded the streets to participate in the Philadelphia March for Science April 22, NBC10 estimates.
According to Newsworks, the Philadelphia march was just one of more than 400 that took place in 35 countries around the world.
"The March for Science champions robustly funded and publicly communicated science as a pillar of human freedom and prosperity," the March for Science website writes in its mission statement. "We unite as a diverse, nonpartisan group to call for science that upholds the common good and for political leaders and policymakers to enact evidence based policies in the public interest."
In Philadelphia, what started off as an overcast Earth Day soon become a soaking wet one, as marchers shrugged off the steady downpour and trudged through puddles all the way from City Hall to Penn's Landing. Along the route, individuals clad in lab coats and science-themed t-shirts carried signs highlighting the importance of scientific research. Signs reading "science, not silence," and "science is not an alternative fact" were among the most common.
Organizer Janice Rael took the stage at Penn's Landing around noon, encouraging the demonstrators to stay vigilant in their desire to protect the future of scientific research.
"Today, we find ourselves in the previously unfathomable position of defending science," Rael said. "The Philadelphia March for Science is a big way to show our elected officials and others that we value science, and have no intention of beginning a new Dark Ages," she continued.
Margaret Downey, founder and president of the Freethought Society, also addressed the audience. Near the end of her remarks, her entreaty to the audience to "make America smart again," was met with a round of applause.
Other speakers included Drexel University professor Ted Daeschler, Princeton University professor Denise Mauzerall, Children's Hospital of Philadelphia Vaccine Education Center director Paul Offit, and the Chief Astronomer and Director of the Fels Planetarium at the Franklin Institute, Derrick Pitts.
Drexel students Beverly and Angela Tomita also served as the event's "science cheerleaders," part of a SciStarter program for cheerleaders pursuing science, technology, engineering or mathematics careers. Arizona State University professor and former Philadelphia 76ers cheerleader Darlene Cavalier, who founded SciStarter, also spoke at the event to encourage support for science.
Part of the urgency for the march stemmed from President Donald Trump's proposed budget plan, announced March 16, which would decrease the budget of the Environmental Protection Agency by nearly a third. This reduction could negatively impact progress on the monitoring of tap water for the presence of lead as well as climate change initiatives, the New York Times reported.
The March for Science website encourages demonstrators to remain active by writing to their legislators and getting involved with local scientific advocacy groups. More information about the Philadelphia satellite of the March for Science can be found at https://satellites.marchforscience.com/satellite/philadelphia-pennsylvania-us.