Drexel students participated in the second annual Susan G. Komen Spin for a Cure Oct. 22 by taking spin classes to raise money for breast cancer research.
The proceeds from the event, along with individual contributions, totaled $1,014.
Students paid an entrance fee of $10 to participate in any of five one-hour spin classes occurring throughout the day outside the Drexel Recreation Center.
Jessica Norman, the assistant director of health in the Drexel University athletic department, was one of the coordinators of the event.
It was an event that we started here at the Recreation Center," Norman said. "Similar events have been done in other places across the nation, so we had some instructors who were familiar with those other national events, … but it was an event that was started here at the Recreation Center Last year."
While this year's Spin for a Cure failed to reach its financial goal of $3,000, the amount was still higher than the previous year's.
"We really encouraged donation last year, and we had a higher registration fee, which was one of the reasons why last year's participation was so low," Norman said. "So this year we dropped it down. It was $15 last year, and we dropped it down to $10 this year."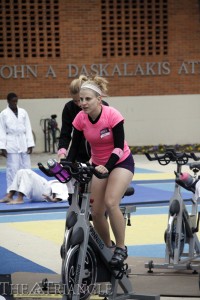 According to Lauren Dalton, the coordinator of group exercise for the Drexel University Recreation Center, this year's number of participants jumped to 63 from last year's 34.
"We received $935 last year," Dalton said. "This year we didn't raise too much more, but our participation increased, so the actual amount probably had more to do with the fact that we lowered our participation fee."
With six certified instructors teaching five classes, participants had the ability to sign up based on their favorite instructor or spin style if they so chose.
Those who partook in the Spin for the Cure were also entered into a raffle with prizes donated from local businesses such as Landmark Americana Tap & Grill, Philadelphia Runner and Kiwi Yogurt.
"When people came in they also had the opportunity to write on stickers the names of individuals that they were either honoring or supporting or memorializing," Norman said. "It was for whom they were wearing pink for. So we had different names of different women and/or men that either survived it or passed away from it."
Mary Beth Geyer, a junior majoring in nutrition, spent the day spinning in all five classes and co-instructing one.
"My grandmother actually died of breast cancer last year about this time of year, so that's why it means so much to me," Geyer said. "It was nice, though, because everybody wore obnoxious amounts of pink and everything was pink. It was so much fun."
One of the largest participating groups at the event was the Drexel squash team, which had 17 members participate in the event.
"It was fun to see a specific group come out to spin," Norman said. "I think it was something really fun for them, something new that they weren't used to, and they had fun doing it as part of their workout day."
"The spin wouldn't have had the participation or the donation numbers that we had without them," Dalton said.
All proceeds from the event were donated to the affiliated Susan G. Komen for the Cure fund.