After learning about "Off Campus," an award-winning comedy television series created by Drexel University students, programming directors of CBS' The CW Philly decided to begin airing the sitcom starting Nov. 5 at 11:30 p.m.
A cross between "Friends" and "It's Always Sunny In Philadelphia," "Off Campus" follows the lives, loves and struggles of five recent college graduates who have moved just off campus as they enter adulthood.
In addition to airing the pilot this weekend, The CW Philly will be showing episode 2 Nov. 12 and episode 3 on Nov. 19, both at 11:30 p.m. "Off Campus" will air between "It's Always Sunny In Philadelphia" and "South Park."
Laurel Chadwick, the supervising producer and a senior television major at Drexel University, spent the past three years working on the project.
"It's been the same script for the past three years, so I kind of feel like I've been working on a real professional show, especially now that it's airing on TV," Chadwick said. "We've become so attached to the story. We find it hilarious, and we've become attached to the characters, and even the actors have become our best friends."
With the exception of a professional cast, every aspect of "Off Campus" was made by students from the Department of Cinema and Television at Drexel's Antoinette Westphal College of Media Arts and Design.
During the 20-week production schedule, students filled a variety of production roles including director, audio engineer, camera operator and director of photography. Westphal interior design students served as art directors, fashion students worked on costumes and makeup, and music industry students created the score.
The sitcom caught the attention of programming executives at The CW Philly earlier this summer after being featured in an article in the Philadelphia Inquirer on May 26.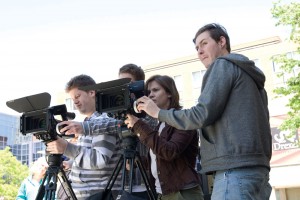 Andrew Susskind, the executive producer of "Off Campus" and director of Drexel's undergraduate television major Program, wanted the students to create a show that was closer to what their lives were really like, but at a high quality of production.
"We brought the shows over to the meeting for the people at The CW to see. They said, 'You know, they sound very impressive, and Drexel's a local school, and we'd love to support it. We think there might be a place for it to air,' and then we actually showed them the episodes and they said, 'Wow, this is pretty good,'" Susskind said. "I think they were very open to the idea before they really knew how polished it was. And then when they saw how accomplished it was, they felt very comfortable scheduling us."
The quality of "Off Campus" was of such high caliber that it won an Outstanding Achievement in Student Production at the 2011 National Academy of Television Arts and Sciences Mid-Atlantic Emmy Awards.
"To say we're thrilled is an understatement," Allen Sabinson, dean of the Antoinette Westphal College of Media Arts and Design, said in an Oct. 12 press release . "We've watched these shows since the beginning, and we knew they were good, but to be recognized by NATAS and CBS's CW Philly 57 speaks to the talent, creativity and hard work of our students and faculty. I am extremely proud of these achievements and believe that our students and faculty are just getting started."
The students, recent alumni and faculty who were recognized by name at the NATAS awards for their efforts on "Off Campus" included Ryan Goldberg, Kristina Massie, Laurel Chadwick, Ashley Hulse, Andrew Catenia, James Hall and Andrew Susskind.
"This has really become a series where everyone kind of knows what they're doing, not just in terms of what their own job is, but everybody gets the bigger picture," Susskind said. "Everybody knows what the series is about. Everybody knows what we are going for. … There's a nice atmosphere on set, which I think allows the actors to do their best work because it feels like a family."
Students are currently working on the fourth episode of "Off Campus," which, according to Susskind, the programming directors at The CW Philly have indicated an openness to airing, depending on the ratings of the first three episodes and when the fourth will be available.
"Our lead of the show, who really is like the central comedy actor, is moving to L.A. in January, so I think due to the fact that he is leaving, this will be our last episode," Chadwick said. "So now it's very nostalgic. It's sad. … But we definitely have to accept and move on because we're seniors, too, and it's time to go out into the real world."
"It really is a kind of staggering accomplishment given that we do this one day a week and which no professional in their right mind would do because we never get the benefit of any momentum," Susskind said. "They have to start every week from scratch, and somehow they not only get it done, but they get it done with some style and some grace and real accomplishment. It really is quite something, and I am very proud of them, but don't tell them that."
In case Drexel students miss viewing their peers' handiwork this weekend, all three episodes will be shown consecutively Nov. 26 at 1 a.m. and Nov. 27 at 2 p.m.