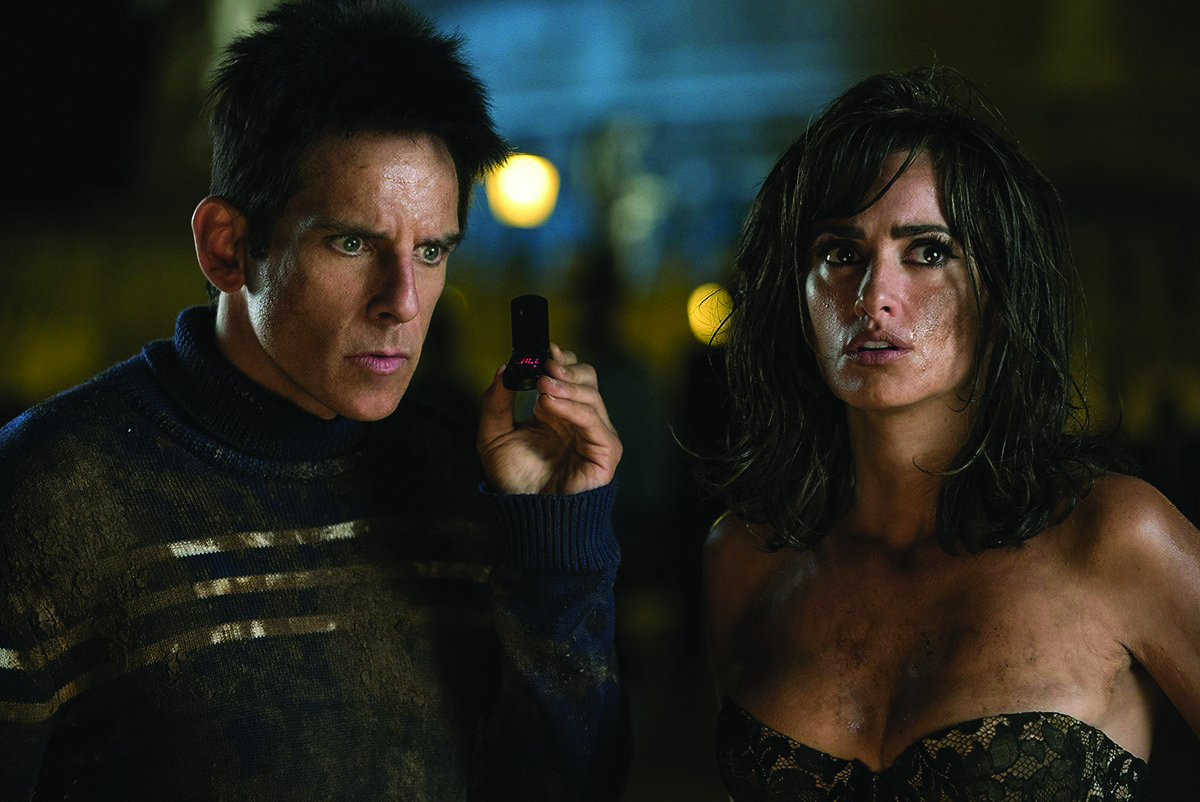 Silly. Preposterous. Occasionally insensitive. More than a decade after the first "Zoolander," it seems that Ben Stiller and his team of comedic juggernauts haven't lost a single beat. Stiller's Derek Zoolander and Owen Wilson's Hansel are back with more shenanigans, filled with laugh-out-loud moments and leaving the audience in a state of bewilderment.
The story begins with a news montage that transports the audience back into the pseudo-reality that is the universe of "Zoolander." Actual news anchors including CNN's Don Lemon announce that Derek's "Center for Kids Who Can't Read Good and Who Wanna Learn to Do Other Stuff Good Too" ended in tragedy when the infamous book sculpture atop the building collapsed, killing Derek's wife and "injuring" Hansel. Insert a downward spiral here. Derek loses custody of his son, forcing him into a life in exile. Hansel, too, takes this route, but he seeks solace in the arms of lovers including Kiefer Sutherland, setting him on the path to promiscuity. Both former style icons are wiped out of humanity's consciousness. This won't last for long, though, when a new fashion empire lures the two retired models back onto the runway and into a convoluted web of conspiracies endangering the world's most beautiful people.
The conspiracy is introduced abruptly when one such beautiful person, Justin Bieber, is hunted down by assassins. Bieber's parkour athleticism buys him some time before one of the hitmen gets to him, riddling the pop star's body with bullet holes. It was a truly lovely sight to behold, inspired by Sonny Corleone's demise in "The Godfather." But this time around, the tragic feel of the moment was replaced by pure hilarity.
The plot meanders between a handful of storylines, adhering to the formula applied by many comedies these days. The narrative structure is similar to the mindset of its lead protagonist: jumbled, ludicrous and incoherent. There's the overlying conspiracy theory which delves into a secret religious cult. There's Zoolander trying to regain the trust of his son. Then there's a revenge plot simmering in the background, ready to boil over any minute. This story is Frankenstein's monster. But "Zoolander" was never renowned for its story. It was known for its distinct flavor in comedic chops and on that end, it delivers. The intentional stupidity is emphasized perfectly by Stiller, while the other characters offer elevations in the standard of jokes to prevent this from turning into "The Three Stooges."
Christine Taylor's absence is fixed by Penelope Cruz, working for Interpol's "Fashion Division" in an attempt to make sense of the muddled plot — a difficult task, to be sure. Returning villain Jacobim Mugatu, played indelibly by Will Ferrell, is joined by Kristen Wiig's walking plastic mound Alexanya Atoz, furthering the credentials among the antagonists. Unlike in the first movie, the villains — specifically Ferrell — take the back seat this time, only appearing prominently in the final act. Ferrell adds his trademark over-the-top hysteria to the role, but reserving him for the last moments robbed the audience of relief from the character's 14-year hiatus. Yes, it's been that long.
Thankfully, though, the movie is buoyed by more than a dozen cameos from celebrities who play themselves, a trait shared by the original installment. Fashionistas such as Marc Jacobs, Anna Wintour and Tommy Hilfiger make appearances, getting involved in a bizarre plot that complements the theme of the movie. Even pop-ins from Katy Perry and physicist Neil deGrasse Tyson perpetuate this atmosphere, compensating for the limited roles of returning characters such as Mugatu. These cameos were perfectly paced out to keep the viewer engaged, especially when the plot becomes tedious in instances. Upon closer inspection, "Zoolander" plays out like an extended version of a Family Guy episode, which may or may not be to everyone's liking.
"Zoolander 2" won't provide an incisive narrative to please the more cerebral audience member because in essence, it is more of the original. While the film has been panned at the time of this review's writing, it should be noted that the movie intends to be deliberately stupid. That is how "Zoolander" was always meant to be. But fortunately for moviegoers, it never sinks to those terrifying Adam Sandler-esque levels.