Philadelphia's own Pennsylvania Ballet Co. has recently added "Giselle" to its performance list, with shows running Oct. 18-28. This classical ballet was first performed in a Parisian theater in 1841 and tells a haunting and woeful tale of love's joyous beginnings and its bitter end.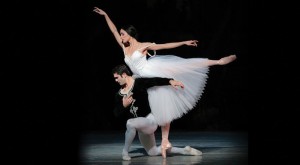 Giselle, the eponymous main character, is a farm girl whose weak condition (of what kind, we are not told) prohibits her from exerting too much energy, lest she experience fainting spells. This condition prohibits her from dancing much. A handsome young Count, Albrecht, moves into the neighborhood, disguised as a farm boy, and soon wins her heart. She is shy, and he courts her by picking flowers and dancing around her. His movements are lighthearted and quick; he often bounces on his toes and leaps toward her. They, and the rest of the farm village, dance in celebration, moving very quickly and often in unison, giving a sort of "maypole dance" effect.
Soon, a hunting party, which includes the Countess, comes to town, and Giselle dances for them, moving in bouncing, joyful ways, often smiling and curtsying between dance moves. One of Giselle's jealous lovers finds Albrecht out and presents him to the hunting party. The two fiancees, Giselle and the Countess, realize what has happened. The Countess remains cool; Giselle goes insane, running around the stage, pointing frantically at nothing in particular, and then — *spoiler alert* — she collapses and dies, presumably because of her weak condition.
Act II's setting is a graveyard, in which Giselle, and every other girl in the village who died before marriage, is buried. A fog machine helps set the dark atmosphere of the scene, and dead tree limbs hang menacingly over the gravestones erected in one corner. The girls appear onstage as brides, wearing long, white gowns and tattered veils. They are called "wilis." This references Slavic folklore; they are, generally, wandering spirits. A sort of Queen, who stands to one side of the group and directs them to kill any man who visits the grave, conducts these undead brides. When the jealous lover comes to lay flowers at Giselle's tomb, the undead brides fly to him and cast a spell on him. This spell causes him to dance until he dies from exhaustion. They then dispose of the body by dragging him across the stage and to, presumably, a grave where all the others who have met this fate are buried.
Albrecht soon comes to lay flowers at her grave as well, dragging his feet and often covering his eyes from grief. The same fate surely awaits him, as did the other lover. However, Giselle turns to the Queen of the Wilis and supplicates for his release, often throwing her hands up and falling to her knees. Though he caused her grief and death, she does not want any harm to come of him. Clearly, feminism was not a central theme to the ballet. Giselle and Albrecht take turns begging the Queen, who eventually grants him pardon. The two lovers, one an undead bride and one a very alive Count, embrace and part ways, Giselle to her grave and the Count back to his life of splendor. She sinks slowly and gracefully to the ground and glides backstage, leaving a distraught Albrecht staring at her gravestone, almost resignedly.
This ballet, first and foremost, is very bizarre. A mid-19th-century French ballet is not what most would usually connect with zombie brides putting hexes on unsuspecting men. However, there is something important to remember: Folklore and mystic beings were much scarier and much more real to people in past times. Today, we have horror films, crime shows and a general overexposure to media, which numbs us to "scary" ideas like "wilis." However, 171-plus years ago, this idea may very well have been frightening to the audience. They may have had to peek through silk-gloved fingers, hands to their faces, or hide behind someone else's hoop skirt. It's hard to say.
The ballet's choreography was incredible. Several times during the ballet, a dancer would perform a difficult move so many consecutive times that the audience would erupt in applause. Much of the dancing was done in pairs or groups, signifying the importance of unity, which is so protected in the second act. Likewise, the orchestra pit was amazing. The musicians' sound carried the movements of the dancers beautifully, and they produced a rich, full sound that filled the whole room. The props used were minimal, which was good, as it did not detract from either the dancing or the story being told.
Stage design was also sparse, the first act depicting a simple farm village and the second a spooky graveyard. The dancers' attire was simple, owing to their farm-villager statuses in life. Many wore plain blue or white dresses, or, as in the case of the second act, simple white bridal gowns.
For any who are interested in seeing "Giselle," tickets begin at $15. There are still two shows Oct. 27 and 28, but tickets are selling out fast!