Throughout popular music history, it is a common trend that even a great band has growing pains. A great deal of hard work is needed in order to decide what you want to sound and look like and to polish that aesthetic to perfection. Of course, getting there is only half the battle. The legendary bands were able to carve out unexplored territory in their music, giving them a second (or third) act as good as the first. It's no secret that The Clash is one of these bands, but their career trajectory doesn't quite fit my blueprint.
The important thing to know about The Clash is that they were at the forefront of punk rock in the mid-70s. The band, along with the Sex Pistols and Ramones, define the sound of a genre that was brash, anarchic and violently anti-establishment. Punk was also new, exciting and innovative, which meant the bands that led the charge played whatever they wanted and were still revered as the gold standard.
As a result, these three bands were fully grown and polished when their first album was released. Sure, The Clash had to develop its sound and go through several lineup changes — mostly notably that drummer Terry Chimes left after the first album — but it happened in the blink of an eye. Most bands need years and several albums to get that good; The Clash needed to play around 30 shows in mid-1976.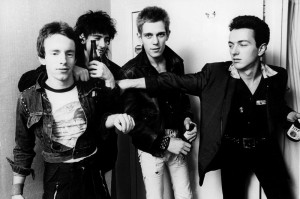 The classic lineup of Joe Strummer on vocals, Mick Jones on guitar, Paul Simonon on bass, and Nicky 'Topper' Headon on drums was already at the top of the punk world by 1978. Their music alone was inspiring dozens of new U.K. garage bands, while their staunch leftist ideology set the tone for punk's radical leanings.
After the straightforward sophomore effort, "Give 'Em Enough Rope," the band vastly expanded its repertoire by bringing elements of ska, reggae, rockabilly and other genres into the forefront of its music. Their next two albums, "London Calling" and "Sandinista!," featured sprawling and eclectic epics that highlight the band's ambitious experimentation. It just so happens that these grand statements were every bit as influential as their early days.
After four albums in four years, the band had successfully forged its musical identity. "Combat Rock" is another essential Clash album that proved to be the band's most commercially successful when it was released 30 years ago this month. However, the album also marks the beginning of the end for the band. Throughout the process of making the album, they showed signs that inner turmoil was getting the best of them. To start, "Combat Rock" was originally titled "Rat Patrol from Fort Bragg," another ambitious double-album in the spirit of "London Calling" and "Sandinista!." "Rat Patrol" was successfully recorded, produced and mixed by guitarist Mick Jones. However, the rest of the band was "dissatisfied" and instead brought in Glyn Johns to mix and produce a different version that was whittled down to the 12 songs that became "Combat Rock."
This move of calling in a producer who had previously worked with popular rock bands such as the Eagles, The Who and The Beatles was a strange one for the anti-establishment Clash, and it might have been the point where Jones began to feel alienated. Then, Headon was kicked out of the group because of his worsening heroin addiction shortly before the album's release.
While the band was able to tour with Chimes, its first drummer, Headon was a calming influence that was sorely missed. Tension developed between the creative axis of Strummer and Jones that threatened to tear the band apart. By 1983 both Jones and Chimes (again) were gone. The Clash officially disbanded in 1986 after releasing a contractually obligated, below-average final album.
Even though they were soon to experience a precipitous decline, "Combat Rock" is ironically their "breakout" album. It's more like the sound of a band that is hitting its stride. Getting into a groove of making concise albums that reach for more accessible sounds without compromising their ideology and experimental tendencies would have resulted in a wonderful third act for the band. But it was not to be, as even the commercial acceptance of "Combat Rock" was largely accidental.
No matter what, the Clash was an underground punk band at heart. Still, the Jones-led, rock-n'-roll rave of "Should I Stay or Should I Go" and the danceable and driving "Rock the Casbah" comprise some of the Clash's best material. Yet most importantly, "Combat Rock" is unaffected by the band's turmoil and every bit as influential as its earlier work. "Straight to Hell" is the key ingredient of M.I.A.'s "Paper Planes," "Ghetto Defendant" sounds like a blueprint for Gorillaz's "Clint Eastwood," and "Overpowered by Funk" is likely the spiritual birthplace of LCD Soundsystem.
The Clash's greatness may have ended with "Combat Rock," but its powerful voice continues to echo.