Breakthrough albums are a fascinating thing in that they often change the perception of a band forever, no matter how many years it was relatively unknown before or after its sudden popularity. And when I say breakthrough, I really mean breakthrough — as in a first-time Grammy winner with a multi-platinum record. This incredible success marks the pinnacle of the music industry in several ways, yet it also creates a backlash of "you-sold-out" naysayers that can obliterate an artist's credibility.
Think about present-day Adele and her recent sweep at the Grammys — do you really think people will think of anything but "Rolling in the Deep" decades from now? Pop-rock band Fleetwood Mac was in this predicament 35 years ago with the release of "Rumours," their 11th studio album. Not only is the band highly respected, but "Rumours" is regarded as one of the greatest albums ever made. The album is the perfect summation of Fleetwood Mac in that its previous incarnations and future experiments simply pale in comparison.
The original lineup of Fleetwood Mac — Peter Green, Jeremy Spencer, John McVie and Mick Fleetwood — was a top-notch blues band. Green and Fleetwood were previously members of the legendary collective John Mayall's Bluesbreakers. After decent success in the late 1960s, including a No. 1 hit in the U.K., Green sadly succumbed to drug use and subsequent schizophrenia. The next six years saw Fleetwood Mac as a middling 70s rock group struggling with a revolving door of guitarists, featuring Spencer, Danny Kirwan, Bob Welch and Bob Weston in that order, plus the addition of McVie's wife, Christine McVie, on keyboard. The band finally regained its footing in 1975 with the debut of Lindsay Buckingham on guitar and Stevie Nicks on vocals. This quintet of Buckingham, Fleetwood, McVie, McVie and Nicks achieved worldwide success, even setting a record for most expensive album with 1979's "Tusk." This lineup held together until 1987 and then endured many more changes before reuniting in 1998.That's a long history for any band, but it is nearly moot because "Rumours" is so synonymous with the perception of Fleetwood Mac that one almost assumes the band never sounded different.
So, how has fame come both critically and commercially to "Rumours" after 35 years? The commercial aspect is easy: the album has sold more than 40 million records since its release, making it one of the highest-selling albums ever. The critical acclaim is a different story. It calls for a retelling of the most infamous example of how relationships can affect a band. Right now you're probably thinking of Yoko Ono and the alleged reason for the Beatles' demise. I'm talking about something much, much worse. As you might have guessed, John and Christine McVie were married bandmates since the early 70s. It turns out that the McVies divorced sometime in late 1975 or early 1976 following a lengthy tour to promote the album before "Rumours." That's one relationship gone wrong. Buckingham and Nicks, who both joined in 1975 and performed on the previous album, were in an on-again/off-again relationship that had devolved into constant fighting during the recording of "Rumours." That's two. Fleetwood was not to be left out, for he discovered that his wife was having an affair with his best friend. You can bet that these three traumatic experiences led to some tension.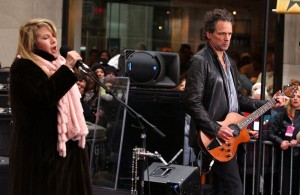 The recording sessions at the Record Plant in Sausalito, Calif., reeked of social isolation and emotional strain. The men and women stayed in completely different locations around the studio. After struggling to find the right formula for recording, the band would consistently indulge in excessive, drug-fueled partying before making the album in the wee hours of the morning. Even the songs — excluding "The Chain," which was co-written by all band members — are written solely by Buckingham, Nicks or Christine McVie. Despite all of these forces that threatened to tear the band apart, Fleetwood Mac proceeded to make not only its best work, but compelling and transcendent music. Instead of wallowing in their personal woes, they pulled off a fantastic collaboration, right down to the three-part harmonies that they employed so well. The lengthy backstory of "Rumours" doesn't detract from its greatness; it makes the album that much more poignant and gripping. There's no better example than the chorus of "Go Your Own Way," when the harmonies suggest a ubiquitous feeling of anger and sorrow, as if everyone is bitter toward one's former lover. It's sad because it's true; that's where the power of "Rumours" lies.