A common theme throughout popular music history is that artists borrow from other artists. Plagiarism and overt stylistic trends in a slew of bands (see: British Invasion) aside, the influence of other musicians may be an inescapable reality of making music. There are many people who despise that most music is no longer original, but what those people do not understand is that it doesn't really matter who stole from whom. What matters is how a band takes those sounds and puts them into a novel context with emotional depth. That is how four white Ivy League students are able to appropriate African rhythms and tones into something meaningful.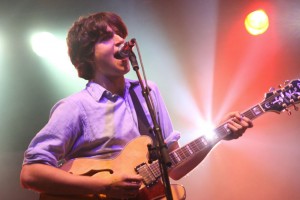 From the start, the band Vampire Weekend was both sensational and acutely self-aware. The first collaboration between members of the band was a rap group that included Ezra Koenig and Christopher Tomson while they were still students at Columbia University. The eclectic nature of Vampire Weekend developed in their mutual love of punk and African music, then applied in Koenig's tour with experimental indie rock band Dirty Projectors. Once fellow students Rostam Batmanglij and Chris Baio joined to form the full lineup in 2006, they made that experimental tendency their driving force. They even gave themselves a tongue-in-cheek definition of their music — "Upper West Side Soweto" — before anyone else could.
With Koenig on vocals and guitar, Batmanglij on piano, Tomson on drums and Baio on bass, Vampire Weekend quickly rose out of the Columbia music scene as a highly anticipated new arrival. The stage was now set for the recording of what would become "Vampire Weekend." Put together piece by piece from parents' basements to studio sessions in Brooklyn, self-produced and self-released, the original "Vampire Weekend" CD-R was released in fall 2007. Promoted by lots of Internet buzz and even some print — Spin magazine put them on the cover before they released their debut album — indie label XL Recordings promptly signed Vampire Weekend. "Vampire Weekend" was released Jan. 29, 2008, the only change being the addition of "I Stand Corrected."
The very nature of the band and its new album made waves in the music world. As the subsequent Internet backlash showed, some people just weren't ready for the juxtaposition. Though Vampire Weekend adapted its world music influences with the love and care that only aficionados can provide, there were reflexive accusations that the band members were stuck-up, high society frauds. Now that the criticism has subsided, Vampire Weekend's continuing popularity and acclaim proved the band would not be defined by the contention over its self-titled debut.
The impressive thing about the album is how well Vampire Weekend is able to cram so many refreshing ideas in its brevity. "Vampire Weekend" is a very accessible 34 minutes, making its somewhat challenging fusion all the more remarkable. Even Paul Simon's "Graceland" is nine minutes longer with the same number of tracks. Yet, regardless of length, it's hard to deny that the quartet of songs leading off the album ("Mansard Roof," "Oxford Comma," "A-Punk" and "Cape Cod Kwassa Kwassa") are pop perfection. Synthesizers, electronic bass drums and string sections suddenly jump to the forefront every once in a while, reminding you that this album is far from derivative. However, "Vampire Weekend" wouldn't carry the same weight if the band took things too seriously. It's the light, breezy and tongue-in-cheek character of their songs that makes the album memorable. Never has breaking barriers amid criticism sounded so nonchalant and carefree.