When music and politics collide, their relationship tends to be fiercely antagonistic. Artists who have a strong political viewpoint will be critical of the government — whether or not they have the legal freedom to do so — if they disagree with its actions or leanings. Wars (especially the Vietnam War), racial injustice (the charged lyrics of Public Enemy) and the establishment in general (The Clash, The Sex Pistols) have all been topics observed with a critical eye in the form of protest songs. As you can see, sometimes a musical group has such a strong political viewpoint that its ideology becomes synonymous with the band itself. It makes sense that the bands that are politically aggressive are also musically aggressive. Twenty years ago this month, Los Angeles rap-metal quartet Rage Against the Machine arguably set a new standard for this combined aggression, debuting a devastating and uncompromising new sound.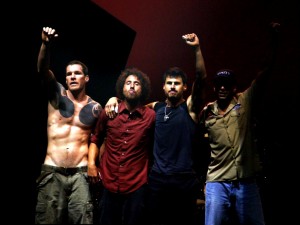 The genres of rap and metal were considered wildly disparate. Virtually everything from the instrumentation to the sociopolitical origins can hardly be farther apart. However, the pure forms of these genres were starting to blend by the late '80s as rap groups such as Public Enemy, Run-D.M.C. and Beastie Boys flirted with rock influences. Still, the barriers between rap and metal held fast. Until Rage Against the Machine came along, that is. In 1991, guitarist Tom Morello and vocalist Zack de la Rocha met at an LA club where de la Rocha was freestyle rapping. Soon, Morello asked de la Rocha to form a band with him, and de la Rocha agreed. Morello contacted drummer Brad Wilk, who had auditioned for Morello's former band, Locked Up. De la Rocha convinced his childhood friend, bassist Tim Commerford, to make the quartet that was soon christened Rage Against the Machine.
As the title of this new band suggests, the four group members implicitly agreed on a staunch leftist political ideology. RATM would soon be notorious for its unflinching political criticisms that came to define the band as much as its songs. Even the cover art of the debut album was the self-immolation of a Vietnamese Buddhist monk, an iconic image of protest in the face of religious persecution. After vocal support of the Zapatista Army of National Liberation in Mexico, a stunt on Saturday Night Live involving inverted American flags and denouncements of political figures — including lambasting vice presidential candidate Paul Ryan, though he likes their music — it is clear that these guys have stayed true to the rage in their name even after 20 years.
Of course, you do not need to know about these incidents to tell that these four young men are channeling their political anger. "Bombtrack" starts the self-titled album with a bang, de la Rocha claiming his thoughts are those of a "militant mind, hardline, hardline after hardline." His rapping, as on the rest of the album, is so intense and in-your-face that you can practically feel the hatred radiating off of him. He's a powder keg waiting to explode, unleashing primal screams when he just can't take it anymore. Morello, Commerford and Wilk are right there with de la Rocha, complementing every radical outcry with another jagged riff and powerful groove. "Killing in the Name" ends with the band rising to meet de la Rocha's defiant refrain, "F— you, I won't do what ya tell me," while "Freedom" takes the furious scream of "Freedom, yeah right," to a new high when the band descends into utter chaos to close the album.
The greater implication of "Rage Against the Machine" is that de le Rocha's politically charged rap aesthetic worked extremely well with the band's relentless hardcore punk-metal foundation, a combination that no one had been able to accomplish.
RATM's successes made rap metal a commercially viable genre, paving the way for popular acts such as Limp Bizkit and Linkin Park. Yet it is still RATM by far with the most critical acclaim, of which "Rage Against the Machine" is a substantial part. The most incredible characteristic of the band's debut album is Morello's guitar playing, which turns standard Zeppelin-esque metal riffs into something otherworldly. From the whistling noises in "Bullet in the Head" to the low murmurs of "Fistful of Steel," Morello continually thrills with sounds you wouldn't believe came out of his instrument.
Luckily, the guitar playing does not distract the band from delivering its message, showing surprising discipline for a band that only formed the year prior to the album's release. As a whole, they navigate the unconventional song structures and changing tempos that are prevalent on "Rage Against the Machine" with breathtaking skill, making a funky breakdown transition seamlessly into a chugging groove and then back again. A debut album is usually the time where a band can be uneven, especially when helping to define a genre, but not RATM. Their sound, along with their anger, came fully formed and ready to — as Morello's most famous guitar reads — "arm the homeless."