Talk of dead baby whales and jellyfish-inspired stage props were perfectly acceptable at a Friday Free at Noon concert at World Cafe Live, as long as it was Rachael Yamagata commenting. Yamagata was performing in a free-entry concert Sept. 30 for WXPN 88.5 radio on tour promoting her third studio album, "Chesapeake," which was released Oct. 11.
Even for those somewhat familiar with the 34-year-old Virginia-born singer/songwriter, the performance felt inclusive and relaxed, as if it was no more than a gathering of friends. Yamagata often shared quirky quips between numbers, providing amusing backstories or explaining inspirations for her new songs. Some audience members whispered, "Oh, she's really funny!"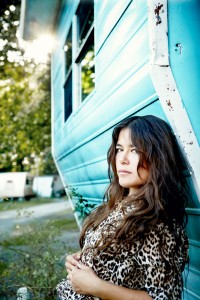 Rachael Yamagata performed a free concert at World Cafe Live Sept. 30. She is currently on tour to promote her third studio album, "Chesapeake," which was released Oct. 11
At World Cafe Live, Yamagata played numbers from her previous album, "Happenstance" (2004) and performed songs from "Chesapeake" such as "Starlight" and "Miles on a Car." A couple times between songs, Yamagata noted that in "Chesapeake" there would be "happier" songs. She stated that positive or cheerful songs were a bit difficult for her in the past, as she worried they would seem "fake." In spite of this, Yamagata displayed an air of humble cheerfulness that charmed audience members and made her performance warmly pleasant and openhearted. Yamagata tweeted on her webpage shortly after the performance, "Philly! … Love to u and XPN!" Yamagata will be returning to the World Cafe Live on Oct. 31 for another Philadelphia performance.
The composing and recording of "Chesapeake" took place in the house-turned-studio of producer[SM1]  John Alagia along the Chesapeake Bay under Yamagata's own label, Frankenfish (previously considered a title for the album). Along the same home-grown yet polished attitude, the album cover was designed using the Camera+ app on the Apple iPhone. Before the album release, the singles "Starlight" and "Even If I Don't" were available for download on Amazon and iTunes.
In "Chesapeake," Yamagata's throaty vocals meld with a spectrum of sounds from poignant piano melodies to gritty guitar riffs. Slow strings and piano ballads featured in the album could seem slow for some listeners, but "Chesapeake" is anything but single-toned. Though Yamagata describes "Chesapeake" as "sorrowful and deep," the album begins with energy and shrug-your-shoulders optimism in "Even If I Don't" and then takes a sharp turn toward the sultry moods of late nights in "Starlight." Ballads reenter the scheme with songs like the powerful yet mournful "You Won't Let Me" and the resigned and soft-toned "Full On."
"Chesapeake" looks into the personal growth Yamagata experienced through the album, which she describes on her website as "surprising the hell outta me." For instance, the track "The Way It Seems to Go" serves as a humorous introspection on Yamagata's nature, something that Yamagata described on Sept. 30 as "an autobiographical piece." "Chesapeake" freely explores the sorrow of life's ordinary heartbreaks and tempers them with humor, gentle-heartedness and cheerful self-acceptance. Listeners will find Yamagata's third album refreshing in its honesty and soothing in its relatable story.