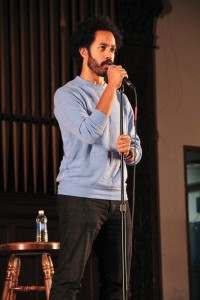 Wyatt Cenac of "The Daily Show with Jon Stewart," who announced Nov. 26 that he will leave the show in December, came to Drexel Nov. 17 to headline the 13th annual Drexel comedy show. The show, presented by the Campus Activities Board, showcased Cenac as well as fellow Daily Show writer Travon Free and Drexel student Josh DeCristo. For almost two hours, the trio of comics entertained the jam-packed Main Auditorium with their hilarious stand-up routines.
The night started out with Drexel student Josh DeCristo warming up the crowd. DeCristo is a senior computer science major who won the CAB comedy contest to get the opening slot in the show. He poked fun at actor Nicholas Cage, Facebook and his weather professor. DeCristo worked past his nervousness after his first couple jokes hit home.
After energizing the crowd, Free took the stage. Free had gained some Internet fame by writing and starring in the YouTube series "The Gentleman's Rants," and he recently landed a job as a writer on "The Daily Show." Free covered his days growing up in the infamous Compton neighborhood and his recent move to New York City. Interacting with the crowd at one point, Free joked around with a couple in the front row over the course of his routine. Closing with a very funny story of how he got banned from a Starbucks once, Free handed over the microphone to Cenac.
The capacity crowd erupted as Cenac took the stage and began his headlining set. He opened by thanking the basketball team for defeating the University of Pennsylvania earlier in the day so that he didn't have to do the job of cheering everybody up. Over the course of more than an hour, Cenac covered a wide range of topics with an air of knowing exactly what he was doing. He compared children's toy stores to strip clubs and reflected upon his irrational fear of khaki pants. One well of laughs that Cenac kept dipping into was a list of his own silly observations that he saved on his phone and would tweet if he had a Twitter account.
In a cool, calm and collected manner, Cenac stood behind the microphone stand as joke after joke hit home. Anecdotes about being misunderstood as a male nanny in his new apartment building and comparisons of the city of Dallas to Khloe Kardashian even brought some members of the audience to tears. Cenac had the audience eating out of the palm of his hand by the end of his set, and when he finally walked off the stage, the crowd was left applauding and shouting out for more.
The night ended with DeCristo coming back out to thank Cenac and Free for coming out, leading to another round of applause.