With a frame under five feet and a petite Southern-tinted speaking voice to match, no one can prepare themselves for what happens when Kristin Chenoweth opens her mouth to sing. The Tony Award-winning Broadway superstar, best known for her portrayal of Glinda in the smash hit musical "Wicked," earned herself a massive fandom with the colossal voice inhabiting her doll-sized body. She graced the stage of Philadelphia's Academy of Music June 1 with her bubbling presence for an evening of music, tears and laughs.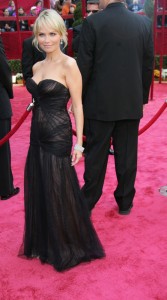 Before the tiny diva even took to the stage, the audience was already applauding wildly. The orchestra provided an overture montage to accompany a slideshow of photos of Chenoweth in some of her featured shows like "Promises, Promises," "You're a Good Man, Charlie Brown," and the recent TV show "GCB," with each new reference provoking another round of cheers.
When Chenoweth at last took to the stage in a black cat suit and towering heels, the theater erupted. After a good cheering delay of at least 30 seconds, she brought out her rhinestone-studded microphone stand to get the party started.
The wonderful thing about Kristin is how much she loves talking to her audiences. At the end of her opening number, she grabbed a giant Wawa cup off of the piano, slurping for a moment before pointing out that, having spent several years living in Pennsylvania, she "knows the difference between 7-Eleven and Wawa" and that she had a Tastykake before the concert.
In the second segment of the show, she took the opportunity to bring out a few of her countless pairs of stilettos to model while performing her comical tango-beat song "In These Shoes?"
"I don't have children," she quipped, "I have shoes." During a musical shout-out to her country singer friend and idol in "What Would Dolly Do?" she snagged a phone from a front-row spectator to "video call" the bewigged idol for some advice.
Sticking to her theatrical roots, Chenoweth performed a number of show tunes such as "Bring Him Home" from "Les Miserables," "Wishing You Were Somehow Here Again" from "The Phantom of the Opera," and "Maybe This Time" from "Cabaret," the last being best known from Chenoweth's appearance as April Rhodes on "Glee."
Gleeks were also excited to hear her team up with one of her two supporting men to pull off her emotional mashup of "One Less Bell to Answer" and "A House is Not a Home" from the show. For a surprising change, Chenoweth took the audience "around the world with Glinda" as she performed her trademark "Wicked" song, "Popular," in English, Japanese, German and Dutch.
Halfway through the first half of the concert, Kristin was joined onstage by some faces familiar to the musical lovers in the crowd. Her trio of backup singers took control of the puppet characters Lucy T. Slut and the Bad Idea Bears from "Avenue Q."
With her signature sexy cymbal riff accompanying her sashaying path across the stage, Lucy enjoyed taking a few digs at Chenoweth, looking her up and down with a snort of "Hey, short stuff" and rubbing in her own show's past success at beating out "Wicked" for the  Tony Award for Best Musical, cumulating in a brief catfight between the two.
Chenoweth's concert was just as touching as it was funny. She shared her lifelong faith with her fans through the gospel hymn "Upon This Rock," and she showed the true meaning of friendship by choosing two 16-year-old girls from the audience to sing "For Good" from "Wicked" with her. She proclaimed that the greatest love of all is that of "Fathers and Daughters."
As a concluding performance, she shared with the audience how she had created the charity project Maddie's Corner to support animal adoption, and in song she told everyone of her desire to let the world of the future know that "I Was Here." It was amazing to see someone so small with a voice as big as her enormous heart.