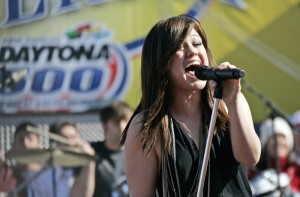 Kelly Clarkson is back, screaming about men and remaining bitter while doing so. To refresh your memory, there are a few things everyone should know about the pop star. She was the very first "American Idol," has two Grammy Awards and she still has great anger toward the male gender.
Many of Clarkson's previous songs, such as "Behind These Hazel Eyes," "Never Again" and "Already Gone" confirm this. "Sober," a track from Clarkson's ill-fated album "My December," boasts such lyrics as, "Three months and it's still harder now. Three months I've been living here without you now. Three months yeah, three months." Clearly, Clarkson is directing her lyrics at a certain someone and releases her rage by recording an album.
Clarkson's fifth studio album, "Stronger," released Oct. 24, won't disappoint fans. The deluxe edition is packed with 17 pop songs and a few soulful slow jams, seven of which Clarkson co-wrote.
On Aug. 30, Clarkson hosted a live webcast on www.kellyclarkson.com to debut the first single off "Stronger." The chosen song was "Mr. Know-It-All," which  was picked because "it was unlike any other song that really I have ever come out with, and secondly it's very different from a first single for me," Clarkson said.
"Mr. Know It All" is another breakup anthem that doubles as an upbeat pop song with the classic Clarkson bitterness. "Oh you think that you know me, know me. That's why I'm leaving you lonely, lonely. 'Cause baby you don't know a thing about me. You don't know a thing about me." Clarkson never fails to give us ladies the empowerment anthem of the year.
While many of her songs evoke a slightly bitter undertone, "Let Me Down" is the most bitter of them all. An infectious song with a fast beat, Clarkson will make you want to scream the chorus with her. "You're only gonna let me down, when it counts, you count down. You're only gonna turn me out. As I burn, you burn out. You're only gonna make me feel so crazy, but when I think we could be something you go and let me down, let me down."
As for her second single, rumors on the Internet are saying that Clarkson will release "What Doesn't Kill You (Stronger)." This jam has remnants of "Since You Been Gone" and will make you want to jump up and down when the chorus hits. "What doesn't kill you makes you stronger, stand a little taller. Doesn't mean I'm lonely when I'm alone. What doesn't kill you makes a fighter, footsteps even lighter. Doesn't mean I'm over 'cause you're gone." After this song ends, you will truly feel like an independent woman, even if you're a dude.
If you are a woman, I recommend buying "Stronger." Listening to any Clarkson track will make you feel empowered as well as make you feel better about that creep you dated. If you are a man, run in the opposite direction.
It's been nine years since Kelly Clarkson won the title of "American Idol," and in that time, she has gotten a lot of emotions off her chest. I hope that she continues to rage out on men and keeps collecting Grammys.