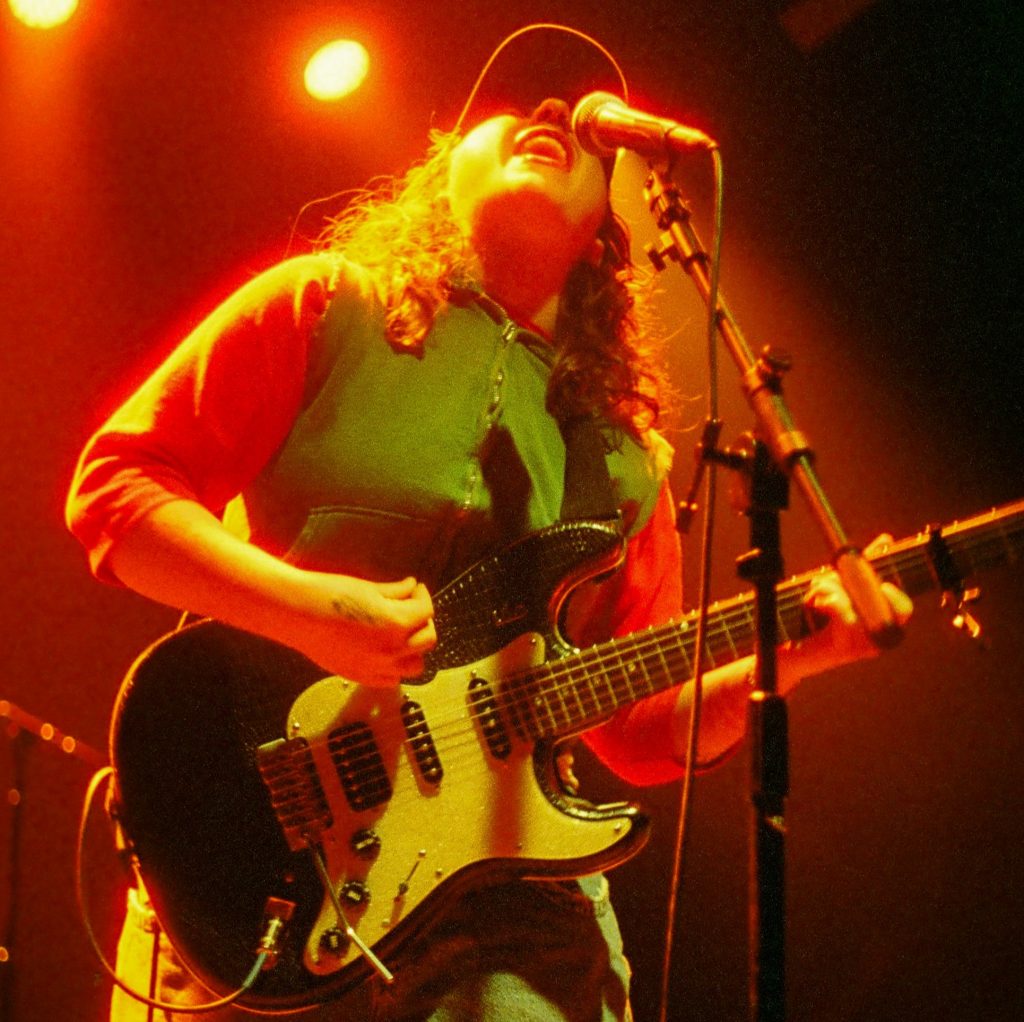 North Carolina rock band Wednesday headlined Union Transfer in Philadelphia Saturday, June 17. The band's 35-stop, self-titled USA tour is in support of their newest album "Rat Saw God," which was released April 7. This project, released via Dead Oceans, had a notably warm reception from critics and fans alike, obtaining Pitchfork's "Best New Music" distinction and an average of 3.55 out of 5 from over 3,700 ratings on Rate Your Music.
The opening acts for Wednesday's Philadelphia show were a special bunch. The band Tenci, along for the second half of the US tour, began the night at 8:01 p.m. with around a half-hour set. This band had a laid-back presence but featured ear-raising vocal inflections throughout their twangy songs courtesy of lead singer Jess Shoman. The band members treated the crowd to some extremely awkward commentary in between songs regarding the audience's shoes, however they seemed self-aware of this.
Tenci also has been highlighting queer and trans rights organizations during this tour by taking donations to the Campaign for Southern Equality as well as featuring specific local groups in Philadelphia, Toronto, Chicago and Nashville. After their set wrapped, they introduced Brian Graves from The Attic Youth Center, who informed the crowd of the group's mission to create a safe and supportive environment for LGBTQ+ youth in Philly. It was a thoughtful gesture that will hopefully become more common in the touring industry, as it took less than five minutes in total out of the night.
At 8:51 p.m., the Columbus-based group All Dogs took the stage for the first time since 2016. Later in the night, Wednesday's lead singer Karly Hartzman explained that she had played All Dogs' music on the University of North Carolina Asheville's student-run Blue Echo Radio during her college days and that she was very thankful and honored to have them reassemble for the show. Philadelphia was the only city on Wednesday's tour to feature the All Dogs reunion set.
The five-piece headlining band took the stage at 9:54 p.m. with a packed crowd that had grown significantly since the first act. Wednesday consisted of Hartzman as lead singer and guitarist, MJ Lenderman on electric guitar and backing vocals, Xandy Chelmis on pedal steel, recently-joined member Ethan Baechtold playing a five-string electric bass and Alan Miller on drums.
Wednesday's performance began with the song "Hot Rotten Grass Smell," which also opens their album "Rat Saw God." The band's setlist contained various tracks from their three original projects; their 2020 debut "I Was Trying to Describe You to Someone," "Twin Plagues (2021)" and 2023's "Rat Saw God." Aside from their albums, they also covered Gary Stewart's "She's Actin' Single (I'm Drinkin Double)," which had been included on a compilation project of unoriginal songs titled "Mowing the Leaves Instead of Piling 'em Up."
Hartzman stated that this may have been "the biggest show ever" for the band, while simultaneously hyping up the city by saying "Philly always shows the f*ck up for us." They then broke into some older tracks by playing "Cody's Only" and "Twin Plagues" from the eponymous album. From there, Wednesday delved into their newer material, playing "Formula One," "Bath Country," "TV in the Gas Pump" and "Chosen To Deserve." The last of these four, a single released on Jan. 18, received some preemptive background from Hartzman. She explained how such vividly revealing lyrics had been distressing to play for family initially, as the song covers topics such as irresponsible drug use at her parents' house and early hook-ups in cars.
The band's sound combined twangy elements of country and folk music with loud, fuzzy guitar tones of modern rock and shoegaze. Aside from his role as Wednesday's guitarist (and Hartzman's romantic partner), Lenderman has established himself as a solo act playing in this sonic territory with his notable 2022 album "Boat Songs."
The stage was not decorated in any way besides with the gear needed to create the band's sound. Each member wore casual outfits, with Hartzman describing her own as "cartoon, middle school bully" attire. At one point, she took a moment to congratulate her sister Maura's boyfriend Chase who had apparently just graduated from Drexel University that week. The band also performed the song "Maura" from their debut album, which Karly dedicated to her sister who was in attendance at the show. She also gave her band members a "break to pee" while she gave a rare performance of the single "Feast of Snakes" by herself, after playing "Maura" and "Quarry."
Leading up to the night's closing, the crowd awaited the performance of "Bull Believer"; Wednesday's eight-and-a-half minute long, leadoff single released on Aug. 7, 2022. Attendees had shouted the song's name earlier in the show, to which Hartzman told them that it would be coming later on. Before performing the track as their final song, the band stated, "We don't do encores because we think they're lame." It was a grandiose move that also felt well-earned.
Wednesday's stop at Union Transfer was the 35th show that the band had played since April 26, as the band had also taken on an 11-stop European tour from late May to early June. Their headlining tour ends on July 1 with a return to Asheville, NC only to continue their tireless year on the road with more fall dates in Europe, a three-show stint with Jason Isbell & the 400 Unit and multiple festival appearances including WXPN's XPoNential Music Festival in Camden, NJ on Sept. 23.
SETLIST (some info from Setlist.fm)
"Hot Rotten Grass Smell" ("Rat Saw God")
"Cody's Only" ("Twin Plagues")
"Twin Plagues" ("Twin Plagues")
"Formula One" ("Rat Saw God")
"Chosen to Deserve" ("Rat Saw God")
"She's Actin' Single ("I'm Drinkin Double")" [Gary Stewart cover]
"Bath County" ("Rat Saw God")
"Billboard" ("I Was Trying to Describe You to Someone")
"TV in the Gas Pump" ("Rat Saw God")
"One More Last One" ("Twin Plagues")
"Handsome Man" ("Twin Plagues")
"Maura" ("I Was Trying to Describe You to Someone)
"Quarry" ("Rat Saw God")
"Feast of Snakes" (solo) [Single]
"Gary's" ("Twin Plagues")
"Got Shocked" ("Rat Saw God")
"Fate Is…" ("I Was Trying to Describe You to Someone")
"Bill Believer" ("Rat Saw God")