We Were Promised Jetpacks stepped onstage May 5 at Union Transfer without any lead-in music or introduction. They grabbed their instruments and promptly started their first song, "Short Bursts."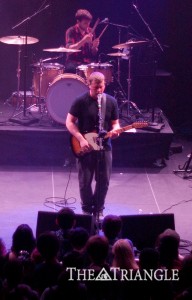 The Scottish quartet didn't spend time trying to coerce the crowd into engaging in their set. They didn't ask anyone to clap or sing along. They let the music speak for itself. Other than a few expressions of gratefulness from lead singer Adam Thompson, the band didn't say much.
"We try not to interrupt the flow of the songs," drummer Darren Lackie said.
They don't need to talk to the audience to keep everyone's attention. Their songs are completely captivating when performed live. Fast strumming, thundering drums and strong vocals all make their set powerful. Their songs are turbulent and tense, with buildups leading to bursts of energy.
We Were Promised Jetpacks, often called 'Jetpacks' for short, formed in Edinburgh, Scotland in 2003. While finishing university, they signed to Fat Cat Records and released their first full-length album in 2008. In October 2011 they released "In the Pit of the Stomach," an album they approached differently than their debut record. Lackie revealed that they thought more about how the songs would sound live, and the process of putting the album together was new to them.
"We kind of did it more like a paid job," Lackie said. "We'd go to work every day, [and] we sort of had a plan of what we wanted to do, what we wanted to achieve by the end of the day, which was totally different for all the songs on the first album. … It was a totally different writing experience sometimes."
There is a lot that makes them stand out, but one aspect that often comes up in interviews is that they aren't influenced by "classic" bands. The band is focused on the present and creating music with a sound they love. They listen to modern music and cite contemporaries as their influences.
"We all listen to our friends' bands — bands we like not only as musicians but as people as well," Lackie said.
Perhaps this sentiment is partially what contributes to Scotland's currently thriving indie scene. These bands support each other and learn from each other, creating music that feels part of a cohesive movement with variety. While a current trend is to produce music without a label, there are small labels like Fat Cat Records that successfully promote bands.
"[Our label] is really supportive of us. We know everyone who works on the label. We're friends with everyone," Lackie said. "We're not keen on doing anything without our label. They're more help than a hindrance, I think."
Scotland has produced many phenomenal bands, including Jetpacks, who are passionate about what they do and are fantastic at doing it.
Jetpacks' performance in Philadelphia this past weekend was more than enough evidence that they're a band everyone should give a chance. The members are technologically gifted, and while long stretches of instrumentals can sometimes bore an audience, WWPJ manages to pull everyone into a trance. Guitarist Michael Palmer shushed the crowd as the band played "Pear Tree." The audience obliged, completely taken aback by what was being played.
Their instrumentals may be key, but their lyrics shouldn't be overlooked. Thompson doesn't necessarily write songs about anything in particular. Lackie admitted that he doesn't really know what the songs are about. While this seems to display a disconnection to the song, that's not the case for the indie quartet. The lyrics are delivered in a heartfelt way, and some lines stand out as being quite poetically gorgeous. They are unique and open to interpretation, letting the listener make each song his or her own.
The crowd in Philly sang along to lyrics from songs new and old. They belted out the much-loved "It's Thunder and It's Lightning," which closed the set. Thompson thanked the crowd, and the band left the audience feeling enamored by what they just experienced.