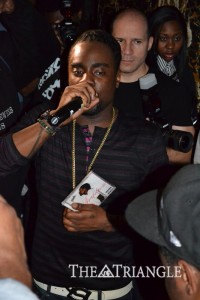 On Oct. 26, Wale held a private listening party for "Ambition" at the Gansevoort Park Hotel in New York City. His sophomore album is available now in stores and on iTunes.
On Nov. 10, 2009, Wale released his debut album, "Attention Deficit," on Interscope Records. Almost two years later, he is in a completely different position in his career. After signing with Rick Ross' Maybach Music Group and Warner Bros., Wale is more popular than ever. He's been featured on many hit records, including Waka Flocka's "No Hands," and took advantage of an opportunity given with the MMG collaborative album, "Self Made Vol. 1," released earlier this year. This Tuesday, Wale released his sophomore album, "Ambition," with high expectations from himself and his rapidly growing and dedicated fan base.
"Ambition" is truly Wale's second chance at a debut album. When "Attention Deficit" was released, it was undershipped and only sold 28,000 copies in its first week after a ton of mainstream hype. With the help of a new label and team, Wale is back and stronger than ever with his sophomore release.
The album's first three songs set the tone as Wale gives his audience insight to where he is with his music now. On "Don't Hold Your Applause," Wale tells his fans, "I'm tired of making money. I'm onto making history." The next song is "Double M Genius," which features boastful production and Wale delivering some of his classic sports and sneaker references. He then goes into "Miami Nights," a song about the lavish life, featuring adlibs from his boss, Rick Ross.
With the release of "Ambition," Wale openly stated that he wants to be regarded as one of the best rappers in the game. He continues to strive to be great, and no song shouts that more than "Legendary," produced by Toomp. While introducing the song at his private listening party at the Gansevoort Park Hotel in New York City, Wale said, "When I wrote this song, I was actually talking to every legendary rapper that's ever walked the face of the planet and asking them to hear me now. I'm asking my fans to put me in the category with all of them, and I feel I belong there." Wale delivers some of the best verses of his career over a chilling loop from Toomp. The beat is heavy but still gives enough room to emphasize the message Wale is trying to share. "It's something to be great; it's nothing to be famous."
The sound of the album shifts as the features begin pouring in, starting with the lead single, "Lotus Flower Bomb," featuring Miguel. The single is followed up by "Chain Music," which was a track from Wale's latest mixtape, "The Eleven One Eleven Theory." Other features include KiD CuDi on "Focused," Ne-Yo on "While Linen (Coolin)," and Big Sean on the Diplo-produced "Slight Work."
"Sabotage," the standout track from this portion of the album, features live instrumentation and a loud hook from singer Lloyd. "My girl likes to sabotage our love, yeah, she can only take so much more than her heart got, she can only live for the moment, why? I'll never know it, guess I'll meet her right back at start." Wale recorded this song directly after getting in a fight with a girl he was seeing at the time, a back-story which only adds power to the words he raps about relationships.
The album then shifts back to a similar sound and vibe created early on with the title track, which features his MMG teammate Meek Mill as well as Ross. The song opens up with chilling keys and synths as Wale says, "Your time is now, on everything. Took my heart away from money. I ain't interested in fame, and I prayed I'd never change. Ambition is priceless. It's something that's in your veins, and I put that on my name." Meek Mill and Rick Ross rap their verses before a dramatic buildup for Wale. "They gon' love me for my ambition, easy to dream a dream but much harder to live it."
The album begins to wind down with "Illest B—-," "No Days Off," (another track produced by Toomp) and "DC or Nothing." He finishes the deluxe version of the album with "That Way," originally on "Self Made Vol. 1," and "Bait," a fan favorite from Wale's latest mixtape, "The Eleven One Eleven Theory."
"Ambition" is not the classic, Grammy-winning album that Wale had claimed it would be, but it did show growth from his debut and mixtapes, as well as a lot of potential for his career in the future. The album highlights his versatility as an artist to make radio hits, party records, organic hip-hop and even soulful songs. While he is not one of the elite rappers in the game yet, his drive and confidence in his music give him the ability to get there if he continues to work as hard as he did on his sophomore album.