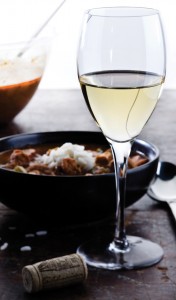 Vinho Verde, which translates to "green wine," offers a light, citrusy flavor. Most Americans haven't heard of Vinho Verde and typically reach for the more popular pinot grigio.
Even wine lovers like myself can truly appreciate the revitalizing qualities of a cool, crisp beer every now and then. I used to look forward to coming home to a six-pack in the fridge after a long and grueling day. But about a year ago, I discovered a wine far more refreshing than any chilled beer.
The sun was beating down on me as my friend and I climbed higher into the steep streets of Lisbon, and I grew more aggravated with every step. The day was not panning out how I had expected it to, and as I trekked through the hilly city on that hot, uncomfortable day, I needed an easy-drinking beverage like never before.
We stepped into a cafe that sat atop the city, which overlooked the Tagus River and a bridge that reminded me of the Golden Gate. I glanced out the window as I contemplated the drinks menu, unable to determine whether a cold beer or a glass of wine would be more refreshing. Just as the thought of an ice-cold beer swayed me, my friend ordered a bottle of Vinho Verde for the both of us to share.
Doubtful that wine was at all what I was in the mood for, I was reluctant to try it. But as the waitress poured me a glass, I saw that it was unlike any wine I had tried before. It was a white wine, but it was much lighter than the golden straw color of the whites I was familiar with. There was some fizz in the glass but not enough to consider it a sparkling wine. With some spritz on the tongue, the ease with which the light, citrusy wine quenched my thirst was exactly what I needed.
It's no surprise that I had never heard of the lively, crisp Portuguese white wine before. Portugal is generally associated with port, its famed dessert wine. Overshadowed by port's popularity, Vinho Verde doesn't seem to enjoy the same reputation, which it so greatly deserves. Most Americans have never tasted it, and many young wine drinkers instead reach for a bottle of pinot grigio, unaware that a few aisles away sit ripe and delicious bottles of Vinho Verde eagerly waiting to be consumed.
Unlike many wines, it does not get its name from a grape but instead from the wine region where it is grown, Vinho Verde in northern Portugal. Most are white wines made from alvarinho, loureiro and trajadura grapes. However, a Vinho Verde can be a red or a rose too. Although the name literally translates to 'green wine,' 'verde' actually refers to it being a young wine, not that it is green in color. It is not meant to be aged but to be enjoyed in the year it is bottled.
You don't have to be sitting in a quaint little cafe in Portugal for your first glass of Vinho Verde. It can be found in most wine shops, and the majority of bottles are typically priced between $6 and $12, making it both affordable and worthwhile. Because it's so low in alcohol — ranging from 9 percent to about 12.5 percent by volume — a glass of Vinho Verde is perfect for an afternoon of drinking or alongside a fresh seafood dish. Be careful not to drink a glass with a slice of pepperoni pizza or a cheesesteak, though — this light wine will be completely overpowered.
Realizing I hadn't tasted any Vinho Verde since my trip to Lisbon, I recently went out and bought a few bottles to reminisce over. Its lively acidity and slight effervescence left the same mouthwatering and refreshing effects on me that it did almost a year ago.
A bright and energetic Vinho Verde has the power to quench your thirst just like fresh-squeezed lemonade on a hot summer day does. Much better than any cold beer, a taste of this simple and delicate wine will make anyone grow fond of it.
Recommendations
Gazela Vinho Verde
Vinho Verde, Portugal, $7.99
9 percent ABV
Pale in color with slight fizz. A simple wine that smells of Granny Smith apples and delivers vibrant lemon-lime flavors.
Cape Roca Fisherman Vinho Verde
Vinho Verde, Portugal, $10.99
10.5 percent ABV
With a nice balance of crispness and sweetness, this easy-drinking wine offers herbaceous tastes and a light, refreshing finish.
Quinta de Gomariz Espadeiro 2010
Vinho Verde, Portugal, $9.99
11.5 percent ABV
With a color that more closely resembles a rose, this wine is unique within this region. It's bright with generous floral aromas and lively acidity.