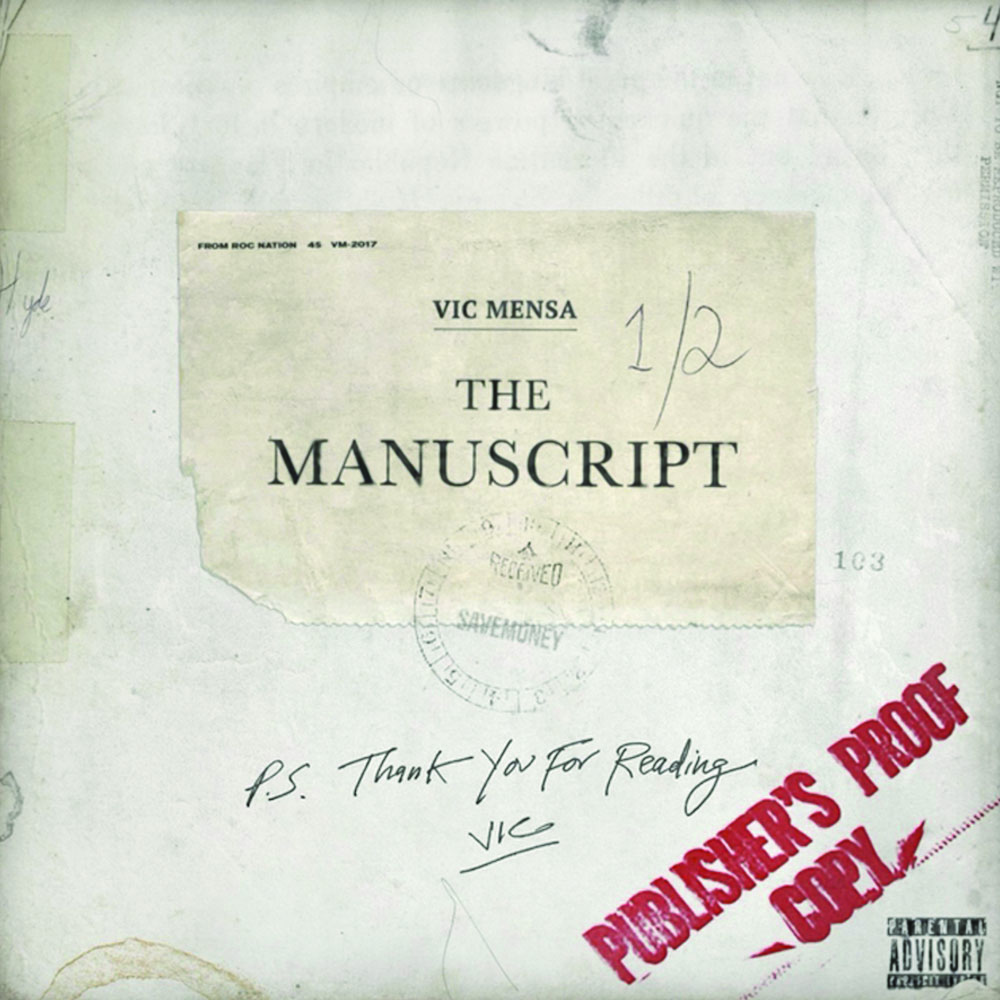 Anticipation for Vic Mensa's debut album has been high since his fantastic mixtape, "Innanetape," was released in 2013.
And while other Chicago rappers, like his former collaborator Chance the Rapper, have risen to superstardom, Vic has always been in this strange place.
After he signed to Roc Nation in early 2015, anticipation was high for his first album, which at the time was called "Traffic." Instead, when Vic got to Roc Nation he went through a strange period. He would constantly say "Traffic," was coming at shows and interviews, but it seems like we never even came close.
Instead of getting said album we just got various singles, freestyles, features and EPs. And while most of the material has been good — 2016's "There's A Lot Going On," had some great tracks, and the Kanye West assisted "U Mad," is still a banger — nothing was big enough to fill the void of a debut album.
On "The Manuscript," Vic is making a clear statement it is the time we have been waiting for. Despite being only four songs long, it serves as a nice preview for his upcoming debut album.
On the first track, entitled "Almost There," featuring Mr. Hudson, Vic is saying he hears his fans. He understands what they have been going through, appreciates the love and says we won't have to wait much longer.
"This is a thank you letter to all my fans, for coming along for the ride with me, we're almost there."
Vic's self-aware verses on the track are decent, even though there are some cringy lines on here, and Mr. Hudson's performance on the hook really shines.
While the next three songs don't have a as direct message to fans, they are still nice additions.
"OMG," with Pusha T and Pharrell, is the most star-studded track on the listing. The samples on track by Pharrell sound great as always, and Vic rides the track very well in his verses. The hook, also by Pharrell, is solid and has a nice interaction with the samples. And when has a Pusha verse never not made a song better?
The next song on the project is "Rollin' Like a Stoner," which is a song that seems like a disposable party song at first, but keeps you coming back. While it isn't much different from your modern day banger, the instrumental really shines on the track. The keys really separate the track from others, but still meld with the trap instrumentation nicely. There are also faint vocal samples on the track that give the production some nice depth. This song will no doubt be a jam at any of Vic's shows.
The last song on "The Manuscript" is "Rage," a song that Vic has previewed at shows and talked about in songs and interviews in the past. Originally a track on "Traffic," it now serves as a fitting closer for this EP.
It feels much more like an alternative rock song with it production style, but still features two lengthy personal verses from Vic, talking about the issues he has faced with depression and drug abuse.
The song is a message to those who are struggling, telling them they can make it. Rage is "the light through the darkness" for those that are suffering.
It is a good song, but these topics are things Vic has touched on before on his last project, "There's Alot Going On," so it is nothing revolutionary.
Regardless, "The Manuscript," is a good concise project from Vic Mensa that serves as the appetizer for his album. Now it is just time for him to deliver on these high expectations after all this time.