Sydney Poitier was basically the first black movie star. If black actors were even in the movies, they played submissive roles like bellboys and maids. "The Apartment," a Billy Wilder film from 1960, is an enjoyable movie that I recommend, but it's a perfect example of the lack of prominent black roles in film. Unfortunately, the only black person in that movie has a screen time of about two or three seconds, and he's no business executive. Even Margaret Mitchell's Mammy, who is a strong woman in the book "Gone with the Wind," is reduced in the movie to a character who provides more comic relief than anything else. When black actors did get roles, they didn't always play black characters. What's considered  politically incorrect today was common then, such as a black actor playing a Chinese cook in "King Kong" (1930) and white actor Alec Guinness playing a Japanese man in "A Majority of One" (1961).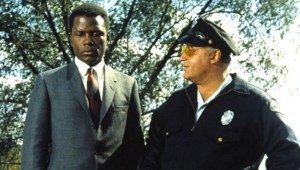 Director King Vidor boldly made a movie with an all-black cast in 1929, but the tone of the film was patronizing. The movie was a chance for talented black actors to showcase their abilities; however, despite the patronizing attitude, mainstream audiences didn't take to it. It wasn't until the civil rights movement that Poitier was able to break that barrier. Even his first film in 1950 was groundbreaking. When Poitier debuted he was tall, good looking and an excellent actor. He never played demeaning roles, and because he was the only black star, no director could make a movie with a black main character if he didn't agree to it.
He made an abundance of good films, most of which dealt with racism in some way or another. One of my favorites is "In the Heat of the Night." In it, Poitier plays a Northern homicide detective who essentially makes a fool out of an entire Southern town. Working reluctantly with the town's sheriff, Gillespie (Rod Steiger), on a murder mystery, the two are initially at odds but come to respect each other by the end. That is a common element in Poitier's films — winning over the white characters was key to winning over the white audience.
"In the Heat of the Night" is referred to as the "slap heard 'round the world" because of a momentous scene in the film. After a plantation owner slaps Poitier in the face for suggesting that he, the plantation owner, had something to do with the murder, Poitier slaps him right back. It is one of the most shocking moments in cinematic history, and it makes the film worth watching regardless of the rest of it. To be sure, though, the entire movie is worth watching.