Have you ever seen or heard something that you just had to explain, but you couldn't find the words? I have been rendered speechless after seeing "Shpongle presents The Masquerade" March 31 at the Electric Factory.
For those of you who are familiar with Shpongle, you know exactly why it is so hard to describe their music. For those of you who are unfamiliar, beware.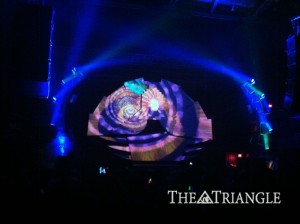 First off, you may have noticed the reference of Shpongle as an "it." That is because Shpongle is not really a band, nor is it just one person. Shpongle is a music project that began in the late 90s and is headed by British-born musician Simon Posford.
Posford brings together various musicians to infuse different styles of music with the sound known as Psychedelic trance (psytrance for short, a type of electronic music). While Posford lends his disc jockeying and guitar skills to Shpongle, he is most often accompanied by Raja Ram, whose skills as a flautist can make a Shpongle set something spectacular. Though Shpongle often tours as just a DJ set (sometimes even without Raja), members have included the DJ Ott and drummer Joe Russo.
While Shpongle in concert is comparable to an organic concert experience, it does not lack excitement. Whenever Posford is on stage, you can be sure you are going to have fun.
Also featured in the show was EOTO, who played a truly great opening set. Along with their new lotus flower stage setup, EOTO did a great job of exciting the crowd and preparing them for the Masquerade.
EOTO recently received the 2012 Dubstep Music award for Best Live Act, but the duo of Michael Travis and Jason Hann stuck closer to EOTO's roots with drums and bass for most of the show. That seemed to be just fine with the crowd at the Electric Factory.
Saturday's show was only the second performance of Shpongle's tour with Masquerade, but fans knew exactly what to expect thanks to YouTube videos of previous performances.
The construction of the stage setup during set-break coincided with the Masquerade because it loosely resembled a masquerade mask. Based on the stage setup it was clear that Raja Ram would not be joining in the set. While I was disappointed, it did not dampen the spirits of the rest of the crowd, who rose up with excitement when Posford emerged in the center of the giant mask and began his epic musical journey as Shpongle.
Starting out, Posford stuck close to the more typical Shpongle sound of basic psytrance, playing the classic "Divine Moments of Truth," a song that represents a lot of Shpongle's music.
Posford then moved from the usual to the incredible. Shifting into more exploratory sounds, Posford dropped the Brazilian-flavored dance track "Levitation Nation," which he then coupled with the very fast-paced, Latin-flavored jam "My Head Feels  like a Frisbee."
Next, Posford rounded out the show with more of the classic psytrance sound, playing tracks like the lyrically beautiful yet haunting "No Turn Unstoned."
Before the show could fully come to a close, Posford played a seemingly new track that fused the unmistakable Irish jig sound with a sound close to that of hard-style (an electronic style recognized by its rapid bass kicks.) The song had an odd appeal and might be included on Shpongle's long-awaited fifth album.
While it can be said that there have been better Shpongle shows, there is no denying that Saturday's show was fantastic. Musically diverse and unique, the spectacular music was only bested by the spectacular crowd, whose positive energy and open attitude made the show twice as great.