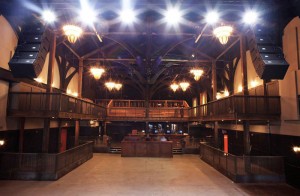 Union Transfer, a new live music venue to rival long-beloved Philadelphia hotspots, opened its doors Sept. 21. The headliner, Philly and Brooklyn-based Clap Your Hands Say Yeah, played a flawless set that definitively established the new venue as both a technical masterpiece and a homey new haunt for Philly's lively indie and up-and-coming music scenes.
Located at 10th and Spring Garden streets in the building that previously housed a Spaghetti Warehouse, Union Transfer derives its name from the train station that originally occupied the space and retains many remnants of the building's past lives. Copper pendant chandeliers, tarnished to perfection, hang throughout the venue while original stained glass windows cast an evocative glow in the auditorium's newly built mezzanine. As for the old trolley that used to sit in the Spaghetti Warehouse? According to Louis Chang of FishtankPHL, the architecture firm in charge of the redesign "literally took a chunk of that and used it for the front of the concession stand." The decision to keep and repurpose these elements played a tremendous role in producing a space that feels naturally suited to house the electronically reverberated vocals, hum of Telecaster guitars and neuron-touching pings of four-octave keyboards whose players' careers are bound to blossom from its stage.
The most remarkable technical aspect of Union Transfer is the stage itself.  According to Fishtank partner Christopher Kircher, the stage, along with its state-of-the-art sound and lighting systems, can move at the push of a button to accommodate crowds ranging from 600 to 1,000 people.
Of course, last Wednesday's audience of Clap Your Hands Say Yeah fans required the stage to be positioned for maximum capacity. But Union Transfer's unbeatable sightlines and intuitive layout made getting a great view a breeze throughout the sold-out show. The mezzanine, which wraps around the sides and back of the concert room, features tiered seating while smaller platforms give patrons along the sides of the concert room floor a boost.
"So much attention was given to Union Transfer's sightlines that designers had to create an inconspicuous new structural system so that old columns could actually be removed to free up the performance floor," Kircher said.
But it isn't just accessibility in terms of sightlines that lies at the heart of the ideology behind Union Transfer. For R5 Productions' Sean Agnew, who teamed up with The Bowery Presents and members of Four Corners Management to create Union Transfer, making the professional-quality venue welcoming to all ages was crucial. Upon entering the lobby, patrons under 21 can make their way directly to the auditorium floor through large doors on each side of the tram-car-chunk concession stand while the over-21 crowd can ascend to the mezzanine via two stairways, one of which bypasses the concert room floor altogether.
Cheap ticket prices also contribute to the accessibility of the venue – so will an abundance of free bike parking when racks are finally installed. "We can do no service fees on the box office, low online service fees and free bike parking. So we're trying to keep all those things in mind while still having a more professional venue," Agnew said before last Wednesday's show. "I wouldn't want to be affiliated with a venue if it was any other way," he added.
According to Jesse Mann of The Bowery Presents, Clap Your Hands Say Yeah was a natural choice for Agnew and Johnny Beach, who are in charge of booking at Union Transfer.
"We really wanted something that resonated with the city very well. We know that there's a local vibe to Clap Your Hands, so it was really important to us to have something that was on [the first] night like, 'Hey, this feels like it's a hometown, home-flavored thing," Mann said.
The tones of Clap Your Hands Say Yeah indeed appeared to do the trick. The crowd bopped along peacefully with electric enthusiasm throughout the set. As the band laid into the chorus of their popular "The Skin of My Yellow Country Teeth," a fan in the crowd was levitated into the hands of his fellow patrons, becoming the venue's first crowd surfer. Others quickly followed suit.
Having recently returned from a brief hiatus, Clap Your Hands Say Yeah is currently promoting its third studio album, "Hysterical." According to guitarist and keyboard player Robbie Guertin, the hiatus, during which several of the band's members worked on other projects, has helped keep things fresh.
"It's nice to not just do the same thing all the time. You come back and are like, 'Oh yeah, these guys. Let's do this,'" Guertin said.
All, especially the fans, are thrilled that Clap Your Hands Say Yeah is finally back. Judging by their performance as well as many of the new tunes on "Hysterical," the well is still filled to the brim with the rocking indie goodness that got them where they are today.
The opening act, Minneapolis-based Polica, also delivered a killer set. Polica's sound is driven by two drummers — one of whom operates a digital loop machine, a bass guitar player, and the soulful vocals of frontwoman Channy Casselle.
After Polica's set, Casselle said she was thrilled to be the first singer to grace Union Transfer's stage, but also that she was disappointed because she didn't say more about it during the set. All in attendance last Wednesday would agree, however, that there was nothing remotely disappointing about the show's fantastic venue or brilliant performers.
Be on the lookout for more great upcoming shows at Union Transfer. Among the names already on the schedule are Gillian Welch (Oct. 20), Odd Future (Oct. 22) and The Black Angels (Oct. 27).