It's been two years since Tyler, The Creator flew onto the scene with Odd Future. With articles in every major publication about their performance at South by Southwest in Austin, Texas, and praise from artists including Kanye West about Tyler's music video for "Yonkers," the group's leader became a star in the hip-hop world. Now, he returns with his third solo album, "Wolf," which was released April 1 on iTunes and April 2 in stores. The album features fellow Odd Future members, including rising star Frank Ocean, who appears on a number of songs even though he's not always listed as a feature, along with Erykah Badu and Tyler's idol Pharrell Williams.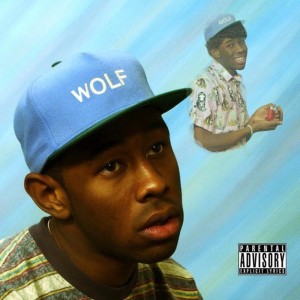 From the get-go, it is clear that "Wolf" is heavily inspired by the aforementioned Pharrell, who is part of alternative hip-hop supergroup N*E*R*D and producing duo The Neptunes. Tyler frequently uses similar chord progressions and synths as Pharrell while adding his own personal flair to the production of the album. Tyler's talent shines on "Wolf" like it never has before, as the album is by far his best lyrical and production work to date.
While Tyler has been known in the past for his brash and frequently offensive lyrics (he threatened Bruno Mars on "Yonkers"), he seems to have matured (slightly) and taken huge strides as an artist on "Wolf." Don't get confused, though, because Tyler is still the same kid that took the industry by storm with his controversial lyrics. This time around he rips into One Direction in "Domo 23" when he says, "Now me and Justin [Bieber] smoke sherm, and been talking 'bout freeing perms, and purchasing weapons, naming and aim them at One Direction."
However, he dives into a number of personal issues throughout the album, including the absence of his father in songs such as "Answer."
"'Cause when I call, I hope you pick up your phone. I'd like to talk to you, I hope you answer," Tyler sings in the chorus before diving into the impact that his father's absence has had on his life. He speaks from the perspective of a regret-filled drug dealer in "48," which includes excerpts from his interview with Nas and assistance from Frank Ocean on the chorus.
Tyler continues his introspection on tracks including "Awkward" and "IFHY" featuring Pharrell, in which Tyler discusses relationships with women over the years. The highlight of "Awkward" comes about halfway through the song, when the beat switches over and Tyler says at the end of his breakdown, "But when you realize it's awkward, your name's still my password, so I'm always f—ing reminded, you got a n—- sprung."
One of the most impressive songs on the album is "Colossus," where Tyler discusses a group of fans who approached him at a Six Flags theme park. He focuses on a fan's overobsessive behavior toward him that he's forced to deal with. Tyler delivers some impressive flows as he speaks from the perspective of the fan over light keys, drums and synths.
Other standouts from the album include "Slater" featuring Frank Ocean, "Rusty" featuring Earl Sweatshirt and Casey Veggies, and "Treehome95" featuring Coco O and Erykah Badu, who dominate the bulk of this jazzy jam.
"Wolf" is clearly Tyler, The Creator's best work to date. His production has greatly improved, and his lyrics and song concepts have grown and are better than ever. After two strong albums, Tyler has delivered an incredibly impressive body of work with "Wolf."