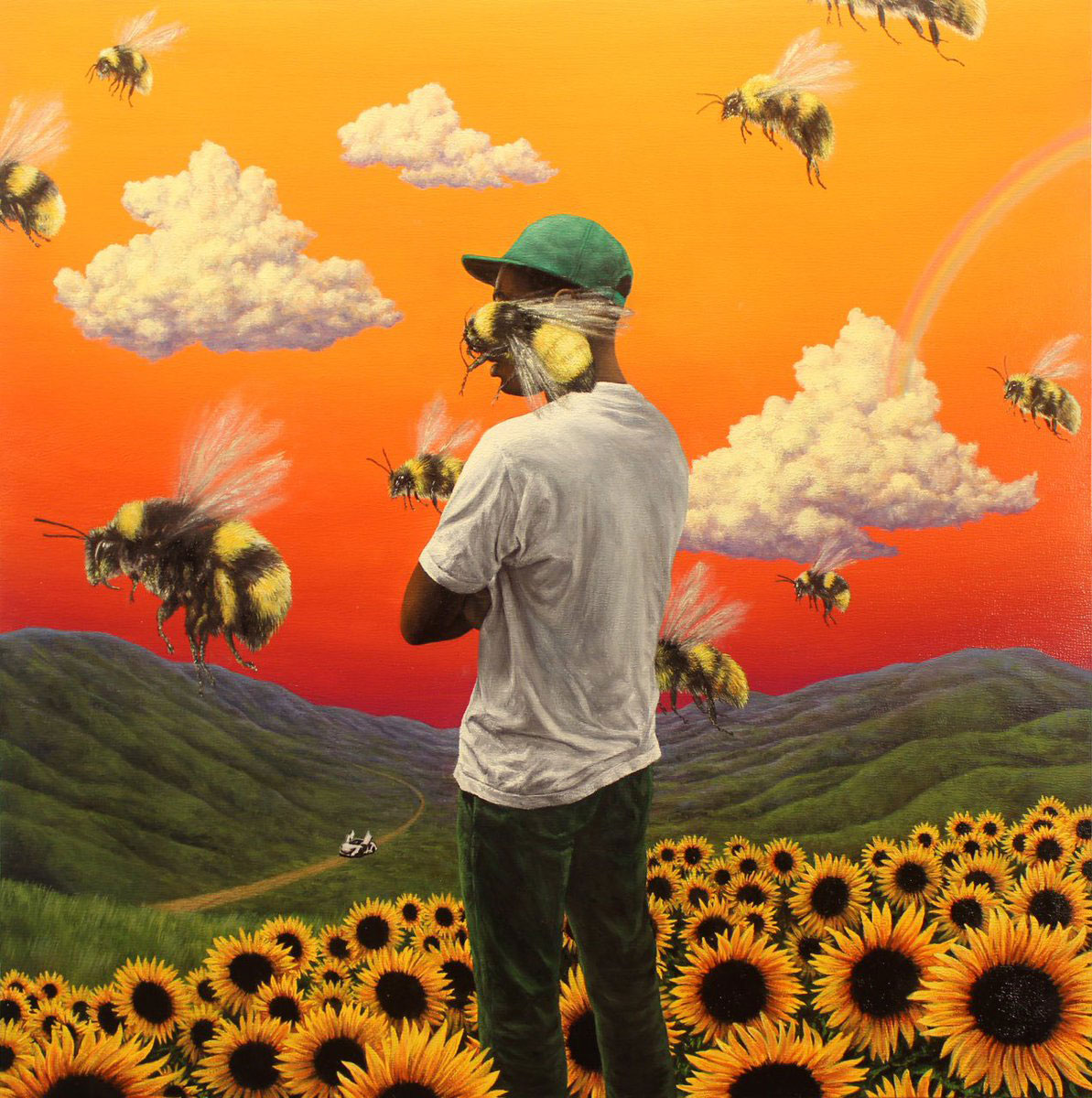 When we were taking "bets on how quick Tyler can reach maturity," who guessed seven years?
Our raspy-voiced walking paradox returned for his fourth studio album on July 21. Tyler, the Creator, has blessed eardrums across the nation with "Flower Boy," a melodic mishmash of different mediums, all strung together with somber incites to Tyler's personal life.
The album opens with "Foreword," Tyler's dark revelations in the feelings of peaking out, being owned by his possessions and worthlessness when perpetually lonely. This song is rich with existential dread and creative exhaustion, tied together with a gloomy atmosphere and hallowing vocals by Rex Orange County.
Every review of this album mentions the maturity, but Tyler addresses it himself in "Where This Flower Blooms." Backed by gorgeous instrumentals and Frank Ocean, he proudly professes his growth from a well-rooted flower to a seasoned tree. Tyler acknowledges the development of his artistry has come to a head. "Sometimes…," a short interlude establishing an on-air "Golf Radio" theme that will return later, precedes a head-bobbing love story.
"See You Again" is the return of the "F—ing Young / Perfect" hopeless romanticism. He's backed up by Kali Uchis, adding femininity through sweet vocals. Tyler continues his long history of love struggles in this charming bop. Its placement in the album juxtaposes what immediately follows.
"Who Dat Boy" is the standout single of "Flower Boy." A thrilling sound completely unique, "Who Dat Boy" is the culmination of Tyler's aggression concentrated into one song. ASAP Rocky and Tyler rap how materialism exists in tandem to everything, be it failing or succeeding in life. "Pothole" follows, a song that Jaden Smith didn't actually ruin.
"Garden Shed" is the new "Answer," but rather than opening up about his family, he opens up about himself.
"Garden Shed" tells how an identity struggle drove others away. When the album leaked 11 days early, news outlets reported a misheard lyric, "Thought it would be like the Frank; Poof gone," interpreted to reference the media's low coverage of Frank Ocean's bisexuality. Tyler dispelled this, tweeting, "and it's 'thought it'd be like the phrase 'poof'; gone' get the lyrics right before going crazy."
After Boredom's chanting "find some time," "I Ain't Got Time!" shakes the album. The sheer excitement present, along with classic Tyler lyrics, makes for a smashing single. It's followed up by another pre-released song, "911 / Mr. Lonely." This two-parter's colorful surface hides a much darker interior. Beyond these two songs begins what I believe to be the outro.
After an easily forgettable one-minute beat with Lil Wayne in "Droppin' Seeds," "November" rings of reminiscence. It expresses Tyler's fear of irrelevance and the chance that the best might be behind him. Anyone can relate, as everyone has a "November."
"Glitter" is proof that Tyler still can't sing. Regardless, "Glitter" feels like the true conclusion to the album, as "Enjoy Right Now, Today" just plays it out.
In my opinion, "I Ain't Got Time" is the best song on the album. While its spaghetti-Western feel is absolutely exciting, it feels most like classic Tyler style. I fear "Enjoy Right Now, Today" will get the least plays, for its lack of lyrical content and the annoying "hey" that plays with the instrumentals. "Flower Boy" is the pinnacle of Tyler, the Creator. His identity is completely refined and his own, separate from Odd Future.
Without straying from character, this album is a whole new sound. I predict the world will look back at "Flower Boy" as Tyler's magnum opus, and I think he will too.