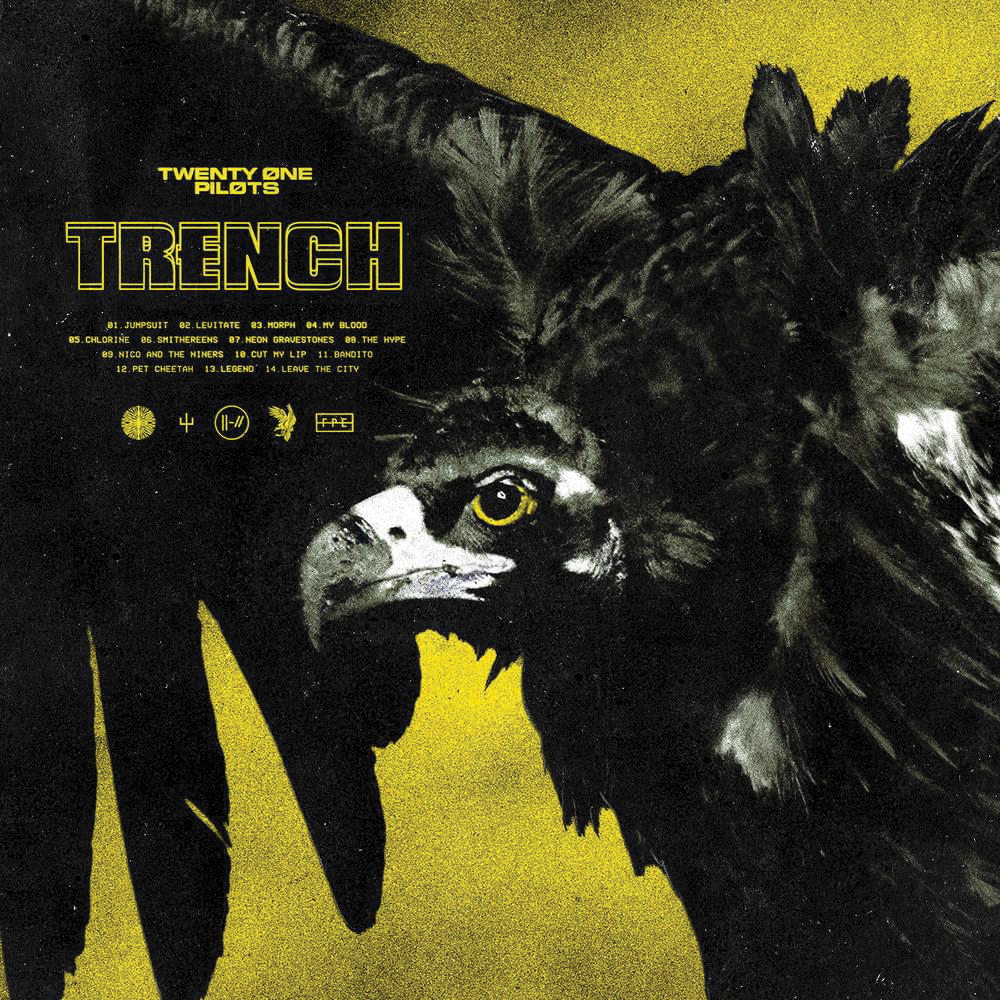 "Welcome to Trench," a modulated voice blares over the second track, "Levitate," of Twenty One Pilots' fifth studio album, "Trench." The alternative rock/pop/hip-hop duo have returned since dropping their fourth album, "Blurryface," three years ago. Singer and guitarist Tyler Joseph and drummer Josh Dun did the majority of recording and production in Joseph's home studio with the help of Paul Meany on production. Meany is most likely best known as the frontman of the electronic alternative band Mutemath. This marks a departure from the band's approach on "Blurryface" where each track was credited to a separate producer.
As a result the album feels more cohesive and that was very purposeful. Following in the vein of what some of the cuts from "Blurryface" began to establish, "Trench" is a concept album. To put the narrative simply, it follows the story of a character named Clancy who lives in a fictional land called "Dema," which is ruled over by a character named Nico. Joseph confirmed after dropping the track "Nico and the Niners," that Nico was the same character as the "Blurryface" character addressed throughout the band's previous album. The album depicts a world of a tyrannical and oppressive regime under Nico and uses the story told throughout the album to explore many of the concepts that the band is known for, such as companionship, loneliness and love, touching on depression and suicide as well. Much of this is explored in the music videos that accompany many of the tracks on the album. This story is a compelling thread that carries the listener through what is already a musically refreshing and excellent album. Having that extra layer helps it stand out among many of its contemporaries.
Twenty One Pilots is maybe best known for their ability to blend and twist genres in their music in a way that feels natural and cohesive. "Trench" is no different. The album kicks off with "Jumpsuit," which the duo recently performed on the American Music Awards. The song jumps in with heavy bass riffs and drums in a way that hasn't been as present on the band's recent projects. This intense, in-your-face track is accompanied by Joseph's eerie and reserved lyrical stylings until the end of the song when it builds to a thunderous crescendo. Later tracks like "Bandito" and "Cut My Lip" also blend in these natural instrumentals really well, with "Cut My Lip" bringing out some of the reggae influences that permeated the pair's past projects.
"Levitate" features some of Joseph's famous rapping verses that were made popular by many of the tracks off of the band's third studio album "Vessel." However, it would appear that Joseph has put some significant time into working on his flows and lyrics. I was both surprised and impressed on this track, "Morph" and "Pet Cheetah." The latter is by far one of my favorite cuts off the album. The goofy lyrics and sinister synth beat accompanied by Joseph's rapid bars punctuated by a slow, pleasant chorus make this one of the most entertaining songs on the album.
Another one of the tracks that left an impact on me was "Chlorine." This track explores the effects of music on the narrator of the story (and Joseph himself) describing it as cleansing in the same way that chlorine is. While I wouldn't recommend taking the chorus literally as Joseph croons, "Sippin' on straight chlorine / let the vibe slide over me," the metaphor is refreshing and interesting. The song itself has a smooth and funky beat that I can't help but bop my head along with as the vibe slides over me and comes to a conclusion with Clancy/Joseph pondering his place in the world.
Yet another song that stood out was "Neon Gravestones," which is a haunting reflection on death, suicide and its glorification when it comes to celebrities. Joseph returns with his spoken word rapping style from "Car Radio" that suits the tone and message of the song well. In the song, Tyler Joseph pushes people to look at the way they see celebrity deaths as an excuse to talk about them and use their tragedy to grandstand as a fan. The song breaks down with a heartbreaking bridge in which Joseph pleads, "Promise me this / If I lose to myself / You won't mourn a day / And you'll move onto someone else." It's an important, salient message that addresses a lot of what we see in our culture today with the loss of many young artists like Avicii, Lil Peep, XXXTentacion and many others.
The band explores companionship and love on a few lighter tracks like "My Blood," "Legend" and "Smithereens." "Smithereens" follows in the vein of "Tear In My Heart," as Joseph sings about his now wife, Jenna Black. All of these tracks are fun and catchy and do a good job at alleviating a lot of the heavier subject matter of the album, while propelling the narrative of self-love and support that's weaved throughout the record.
"Trench" also takes time for some more somber moments in songs like "Bandito" and the final track "Leave The City." Both lean heavily on the concept of Dema and Nico as well as a narrative of self-reliance and preservation. Both tracks delve into Joseph's inner struggles with himself and the mental-health issues he has endured. But there is a positive message of perseverance embedded in the tracks that make them feel hopeful.
"Trench" is a feat in alternative music and could very well be Twenty One Pilots' best album yet. I was ready to not care about the band anymore before its release, but I would be lying if I said I wasn't looking forward to their next effort already.