Drexel's very own female a cappella group, The TrebleMakers, held its spring concert June 1 in the Stein Auditorium.
Starting off the night with an old favorite, the group sang "Not Over You" by Gavin DeGraw. Soloist Rachael Frese did a nice job bringing this soft sound to life and starting the show on a strong note.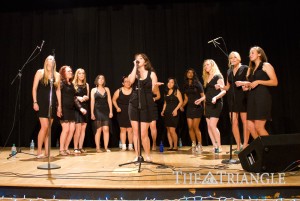 The next song, Coldplay's "Fix You," rang as another familiar tune to the audience. The arrangement, though simple, stood as a very different sound than the original recording of the song. Lastly, the powerhouse hit that so many TrebleMaker fans know and love, "E.T." This awesome arrangement and killer vocals by Satika Madari stood as a nice opener for our favorite men, 8 to the Bar. As usual, 8 to the Bar wowed the audience with its pizzazz and irresistible charm. Ending their set with their hit "Party Rock Medley," they truly stood as a separate act to an already fantastic group.
Following 8 to the Bar, the TrebleMakers returned to the stage with some new songs. Starting with "Kaleidoscope Heart" by Sarah Bareilles, the women succeeded in transforming this already amazing song into a good a cappella ballad.
The next few songs "You "Make my Dreams Come True," "Kids" and "Chasing Rain" rocked the audience with their famous melodies and impressive vocals to match. These songs, like so many of The TrebleMakers, are good examples of very popular songs being brought into the world of a cappella. As a fellow music lover, I believe that they do a fantastic job accomplishing this.
Although some of the songs stood as a challenge and seemed a bit shaky at times, the women seemed to know how to get right back on track and never give the audience a shred of doubt that they know what they are doing.
To end the show, Maggie Deptola sang the Justin Bieber hit "U Smile" while Anna Schmeidicke and Joycelin Wong ended the show on some high notes with "This Head I Hold" and "All this Time."
The TrebleMakers, one of Drexel's oldest a cappella groups, has really done a good job staying consistent through the years, making Drexel's a cappella one to talk about. These women have worked so hard to strive to make a name for a cappella music at Drexel. I think by growing and changing so much throughout the years, they have done just that.
The women will be performing again in the fall, so you don't want to miss another great night of music, laughs and a whole lot of treble!