College students may not be the largest demographic filling up seats at the Walnut Street Theatre, but for the venue's run of "In The Heights," they certainly should be. The musical premiered on Broadway in 2008, racking up four Tony Awards from 13 nominations. It was also nominated for the Pulitzer Prize for Drama, and won a Grammy Award for the Best Musical Show Album. These claims to fame might get the die-hard musical lover or theater geek to the show, but the truth is that "In The Heights" is a great musical experience for everyone, especially those who have never seen one or would rather avoid them altogether.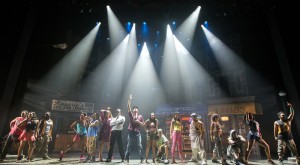 Lin-Manuel Miranda conceived the show, which tells the story of a neighborhood in New York's Washington Heights, while he was a student at Wesleyan University back in 1999. He later wrote the music and lyrics and transformed the book by Quiara Alegria Hudes, a 2012 Pulitzer Prize winner and a Philadelphia native, into a musical. Miranda's college experience certainly colored his take on the classic musical; characters include a freshman college student who feels the pressure to succeed for her community, young adults struggling to find their time to shine, and young lovers torn apart by their backgrounds.
"In the Heights" features a vibrant cast of characters in a community consisting of immigrants from multiple generations from places like Puerto Rico, Cuba and the Dominican Republic. Usnavi, a young man trying to find his way out of the Heights, is conflicted about leaving his community to follow his dreams and his love for neighborhood beauty Vanessa. Vanessa, too, dreams of moving downtown to the East Village, if only she could get the money. Nina, a freshman at Stanford University, returns home to find that her entire neighborhood is counting on her to be the one to "make it." Abuela Claudia, who virtually raised Usnavi alongside her own family, takes care of her community, though she dreams of returning to her home in Cuba. Sonny, the rambunctious younger cousin of Usnavi, is distressed by everyone's wishes to leave, while Benny, who works for Nina's father, wants to build his own company.
The characters' hopes and dreams, their fire and passion, come alive in their music, songs and dance sequences. Once the music filled with Central and Latin American influences gets going, it does not stop — and neither will you! It's hard not to dance in your seat as the ensemble cast flies across the stage twirling, tapping, breakdancing, doing the cha-cha, and performing more moves you could probably never do in your wildest dreams.
Now, if the powerful character motives, the critical acclaim and the awe-inspiring dance moves have not yet sold you on seeing "In the Heights," maybe the fact that Usnavi and Benny rap throughout many of the songs will. It may sound strange to feature rap in a musical, but it is blended so flawlessly into this highly modern musical that it just feels right to see it on stage. To add to the awesome factor here, Usnavi and Benny are just simply so cool that it's hard not to love whatever they are doing throughout the show.
The man behind Usnavi is Perry Young, a California native who played this main role in the national tour of "Heights." He plays his role with equal parts heart and humor, basically winning your loyalty for him in the first few minutes of the musical. His crush, Vanessa, is played by Gizel Jimenez, whose small stature makes the feistiness and sheer power of her voice a pleasant surprise every time it is heard. Julia Hunter plays Nina; she portrays her innocence and naivete so well that it borders on annoying at times. Benny is Nina's crush, and as previously mentioned, is just plain fun as played by Rhett George. Smaller characters like best friends Daniela and Carla and the spunky Sonny provide the hilarious comic relief and are wonderfully casted in Donnie Hammond, Maria Konstantinidis and Matthew J. Harris, respectively.
The team who brought "In the Heights" to the Walnut Street Theatre includes director Bruce Lumpkin, producing artistic director Bernard Havard, and musical and vocal director Douglass G. Lutz. Made possible by the 2013 PNC Arts Alive grant, the Walnut Street Theatre provides a great environment for this musical. The theater is intimate in scale but historic in legacy (celebrating its 205th year), which allows for great viewing from many angles of the theater and mirrors the story itself: personal in scope but vast in its application of the American dream.
Between the actors, the setting and the music, everything about the Walnut Street Theatre's rendition of "In the Heights" rings true. It feels like an authentic representation of a community trying to establish and foster its roots, and it is fun enough to get even the most theater-averse viewer to at least second-guess their blanket dislike of anything called a musical.
Running through Oct. 20, the prices for tickets vary by performance but range from $10 to $95. Shows run Tuesday through Sunday evenings, with matinees on Thursdays, Saturdays and Sundays as well as morning performances on Thursdays. For more information, check out www.walnutstreettheatre.org.