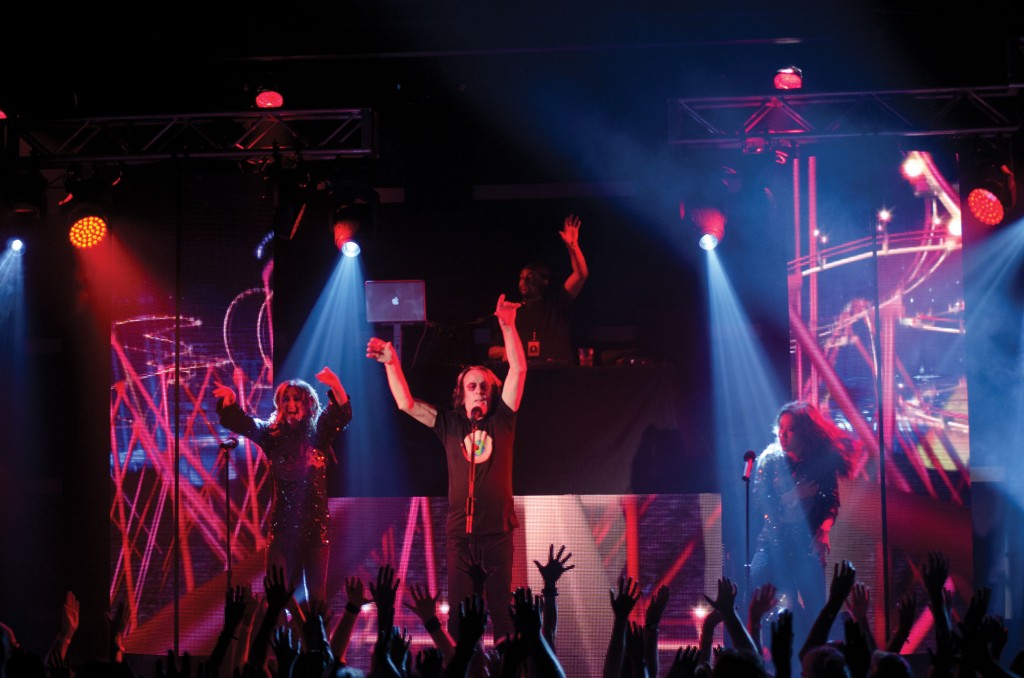 Philadelphia is a historic city. Down in Center City you can walk around on the same ground that William Penn and Ben Franklin did. Travel west and you'll find the University of Pennsylvania, one of the oldest and prestigious universities in the country. Keep heading west and you'll come to 69th Street Terminal, the gateway to Upper Darby, the former stomping grounds of rock n' roll legend and Philadelphia's own Todd Rundgren. The multi-instrumentalist, songwriter and producer came home to Walnut Street's World Cafe Live August 19.
When you're an artist as prolific as Rundgren, your discography can be almost too much to comprehend. 21 studio albums, ten compilation albums and two live albums, that's a ton of music by anyone's standards. In the vein of classic rock concerts from yesteryear, the set mainly consisted of the most recent album and then a few of the classic hits sprinkled on to satisfy long-time fans. I imagine that few of his fans have been able to keep up with his lengthy discography, including not one, but two albums in 2015, "Ruddans" and "Global." If you didn't get a chance to listen to the latter one or two times, you might be going to be in some trouble come concert time. From the reactions (or lack thereof) of some fans in the audience, they had no idea that the night would unfold the way it did.
A cursory Google search before the show told me that Rundgren's "Global" was electro-pop rock, a genre you'd expect a 67-year-old to barely know about let alone write a whole album focused on it. Come show time, Rundgren came out with a go-go dancer (complete with afro wig) on each side of him and a disc jockey perched up behind him. Four video screen towers adorned with rotating lights completed the scene, leaving no question that we were now all in the hands of DJ Todd Rundgren.
Rundgren rose to fame with his 1972 album "Something/Anything?" that he recorded primarily by himself. It was full of masterful pop ballads that have become iconic pieces of the classic rock canon. From the snippets of lyrics I caught from some of the tracks on "Global," it sounded like Rundgren was singing about the same sort of topics, love, loss, etc. Unfortunately, all the synthesizers and house music drowned out most of the verses, leaving him to proclaim these anthemic refrains that unfortunately, no one seemed to know.
One man in the crowd kept yelling out, "Bang on the drum! I don't wanna work!" after each of the first few songs, but about halfway through he gave up, dejected. No many how many times him or any other fan would clamor for the hits, it was clear that Rundgren was not going to yield. Usually the goal of a classic rock concert is to service the older, long-time fans who had been following the artist or band since the start. Not with Rundgren. At age 67 it was clear that he was out there on that stage to do exactly what he wanted, whether we liked it or not.
I give Rundgren all the credit in the world for his performance. He looked sprightly as he moved about on stage, even showing off his dance moves including a nifty jig. His voice has dropped a few octaves since the early days but was still strong as ever. On songs when the dancers and DJ left the stage, Rundgren was left to perform alone as the electro music emanated from the speakers. It was striking to see him perform those songs almost like a one man show; fitting considering his affinity for recording and writing his music solo. When your career has spanned a period more than double my lifespan, I can't criticize the man for trying to reinvent himself as an electro-pop star of sorts. I think under the right circumstances and exposure, it may have worked, but on August 19 the audience didn't seem prepared at all.
After a while, the songs all started to run together. Towards the tail end of his set, Rundgren tried to jolt the audience out of their stupor with "Today" but he might have had better luck going around with a defibrillator. A new electronic arrangement of the Utopia song "One World" soon followed, getting a much warmer reception. I should have seen it as a sign of things to come.
Throughout the show, I kept telling myself, "He'll play the hits at the end, he'll play the hits at the end" until it became some sort of mantra, something that I could hold onto and seek refuge in as all this club music battered my ears. Soon enough, some familiar notes rang out, signaling the hit song, "Can We Still Be Friends?" which would be combined into a medley with "I Saw the Light" and "Hello It's Me." Little did we know that Rundgren would bastardize these classics we treasured, turning them into abominable electro-pop arrangements that no one asked for, and surely no one in attendance wanted to hear played. It gutted me.
In a daze I watched the last few songs play out. Rundgren left stage briefly and then came back for an encore. Closing with "Just One Victory" was a great move. Its new-fangled arrangement worked out well as the crowd sang along and cheered as Rundgren laid down some serious guitar solos on his transparent Stratocaster. The show ended the way that I think most fans expected the majority of the show to be: a familiar song, singing along with words they knew from long ago and Rundgren shredding like the rock god he is. It's just a shame it didn't happen until the end.
"Can we still be friends?" Todd Rundgren asked of the World Cafe Live crowd. After all was said and done, my response was, "I just don't know any more Todd, I just don't know."