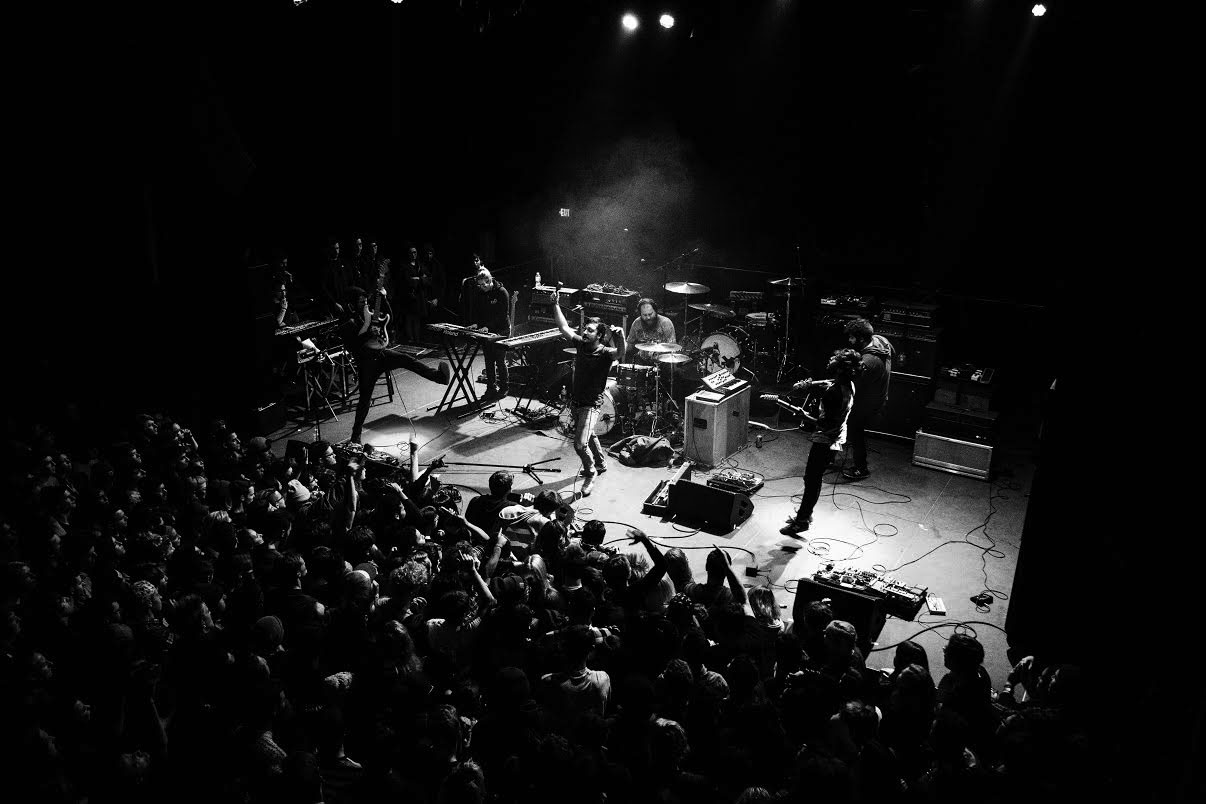 The night of Dec. 4 saw emotions run high as emo-indie rock group, "The World is a Beautiful Place & I am No Longer Afraid to Die" and company played their hearts out at Philadelphia's Union Transfer.
The notoriously long named headliner TWIABP, alongside Foxing, This Town Needs Guns and Brightside put on a hard hitting show for concertgoers of all ages. The show epitomizes the "emo revival" that is taking place within the music industry and has created its own culture of Do It Yourself within the city of Philadelphia.
TWIABP put together this tour in support of their new album "Harmlessness" (released Sept. 25 on Epitaph records) and wasted no time in breaking out the hit single from said new album, opening up with "January 10th, 2014." This song in particular carries a heavy weight, as it references the true story of a woman-abducting bus driver guilty of the the homicides in Ciudad Juarez. The band gives its support to the growing feminist movement by poetically describing the events through the song while simultaneously captivating the audience with their lyrics and instrumentals. The nine piece from Windham, Connecticut managed to create a wall of sound that had the crowd enraptured from the opening note of the first song all the way through to the very last chord of the set.
If any band is able to make a show-goer feel unrelenting emotion, Foxing is that band. Their set consisted of a great mix of old and new material, while maintaining a vibrant energy that even the least attentive audience member could feel. Foxing has created a physical manifestation of their hardest times and deepest thoughts and set them free in the air during this moving performance. Lead vocalist Conor Murphy swayed and vibed while singing in a beautiful falsetto mixed emboldened by his unique vocal style. This tour lined up nicely with Foxing's newest LP, "Dealer," which was released Oct. 30 via Triple Crown Records.
This Town Needs Guns, who are now going by the abbreviated moniker TTNG, packed the most talent into the tightest punch. The three-piece layered complex sweeping guitar riffs over seemingly random time signatures in such a way that could still make you bob your head to it. Lead vocalist Henry Tremain let the audience know that he appreciated everyone as much as they appreciated the band as this was their last United States show before hitting the studio to record a new LP. In a scene that is full of talented musicians, TTNG truly stands out for their technical ability.
Finally, the newest band out of the bunch, Brightside, opened up the whole show with quirky vocals and a unique flare. Most of the band was in attendance excluding their lead guitarist, who chose to stay at home to tend to his new born baby girl. Luckily though, in the true spirit of camaraderie that emo music has been built upon, members of Foxing and TWIABP filled in as a rotating cast on lead guitar.