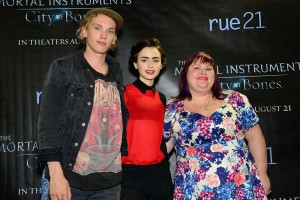 The stars of "The Mortal Instruments," out Aug. 21, came to visit the City of Brotherly Love Aug. 2 along their extensive national press tour. Leading actors Lily Collins and Jamie Campbell Bower, accompanied by the author of "The Mortal Instruments" series, Cassandra Clare, stopped by the Four Seasons hotel to talk about their roles in what could be the biggest book-to-film sensation since "The Hunger Games."
Collins, the daughter of singer Phil Collins, stars as Clary Fray, a normal young girl who finds out she is, in fact, a Shadowhunter who can see demons that are invisible to the normal human eye. Campbell Bower, Collins' on-screen and, until recently, real-life love interest, plays Jace, a Shadowhunter who introduces Clary to the Shadowhunter world.
"The Mortal Instruments" follows in the recent surge of supernatural and dystopian book series taking the film world by storm, a territory that had largely been dominated by male lead roles until the addition of heroines like Katniss Everdeen in "The Hunger Games." Though Clare said she did not create a female-lead role in order to fill a void in teen literature, she did acknowledge that there were not many leading young women.
Collins, on the other hand, had a passion for the standout young women who preceded her. Speaking about previous teen book adaptations, she said she loved the "Harry Potter" series. "I waited in line for those books," she said smiling. "I wanted to be Hermione so bad!"
It was the similar strong will and personality of Clary as a character that drew Collins to the role. In her fledgling journalism career, Collins often pitched teen talk shows to major networks. She said, "I got told 'no' every day. I never took 'no'" as 'No, this isn't for you'; I took it as 'No, not right now,' and that's what Clary does. She just keeps going."
Clare had a similar struggle with getting "The Mortal Instruments" published. "I got told that teens don't want to read about vampires and werewolves," Clare said laughing, noting this was before "Twilight" hit the big time.
Campbell Bower said that while it helps film studios to green-light a project with a built-in audience like "Twilight" or their own film, viewers do, in fact, want to visit other worlds, and very much so.
"It's not just interesting to a modern audience. All people have been interested in [fantasy] for histories. That's why the Greeks wrote about the underworld; it's why the Victorians were so interested in the fairy world; it's why Shakespeare wrote 'A Midsummer Night's Dream.' … We've always been afraid of the unknown but also incredibly interested in it," Campbell Bower said.
If their ability to speak to the heart of their story and characters is any indication, it seems that Collins and Campbell Bower are in for a ride on the fame train. With Clare's books and fans backing them up, we may just have the next big thing waiting in the wings right now.