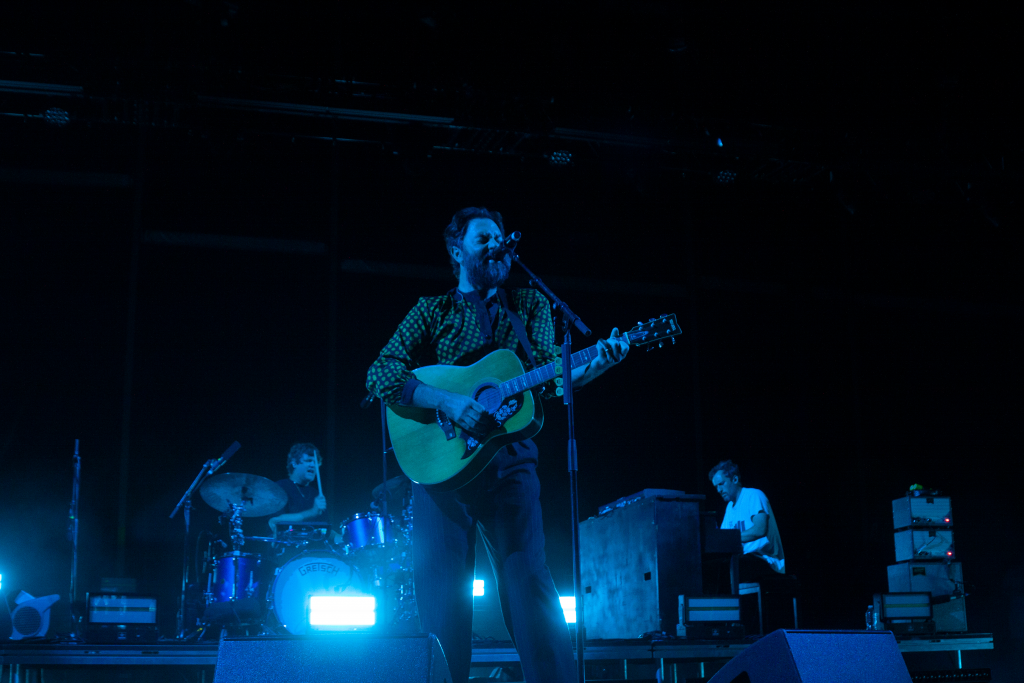 On July 12, Philadelphia-area music fans began filtering into the Mann Center for the Performing Arts for an exciting installment in their Summer 2023 concert series. With near perfect weather for the concert, fans were excited to see headliners The Revivalists and The Head And The Heart (THATH) perform at the Mann Center's Skyline Stage, a smaller outdoor music festival style stage with general admission and lawn seating. 
The venue opened around 5:00 p.m. and fans were soon milling around the venue, getting food and drink from one of the many vendors and laying down their picnic blankets on the lawn in front of the Skyline Stage. The original lineup included an opening performance by Jaime Wyatt, so fans were slightly confused when, in her place, Philly-based musician and songwriter Julia Pratt took the stage. Pratt explained that Wyatt was unable to perform that night and invited her to take her place as the opening set. Pratt took the stage around 6:30 p.m. for her set, which was enjoyed by all fans and concert-goers. Pratt performed some of her more popular songs including "Would It Kill Ya," "Little Bug" and "Odyssey." She also ended her set by playing one of her unreleased songs set to come out soon. According to her Spotify profile, Pratt prides herself on making songs she would want to listen to.
Shortly after Pratt's 30-minute set, The Revivalists took the stage around 7:20 p.m. According to their Spotify profile, The Revivalists are an eight-member rock and roll collective composed of David Shaw (lead singer and guitarist), Zack Feinberg (guitarist), Andrew Campanelli (drums), George Gekas (bass), Ed Williams (pedal steel guitar), Rob Ingraham (saxophone), Michael Girardot (keyboard and trumpet) and PJ Howard (drums and percussion). The Revivalists' website explains that they got their start in New Orleans nearly 15 years ago in the wake of hurricane Katrina. They built their bond on a mission to use art and live music as a tool to bring hope and vibrancy back to their community and New Orleans' rich live music scene. Since then, their audience has grown massively (with nearly two million monthly Spotify listeners) and fans find joy in their rock and roll style with heavy southern and country music influences. Their Philly performance was the 15th stop on their United States tour, "The Pour It Out Into The Night Tour," which features several solo shows as well as co-headlined shows with THATH, Band of Horses, Jaime Wyatt and The Heavy Heavy.
The Revivalists opened with a bang, playing one of their edgier rock songs: "Criminal." They also played several songs from their latest album, "Pour It Out Into The Night," including "Down in the Dirt," "How We Move," "Don't Look Back" and "Only You." For their third-to-last song, the band played their most popular single with nearly 185,000 Spotify streams: "Wish I Knew You." They then played one more song from their latest album, "Kid," in which THATH also rushed out onto the stage to accompany them in the performance. After THATH's surprise cameo in The Revivalists' set, they closed out their performance with the upbeat song, "Good Old Days," also from their latest album.
After the Revivalists' set, the audience enjoyed a thirty minute intermission before THATH took the stage to perform their set at 9:00 p.m. THATH came out to join The Revivalists for a few select destinations on their tour, including Philadelphia, after wrapping up their own United States tour for their latest album "Every Shade of Blue" in Oct. 2022. According to their Spotify profile, THATH is a Seattle based band who formed in 2009. They are an indie folk band with influences drawn from Americana, country-rock and "Beatlesque" pop. The band is composed of six members: Josiah Johnson (singer/songwriter), Jonathan Russell (singer/songwriter), Kenny Hensley (pianist), Chris Zasche (bassist), Charity Rose Thielen (violinist) and Tyler Williams (drummer).
THATH's set included 14 songs total, with three of those being encore performances. They began their set with the song "All We Ever Knew" from their 2016 album, "Signs of Light." Their fourth song was another of their most popular, "Lost in My Mind" from their 2011 self-titled album. For this song, The Revivalists joined them on stage. THATH ended their "official" set with another of their most popular songs, "Honeybee," and the title track of their most recent album: "Every Shade of Blue." THATH then came out for an encore set of three more songs including "Library Magic" and "Shake." The final song of their encore set was by far their most popular and beloved song, with over 225,000 Spotify streams, "Rivers and Roads." THATH's performance highlighted their incredible talent as vocalists and musicians. Charity Rose Thielen's breathtaking vocals and violin accompaniments were definitely a highlight of their performance.
The July 12 performance by Julia Pratt, The Revivalists and THATH was clearly enjoyed by fans of all of the performers. THATH will be continuing to tour as co-headliners with Father John Misty around the western United States throughout the month of August. The Revivalists are also continuing "The Pour It Out Into The Night Tour" in the United States through late April 2024. Several of these performances will be co-headlined by Band of Horses and The Heavy Heavy. Check out each group's upcoming tour dates and performances on their websites.
THE REVIVALISTS' SETLIST (according to setlist.fm)
THE HEAD AND THE HEART's SETLIST (according to setlist.fm)