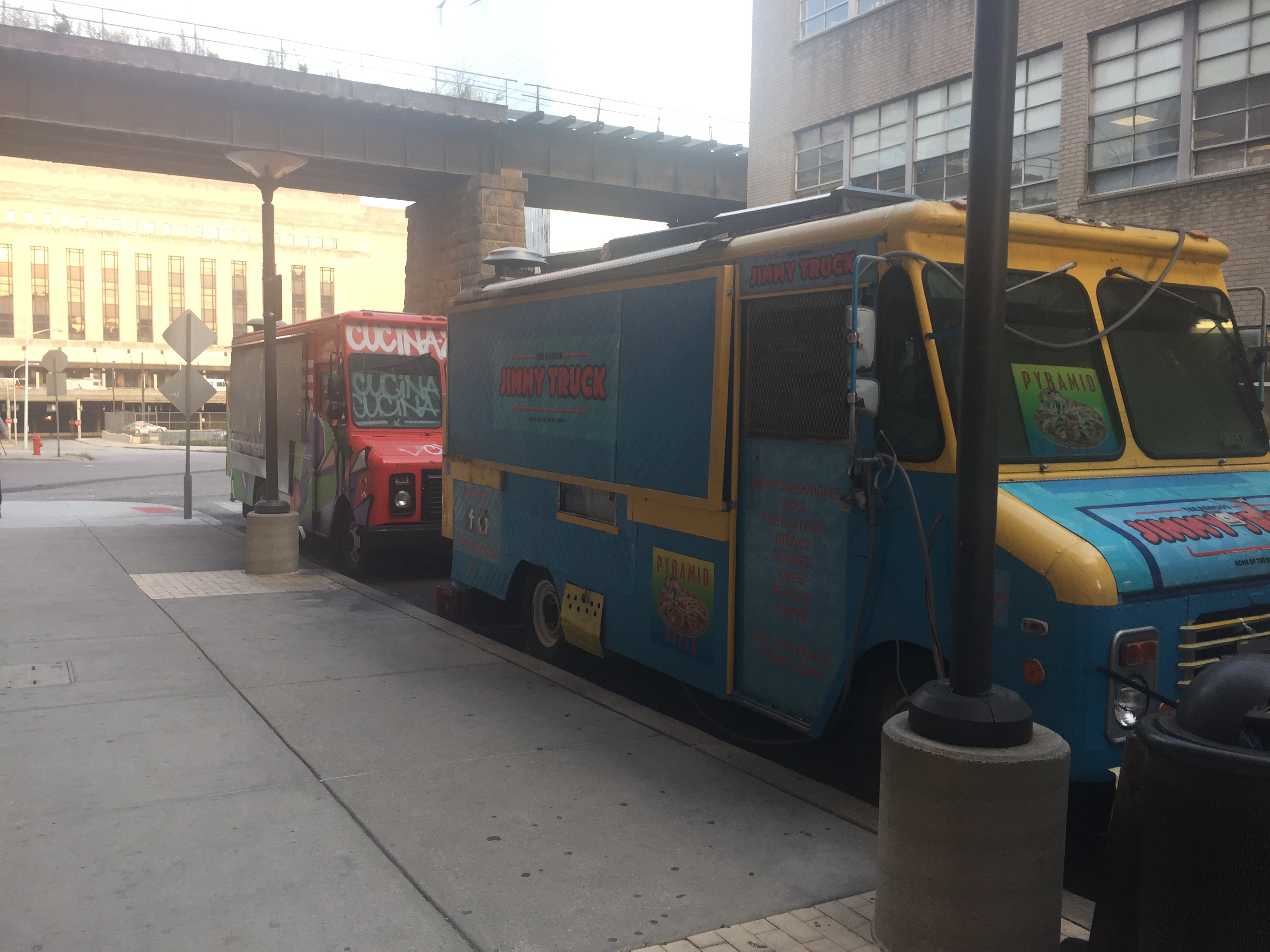 As you grow to dislike the Hans and University City's pricier restaurants, you'll find food trucks are an attractive dining option for affordable eats.
Some of the biggest perks of having food trucks on campus are their ethnic variety, surprisingly decent food quality and friendly service. Below, I have compiled a list of some of my personal favorite food trucks that you can find on campus.
Cucina Zapata — This colorful, red food truck is located in food truck alley behind Main Building. Cucina Zapata offers Thai specialties, bubble tea, tacos and tilapia (with the option of chicken or lamb). I've talked to students who appreciate that the food is a fusion of Japanese and Mexican cuisine, which is admittedly a very unique combination.
Cucina Zapata has been ranked #1 for three reasons: it's cheap, fast and exotic.
Hours: Monday through Friday, 7 a.m. to 4:30 p.m.
Average price: $8
Fan favorites:
Captain Crunch Tilapia
Captain Crunch Burrito
Chicken Katsu Platter
Katsu platter
Happy Sunshine — This bright, yellow food truck is right across from Calhoun Hall on Arch Street. While many food trucks offer exotic cuisines, Happy Sunshine serves up traditional American food. They have a long menu featuring many types of sandwiches, cheesesteaks, club sandwiches, hoagies and beverages. It's fairly cheap, and the workers are very friendly, which is always a plus.
Hours: Monday through Friday, 6 a.m. to 8 p.m.
Average price: $5 and under
Fan favorites:
Turkey Bacon
Hash Browns
Egg and Cheese Sandwich
Pepperoni Cheesesteak
Bucket Iced Tea
Halal Food Truck  — Located on 33rd Street, near Mario the Dragon, this truck is one of Drexel's most beloved. It's not like the other three Halal food trucks you will see on campus, it's better. If you enjoy rich spicy food, then this truck was made for you!
Meat eaters will enjoy their famous lamb or chicken over rice with white sauce, while others might choose a lighter dish and opt for the mixed veggies or chicken or lamb salad. Vegetarians on campus can get falafel over rice.
Hours: Daily, 7 a.m. to 9:30 p.m.
Average price: $5 (drink included)
Fan favorites:
Chicken and rice with falafel
Lamb over rice with white sauce
iPho Son's Kitchen — If you're looking for an option closer to the freshmen dorms, iPho Son's Kitchen is definitely for you. What appears to be a simple-looking food truck located on 33rd and Arch Streets directly in front of Calhoun Hall, is in fact the only Vietnamese food truck on campus.
For people like me with a sweet tooth, they offer a variety of bubble tea, which can be accompanied  by grilled tofu, chicken or lamb, with sides of noodles and rice. If you want to have a lighter meal, they also offer spring rolls (for meat and non-meat eaters). You can also add protein to your meal with a complimentary fresh egg option.
Plus, it provides pickup and delivery services and accepts credit cards!
Hours: Monday through Friday11:30 a.m. to 5 p.m.
Average price: $5
Fan favorites:
Seafood pho
Lemongrass chicken with rice
H&J Food Truck — In food truck alley behind Main Building sits H&J Food Truck. It is not only extremely convenient and at the heart of campus, but also a mini-convenience store.
What does it offer besides food? H&J has over-the-counter medicine like Tylenol and Advil, an ATM, easily accessible on the right-hand side of the truck and a variety of cigarettes. Whether coming from Drexel Plaza or Korman, you can always find what you need without walking all the way to CVS.
It serves a wide variety of food for any time of day from platters and sandwiches to curry and Greek specialties.Their menu also includes smoothies, ice cream and water ice.
Plus, they're super tech savvy! You can text and email them at 484-343-5069 or contact them at [email protected] to order.
Hours: Monday through Friday, from 8 a.m. to 6p.m.
Average price: $5
Fan favorites:
Pizza Cheesesteak
Bustro by Cuisine 365 — To those coming out of the DAC or working in iCommons, I haven't forgotten you. Bustro, located right across from Buckley Green's volleyball courts, has the food you need to sustain yourself — whether you're about to swim miles at the pool or cram for exams in the Hagerty Library.
For more information, check out their website: www.Cusinie365.net
Hours: Monday through Friday, 8 a.m. to 3 p.m.
Average price: $4
Fan favorites:
Omelets and French toast
Ricky Cafe — Ricky's Cafe is a good option when you're near Lebow, Korman or Pearlstein. It is the first truck you'll see as you cross Market street to get to LeBow. There you'll find a wide variety of American and Chinese food and drinks to satisfy any cravings you have during the day. They offer breakfast sandwiches, hoagies, cheesesteaks, smoothies, teas, ice drinks and salads, noodles and freshly made teriyakis.
You can also order by calling 267-303-5529.
Hours: Monday through Friday, 11:30 a.m. to 5:30 p.m.
Average price: $5
Fan favorites:
Beef Teriyaki on White Rice