The Costume Institute Gala is an event hosted by Vogue, also known as the "Oscars of The East Coast." It is solely reserved for fashion's elite to showcase their sartorial takes on the latest designs in the fashion industry. This year, the New York Metropolitan Museum of Art held the event May 7 in honor of "Schiaparelli and Prada: Impossible Conversations," the museum's new exhibition.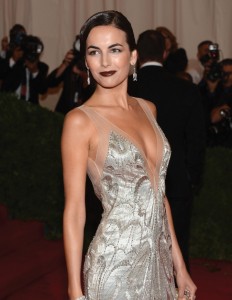 Actress Camilla Belle impresses in an elegant Ralph Lauren gown at the 2012 New York Metropolitan Museum of Art Gala, held May 7 in honor of the museum's new exhibition.
The exhibition revealed the many similarities between Schiaparelli and Prada, including their designs. Aside from the exhibition, a star-studded red carpet posed for lenses before the event. With the likes of Anna Wintour and her Vogue brigade, it is not difficult to realize that galagoers did anything but disappoint, especially because Wintour herself wore a custom-made Prada gown inspired by Elsa Schiaparelli's lobster design. The design was collaborated with Salvador Dali. Needless to say, the red carpet was dotted with elaborate embellishments, extravagant feathers and bejeweled embroidery in honor of the deceased designer.
From Chanel Iman in Tom Ford to actress Diane Kruger and singer Beyonce, dyed feathers were a fan favorite. In my opinion, the feathers were fleeting, and other than Kate Bosworth's minimally styled Prada feather frock, I wasn't impressed. Meanwhile, Camilla Belle, Ashley Greene and Cameron Diaz dazzled in elegantly slinky gowns. Belle, in particular, looked effortless in a Hollywood-glam style Ralph Lauren.
Metallic was quite popular among the stars. To no surprise, Jessica Alba wowed in Michael Kors while Carey Mulligan, the exhibition's co-chair, looked pleasantly like a mermaid in Prada. Gwyneth Paltrow stunned in a silk Prada number and drop earrings. Let's just say 40 never looked better.
Another fan favorite was Lea Michele wearing a leg-revealing Diane Von Furstenberg gown. On that note, Alber Elbaz's date for the night was Emma Stone, who wore the Lanvin designer's delicate interpretation of a floral minidress, showing a soft and sweet side we haven't seen from Stone before.
Despite having quite a few hits on the red carpet, there were a couple of misses. Understandably so, this was a fashion industry event, and no one should be at fault for taking fashion risks, but these dress options would not go over as well in the real world.
To my surprise, Sarah Jessica Parker disappointed in a Valentino Couture gown. The gown was a few years too young for the actress. Its floral print made me think of wallpaper plastered all over a baby's nursery, and to be honest, I'd rather see Parker in something sexy — a la January Jones' form-fitting Versace gown.
Another disappointment, although still looking strikingly gorgeous, was Rihanna in a crocodile-embossed gown by Tom Ford. The body-skimming dress was intended for someone with little to no flaws, which, of course, was perfect for Rihanna. Although the dress was well received, it was a bit underwhelming for the usually outlandish fashion diva.
Lastly, Alexa Chung was a letdown in Marc Jacobs. It's not that this look should be hated among all; it's just that the look was out of place. In other words, the ensemble looked more appropriate for the street than for the red carpet.
Despite some major disappointments, the majority of attendees dressed to impress. As for the letdowns, we'll let those few slide. Not everyone can handle the pressure of choosing what to wear to the Met Ball, especially when the devil (Anna Wintour) is actually wearing Prada.