Awards season is officially upon us, and the men and women we adore certainly dressed to impress this year. The 69th Annual Golden Globe Awards kicked off the 2012 awards show season with plenty of dapper dudes and stunning starlets. In case you missed the most important part of the show, here is a recap of the red carpet.
Many of the women wowed the crowd in bright colors, mermaid-style gowns and plunging necklines, while Laura Dern, winner of Best Performance by an Actress in a Television Series for "Enlightened," glammed it up with an emerald green and sequined long-sleeve gown. Meanwhile, Reese Witherspoon was a showstopper in a fitted Zac Posen dress. However, not everyone sported bright colors and sequins this year.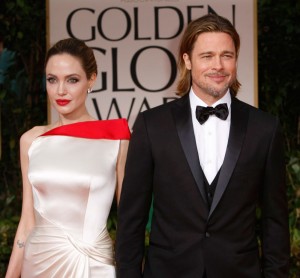 A hot commodity that trickled down from the runway was the subtle nude look. Heidi Klum showed off her toned frame in a nude bodycon dress accompanied by a bright turquoise necklace and cocktail ring. Everyone from Jessica Biel, Kristen Wiig and Kate Beckinsale to "Modern Family" actress Sarah Hyland showed up to the red carpet in the "nude" trend.
Elle MacPherson wore a cream tulle gown by Zac Posen that revealed why everyone refers to her as "The Body." At 47 years old, MacPherson proves it only gets better with age — well, for some of us, at least.
Claire Danes rocked the red carpet with hot red lips and an elegant black-and-white J. Mendel dress while "The Help" star Viola Davis showed some leg in a plum-colored Emilio Pucci gown. In a black cherry tone, Emma Stone donned a Lanvin gown. The gown came with a plunging neckline and high-waisted belt. Stone completed her look with a dark smoky eye that offset her fiery red hair perfectly, making her a bona fide red carpet trendsetter.
Among the cream of the crop, Charlize Theron stands as an all-time favorite. As always, the "Young Adult" actress looked like a glam goddess while sporting a shade of peach with a plunging neckline created by the one and only Christian Dior Couture. Along with Theron, Salma Hayek looked effortlessly beautiful in a custom-made Gucci gown that fit her like a glove. Not only did it properly emphasize Hayek's curves, but it also encompassed the most intricate gold-plated detail, making it one of the most memorable dresses of the night.
Julianne Moore proved black is always classic. The jade earrings she donned contrasted amazingly with her hair, making this one of my favorite looks of the night.
Another "best-dressed" starlet of the night was Rooney Mara, breakout star from "The Girl with the Dragon Tattoo." Mara stole the show with a revealing black Nina Ricci gown. She kept all eyes on the dress by pulling her hair into a low ponytail and wore little jewelry, completing an understated yet elegant look.
Although this year pleasantly surprised many fashionistas, there were some disappointments. Mila Kunis underwhelmed in a typical black gown and slicked-back hair. Also slammed for her sartorial look was Sarah Michelle Gellar, who allowed her two-year-old to choose her Monique Lhullier dress. Funny girl Zooey Deschanel was ridiculed for her whimsical custom Prada. It's safe to say Prada is not for everyone.
Deschanel looked outdated and had no true direction in terms of fashion sense. In her defense, the funny "New Girl" star had a bad hairstyle, making it look like she had sideburns. While we're on the topic of hair, let's re-evaluate Kelly Osbourne's gray hair. What was she thinking? I will tune into "The Fashion Police" on E! just to hear what Joan Rivers says about the hair mishap.
Despite a few faux pas, the 69th Annual Golden Globes' "best-dressed" stars really did bring their A-game, while the losers still have the opportunity to redeem themselves at the 84th Academy Awards Feb. 26. For the latest red-carpet buzz, read The Fashion Enthusiast!